DIY Beauty: clay and healing herbs face scrub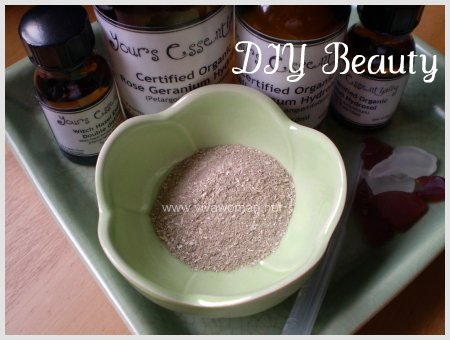 I received a sample of the Deep Cleansing Scrub which is a dry mix from Yours Essentially about three weeks ago. I have heard of some ladies who love using such DIY scrubs and masks and was fairly keen to try this. And since I had the hydrosols on hand, it was easier for me to use those as the wetting agent to the scrub.
French green clay with other healing herbs to cleanse
From what I've picked out from the website, this scrub uses a base of french green clay with healing herbs to gently deep cleanse dead skin cells and impurities, resulting in softer and smoother skin texture. It smells herbal and is powder like, though they're not exactly finely milled.
Blended to a paste and rubbed on skin as a scrub
I tried pouring some of the dry mix on my palm and used a disposable pipette to pick out some amount of the Rose Geranium Hydrosol to mix it in. Because the powder isn't exactly fine, so I couldn't get it to blend to a smooth paste. I could feel some bits of the mix but it worked well as a scrub this way when I rubbed it on my face. The first time I left it for about 5 minutes and rinsed off but the second time, I left it slightly longer for about 10 minutes before washing off.
Pores looked a lot smaller immediately afterwards
I could feel my face tightening as soon as the scrub dried up on my skin. In fact, that's really the cue to wash off. I have to concede that my pores looked a lot tighter afterwards! In fact, I was very pleased with how I looked. I didn't have any breakouts from using this but I think the deep cleansing caused some of my clogged pores to emerge in the form of one or two blackheads a day later.
More suitable for oily to combination skin
The Deep Cleasning Scrub from Yours Essentially contains French Green Clay, Organic Oat Bran, Apricot Kernel Meal, Brown Rice Powder, Certified Organic Lavender Flower Powder, Certified Organic Comfrey Root Powder, Yucca Root Powder, Pink Rose Powder, Certified Organic Licorice Root Powder, Certified Organic Slippery Elm Bark Powder. Although the scrub is said to be suitable for all skin types, I feel that this might work better for those with combination to oily skin type because the French Green Clay, also known as Sea Clay, possess properties to absorb due to the constitution of its micro molecules.
Can be mixed with normal cleanser as an exfoliator
Instead of using hydrosol, it is possible to use facial water or mineral water in place as wetting agent. Alternatively, you can also try mixing it with your cleanser though the effect was less interesting for me.
Summary
This is my first experience using a dry mix scrub and I'm quite happy with it. I can also see this as a cheaper and definitely more natural alternative to purchasing a commercial facial scrub. The good thing is that Yours Essentially also offers a variety of other clays for different skin conditions. If you're trying it for the first time, I suggest you get the sample size which cost S$4.00 for 1/2oz and the content comes in a small ziploc bag. In fact, that can last you a few scrubs. And if you do not find what you want at the online store, you can always email them for a custom blend according to your need.

Comments