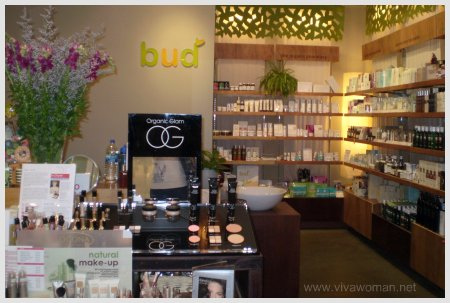 If you're looking for natural and organic skincare products in Singapore, then Bud Cosmetics is the place to go because they have a fairly extensive organic range which can meet your beauty needs from head to toe. I have stumbled across their online store many a times but this was the first time I visited the shop, thanks to owner Eric Chew, who agreed to have his store featured under my first Viva Shop Tour. And I was pleasantly surprised to find the little shop so well stocked! I don't know why I never discovered the gem earlier!
Well, actually, the reason is because I hardly venture to that part of town. Bud Cosmetics is located at Square 2 which is just above the Novena MRT station. While the location is convenient, it isn't exactly at the central shopping belt. Eric told me that his store has been around for about a year and a half and most of his customers come via word-of-mouth or through their online store. In fact, those who are into natural and organic skincare here should already be familiar with Bud Cosmetics.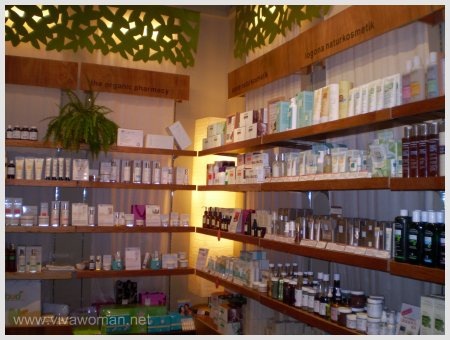 Biggest range of natural products in Singapore
Having visited the shop now, I have to say that Bud Cosmetics is indeed committed to the manifesto they've outlined on their website. Which is, to bring the finest natural products in the world and to have the biggest range of true quality natural products in Singapore, under one roof.
They currently have 11 brands of natural skincare products under their umbrella which include The Organic Pharmacy, Sophyto, John Masters Organics, Logona Naturkosmetik, Sante Naturkosmetik, 100% Pure, Eyre BioBotanics, Aqua Dessa, Badger Balm, Haven Scent Organics and Filthy Farmgirl. And they're still on the lookout for more quality natural range. Sophyto, the world's first professional organic skincare range from UK is the latest to the family and next month, Eric will bring in Patyka, a French label that created the first organic perfumes in the world. Additionally, Bud's product range extends to include natural makeup from Sante and even hair coloring from Logona. "With a wider range, we can offer our customers different alternatives to help them achieve the results they desire."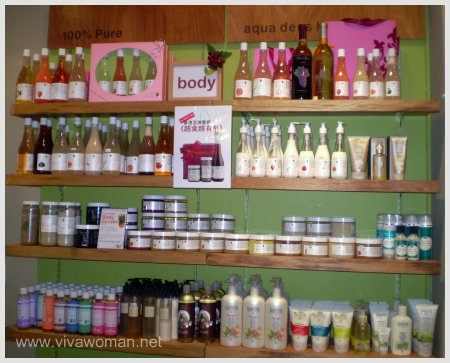 Personalized advice and even customization offered
Although Bud Cosmetics has an online presence, the bulk of the business comes from customers at the shop. "Being able to smell and feel the texture of the product is important," Eric told me. I agree, especially when it comes to purchasing new skincare products for the first time. In addition, customers who visit the shop can get some analysis and advice on the correct products to suit their skin types.
As a matter of fact, while I was at the shop, Eric was attending to a customer and even helping her to customize products to suit her specific needs. Which isn't so suprising after I learnt that Eric used to make his own soaps in Australia and ran a similar business then. In fact, before speaking to Eric, I've already gathered from the forumers that he is both helpful and knowledgeable; the latter trait coming from his years of interest and experience in natural and organic skincare products which started when he was seeking treatment for his acne problem years ago.
Tips on choosing organic skincare for the first time customer
With more and more brands claiming to be natural and organic, I asked Eric for his advice to customers who are venturing into such skincare products for the first time and these are his tips:
-find out about your own skin type
-find out if your skin is sensitive to any particular ingredient
-conduct some basic research by reading up information and reviews
-order sample sizes of the skincare products
-do a patch test to check for allergies
-ensure the product has a full ingredient list with nothing to hide
-look for professional certification to ensure products are truly organic
What I like about Bud Cosmetics is Eric's honest acknowledgement that while natural and organic skincare products are a safer alternative, it does not mean that they are the best for everyone. Customers should still ask the basic question of what the products can do for their skin. A view that I addressed in my earlier entry Are Organic & Natural Products Useless?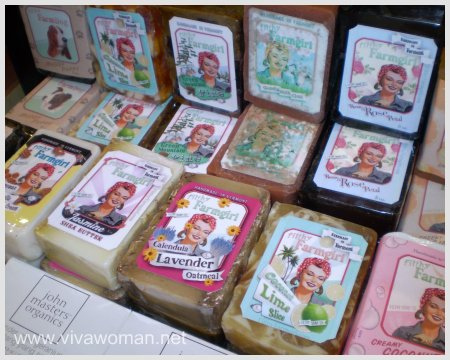 Actually the first product I noticed at Bud Cosmetics were these Filthy Farmgirl soap which I've stumbled across a year or so ago. I wasn't aware we have these right at our backyard! Aren't the little packages cute?
Bud Cosmetics guarantee to customers
I asked Eric what was at the top of his list when it comes to harmful ingredient for skincare formulation and his reply was Dimethicones which are unmodified silicones which companies claim traps moisture to the upper layers of skin, thus increasing a moisturizer's effectiveness. The product range carried by Bud Cosmetics definitely do not contain these.
In addition to no harsh synthetic chemicals and detergents, no artificial fragrances, no thickeners, no emulsifiers, no petrochemicals and mineral oils, Bud offer a guarantee that all products are made from premium natural, certified organic, bio-dynamic and/or plant derived ingredients only without animal testing. Hence, consumers can purchase from them with peace of mind that everything is as natural and organic as can be. In fact, Bud is even offering a 30-days money back guarantee for their Sophyto range. Something I've rarely heard off when it comes to skincare products!
Joint promotion with Bud Cosmetics for Viva Woman readers
Speaking of which, a promotion on the Sophyto range with Bud Cosmetics is coming up specially for the readers of Viva Woman! Keep a lookout for it in my next post.
Meanwhile, check out Bud Cosmetics at #01-66 Square 2, 10 Sinaran Drive, Singapore 307506 which is right above the Novena MRT station or look up more details on their website.