Organic facial at Bud in Mandarin Gallery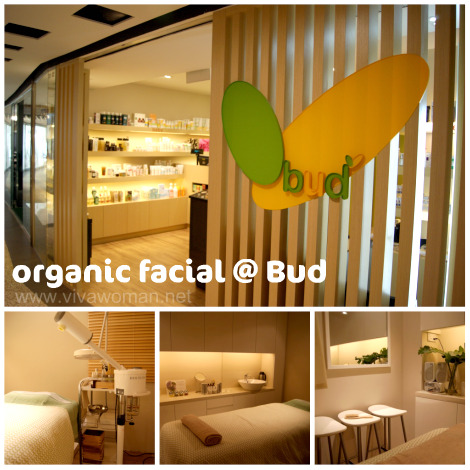 ~ When I learnt that Bud Cosmetics started offering facial services using organic products at their new store in Mandarin Gallery recently, I was eager to feature their new service. So I arranged for Hazel of Hazelnutt House to have a complimentary session and to review it for Viva Woman. Following is her account. Update: Get $20 off any facial treatment booked for the month of May; just state you're a reader of Viva Woman when you make your appointment. ~
Strange as it is, I am not one who enjoy going for facials or spa treatments. I always feel like I am being forced to relax during the treatment and when the treatment is over, I have to step into the hustle and bustle of city life before I am ready. When Sesame asked if I was interested to do a facial review, I was hesitant until I was told that it is an organic facial – i.e. facial using organic products. And that's how I had my first organic facial at BUD in Mandarin Gallery. Eric Chew, the owner told me that the name BUD symbolies freshness and purity just like a budding flower. This is also the philosophy behind the product range that BUD brings in.
Facial based on healing powers of products and touch of therapist
I first noticed that there was a lack of machinery in the treatment room when I was taking pictures. Eric told me that he made a conscious effort in minimizing the use of Infra Red, High Frequency or Calvanic machines for treatments. His philosophy on organic facial treatments has always been to tap into the healing powers of both the botanical extracts and the healing touch of the therapist. The only machine used was the facial steamer. Some may feel that facial steaming has a negative effect on the skin. For me, a once a month facial steaming session should not do much harm. The steaming process for this organic facial is important as it actually helps to activate the ingredients in Dr Alkaitis' – Organic Universal Mask and the Organic Enzyme Exfoliating Mask. Eric did add that if the client has sensitive skin, organic rose or lavender water would be sprayed onto the mask to activate the enzymes instead.
Dr Alkaitis Seaweed Enzyme Glow Facial S$158 / 75 min
The treatment that BUD offered me was the Dr Alkaitis Seaweed Enzyme Glow Facial. I will proceed to highlight the steps as well as the ingredients in the products, since the facial products are the essence of the treatment. After which, I will end off with a summary of what I liked about the session.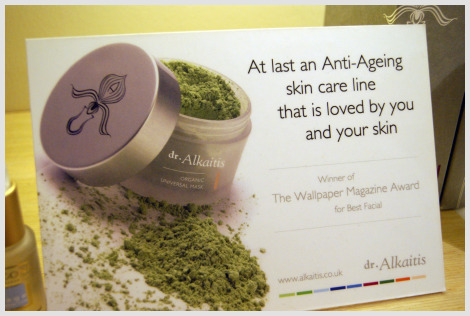 1. Cleanse using Organic Purifying Facial Cleanser
Key ingredients: Dr.Alkaitis' organic Castile Cleaning Base compounded from cold pressed Organic Olive, Organic Shea, Organic Jojoba, Organic Coconut. Organic Herbal Skin Repair Complex, Citrus seed extract, natural vitamin A complex, natural vitamin C complex and 100% pure essential oils.
This facial cleanser cleans the skin gently but thoroughly. Chrys, the esthetician, took the initiative to ask if I was wearing contact lenses. She was very careful in removing my eye makeup since I was wearing my lenses. Most of the time after my facial sessions, I see a shadow under my waterline and I know that the therapist had not done a good job at removing all my eye makeup. Chrys removed everything very gently and there was no mascara residue left behind at my waterline after the session.
2. Exfoliate using Organic Enzyme Mask (mixed with organic yoghurt)
Key ingredients: Organic Oat Buds*, Blueberry*, Bilberry*, Strawberry*, Raspberry*, Grapes* and Blackberry*; Extracts of Barley Grass*, Turmeric*, Cat's Claw and a whole load of enzymes.
This mask helps to remove surface debris and at the same time provide the skin with essential phytonutrients, antioxidants and minerals to renew, refresh and rejuvenate the skin.
3. Massage using BUD's inhouse blend of massage oil
Ingredients: organic Jojoba, organic Apricot, organic essential oils of Lemon, Lavender and Carrot Seed.
This was my favourite part of the treatment! Chrys' massage technique was excellent. I say this because I have very tensed shoulder and neck areas. Yet she managed to make this 'piece of rock' (that was what Chrys said about my back) feel nice and relaxed. She worked her hands under my back to release the tension on my shoulders and neck. The lovely blend of essential oils worked their magic on my olfactory glands. I wished she did not have to stop.
4. Repair using Organic Universal Mask (mixed with organic yoghurt)
Ingredients: Oat Buds*, Organic Grass Juice Complex (Kamut Grass*. Alfalfa*, Oat Grass* and Wheat Grass*), Sea Vegetable Complex (Chlorella°, Dulse°, Spirulina°, Ainu-Wakame*, Sea Palm° and Red Algae°), Goat's Milk Protein*. Vegetable Complex (Carrots*, Cabbage, Sweet Potato*, Kale*, Broccoli*, Asparagus, Brussels Sprouts, Cucumber, Ginger*, Onions, Cauliflower, Beets*, Tomatoes* and Parsley*). Organic Seed Complex (Pumpkin*, Sesame*, Amaranth*, Flax*, Soy*, Oats*, Rye*, Buckwheat*, Millet*, Barley*, Brown Rice*, and Sunflower*).
This mask as well as the mask used in Step 1, are biologically active and made from pre-digested ingredients. Their therapeutic potential is thus increased. The steamer was switched on at this point to add moisture to the mask. The added steam activates these unique ingredients as they are brought to life and in turn allow the skin to absorb their nutrients fully.
So all in all, what do I like about the facial?
Cozy treatment room
There is only 1 treatment room, therefore all the attention was entirely on me!
No package pushing
You do not have to spend time declining politely.
Minimal machines with lots of human touch
As mentioned, the organic facial treatments are meant to tap into the healing powers of both the botanical extracts and the healing touch of the therapist.
CIDESCO certified esthetician with over 10 years of experience
Chrys used to work with non-organic products and she made a personal choice to switch to organic products. With her experience in both organic and non-organic products, she is a good judge on the benefits that organic products reap. On top of her vast knowledge, her massage technique is excellent.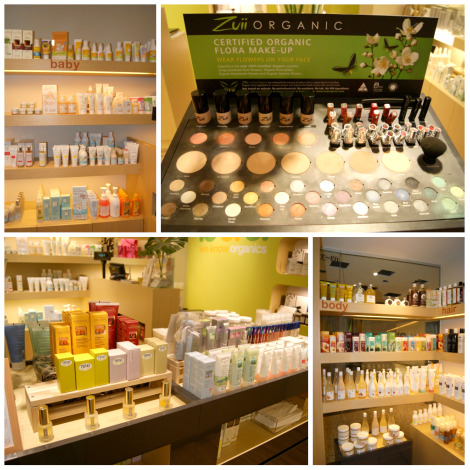 The boss is around
Eric says that he shuffles between both shops on fixed days and I saw him tending to his customers patiently while I was there. He has sensitive skin and was able to fine-tune his problematic skin using organic products. To me, he is a walking advertorial for his product range. Since he has personally tried some of the products, he is in a good position to clarify doubts and make recommendations.
Wide variety of organic products
I spent some time browsing through the products and trying out the testers after my facial session. I feel that it is a great way to slowly get your body to 'acclimatize' after a relaxing facial session before stepping out of the shop to face the bustling city life.
Those interested to check out BUD's facial treatments can check out their website. Besides Dr Alkaitis, they also make use of products from Sophyto and The Organic Pharmacy range for their treatments as well.
Comments