Can you use a face mask every day?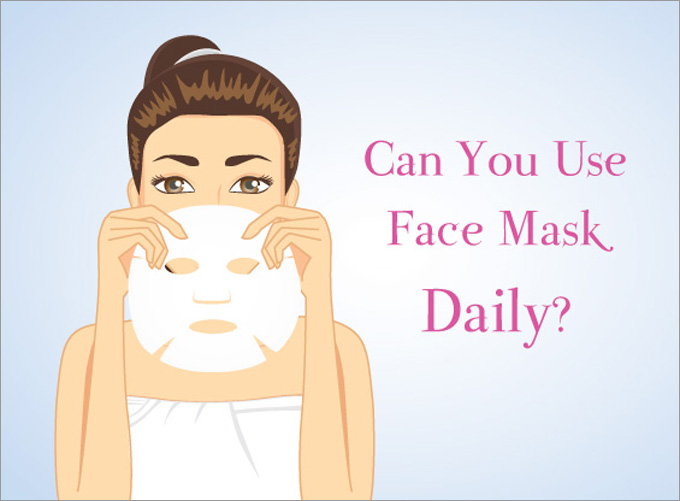 The first question that begs asking is, why would you want to use a face mask daily?  Well, to improve the complexion, making it clearer and more youthful looking!  Face masks have deep cleansing and conditioning action on the skin, are great in refreshing tired skin or soothe troubled skin, and so using one daily has obvious benefits.  However, not all types of face masks can be used daily.
Gel masks – daily possible
There are many types that are suitable for different skin types.  Usually used to soothe sensitive or irritated skin and have a cooling effect. This type of masks can probably be used daily since they're gentle enough.  Of course you can also use it only once or twice a week if you're not keen on frequent usage.
Exfoliating masks – once or twice a week
Such masks are great for dual purposes; cleansing and exfoliating, thus clearing the skin from the build-up of dead skin cells, which can create a dull look and lead to future problems as as blackheads. They are smooth when applied and typically left to dry for about 5 to 10 minutes before massaging off, followed by rinsing. I know some exfoliating masks like the Suisse Programme Peel Off Cream are suitable for daily use because even though it works by sloughing away the skin's surface debris, it is gentle enough. However, skin renewal takes time so it's not ideal to use such masks daily. Best to keep to once or twice a week.
Sheet masks – daily possible
Most of such masks work like an instant fix by nourishing the skin using its essence and giving the skin an energetic boost. They are great to be used as a perk-me-up, just before heading out to the party or big event. So these can actually be used quite frequently. However, if your skin is easily clogged, then you may want to refrain from using such masks daily. Instead, use twice a week.
Homemade masks – daily possible
DIY masks are typically gentle enough to be used daily. I use my homemade oat yogurt mask daily and it works fine for me.  Do check the ingredients to ensure they are not overly nourishing or drying before using it on your face every day.
Moisturizing masks – once or twice a week
These work like an intense moisturizer and are usually left on the skin for between 10 and 30 minutes.  They are rich and are great for dry complexion because they boost the moisture levels of the skin.  Hence, this type of mask may not be suitable for daily use as it may cause the skin to breakout if used excessively.  Once or twice a week should be sufficient unless your skin is extremely dry.
Peel-off masks – once a week
I love such masks because they're fun to use. But at the same time, they can be too harsh when used too often since the peeling action isn't exactly gentle. So definitely not to be used daily.
So yes, you can use a face mask daily if it's gentle enough, suitable for your skin type and is not drying or overly rich. In fact, if your skin looks particularly dull, you can use a face mask every day continuously for a week to rejuvenate your skin.  However, if your skin is fine, then using a facial mask once or twice a week should suffice.
Comments