I got beetoxed: a needle-free way to look younger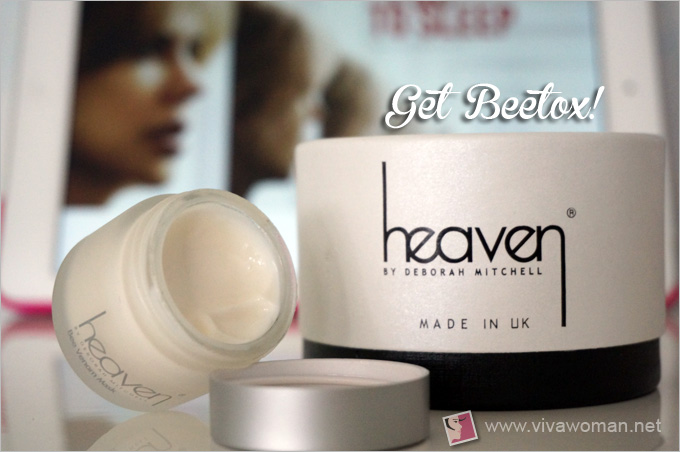 Before the year ends, I thought I'll let you in on my latest beauty adventure: I've officially joined the royal league in getting my face BEETOXED. Yes, I've joined the ranks of Kate Middleton by having my face stung by a Bee Venom Mask from Heaven created by Deborah Mitchell. Sounds unbeelievably intriguing eh? Well, read on if you're keen to find out if this is indeed a needle-free shortcut to youthful, line-free skin.
Buzz over the beauty benefits of bee venom might have begun earlier but it really heightened after our dearest Duchess of Cambridge, Kate Middleton, had been reported to have bee venom included in her pre-royal wedding facial. Today, a number of brands have added this extraordinary ingredient into their products but the one that started the buzz was Heaven for its creator, Deborah Mitchell, was the one who pioneered the bee-sting venom pot of wonder.
Organic alternative to Botox
And the one who shared the bee venom beauty secret with Kate Middleton was really Camilla Parker Bowles, who first experienced the benefits of Deborah's Heaven skincare products. Reports have it that shortly after her wedding to Prince Charles, Camilla discreetly began using Heaven Bee Venom Mask, an organic alternative to Botox. It worked so well for her that the public noticed and compliments began pouring in. The media even termed it "The Camilla Effect"!
Today, Heaven's fans include Victoria Beckham, Kylie and Dannii Minogue, Gwyneth Paltrow and Michelle Pfeiffer. Even Nicole Kidman is a big fan of the brand, going as far as featuring their products in her latest movie "Before I Go To Sleep".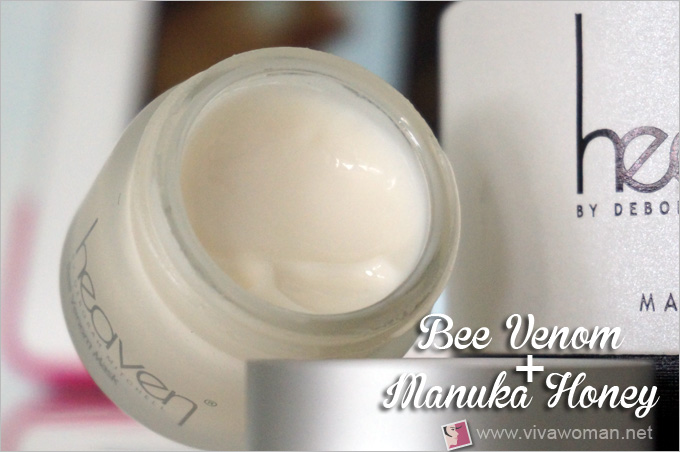 Although I had an inkling that the brand was launched in Singapore awhile back, I didn't expect to receive the mask. But I was both excited as well as nervous about using it. While I was keen to try, I was also wary as bee venom must surely be potent and I was worried that my skin might react adversely to it. However, being the beauty junkie, I dismissed those thoughts very quickly and the next thing I knew, I was happily smearing some of the mask on my face.
Interestingly, this product is a mask to be used twice a week, but it is also a moisturizer you can use twice a day. Since the pot I received was just 15ml, I opted to optimize usage by applying it as a nightly moisturizer and that was just what I did for the past two to three weeks. And I'm happy to report that my skin is not suffering any stinging or irritations. As a matter of fact, my skin is reacting very well to this bee venom mask and I'm growing to love it so much so that I'm considering getting the eye cream.
So what's so special about Heaven's Bee Venom Mask? Well, before we discuss that, let's find out what bee venom (scientific name: apitoxin) does for the skin.
Stimulates collagen production
Bee venom is used cosmetically to 'fool' the skin into thinking it has been lightly stung with the toxin "melittin"—a protein that boasts powerful anti-inflammatory, anti-bacterial, and anti-viral properties. This causes an increased blood circulation towards the area and stimulates the production of collagen and elastin. This is probably why it is dubbed as nature's alternative to Botox.
Heaven's Bee Venom Mask calls its secret ingredient ABEETOXIN. The mask is created using all natural and organic ingredients such as shea butter, rose and lavender oils, combined to work in synergy for an instant anti-aging effect. Heaven's Bee Venom Mask also contains Manuka Honey which is renowned for its soothing and healing properties.
Here's the full ingredient list: Aqua, Decyl Oleate, Manuka Honey, Bee Venom, Glyceryl Monosterate, Cetearyl Alcohol. Glycerine, Althea Officinalis, Ceteareth-20, Butyrispermum Parkil, Silica, Rose Centifolia, Lavendula Angustifolia, Betacaotene, CL:75100, p.p.m made from organic ingredient,Methylisothiazolinone and Methylchloroisothiazolinone (preservative), Melaleuca Alternifolia.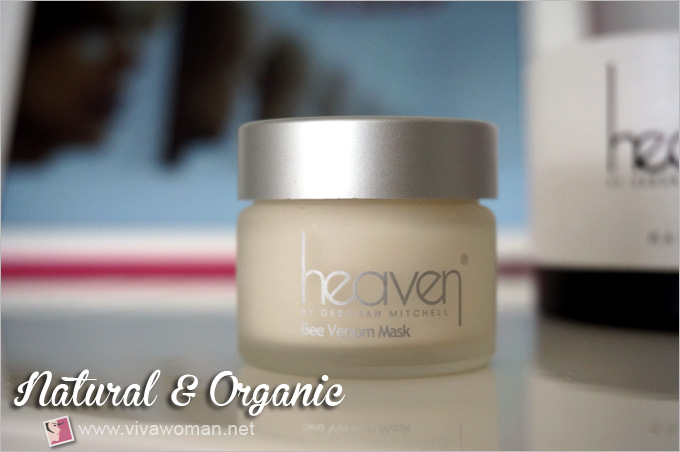 No harm to bees
I was most pleased that Heaven Bee Venom Mask is in the natural and organic category. Also, I found out that using bee venom cosmetically does not have a negative impact on the bee colony.
Historically, venom collection was lethal to bees, and was performed either by crushing them or by forcing them to sting plastic or rubber surfaces, which caused their stingers to get stuck (a bee dies from stinging only when its stinger is dislodged from its body). The modern method is kinder: Beekeepers start with fabric-covered plates that have conductor wires stretched flat across them. When a bee lands on the plate, the wires deliver a mild electric current that agitates the bee just enough to make it sting, causing the venom to drop onto the plate. Since the fabric on the plate is very thin, it doesn't trap the stinger the way plastic or rubber used to do, leaving the bee free to fly away unharmed. (source)
How bee venom affected my skin
I noticed a visible difference to my skin in the first week of usage. I would wake up to noticeably fresher, rejuvenated and radiant skin, as if I've just had a nice facial or used a nourishing mask. Granted, my skin does look younger but the effects seem to disappear after washing my face. Upon reading up, I found out that since the bee venom is anaphylactic (sending shock), it only temporarily relaxes the facial muscles, breaking down cell membranes and improving circulation. I'm not sure if longer term application would yield a more permanent result but I'm still quite happy to continue using this. If it does, I'll most definitely report back.
But so far, my skin has reacted well to the bee venom mask. If you are allergic to bee sting, then you have to exercise caution if you wish to try this product. And if you have sensitive skin, do note that Heaven Bee Venom Mask uses Methylisothiazolinone and Methylchloroisothiazolinone, which have been reported to cause skin allergy for some people. Personally, I did experience a very slight tingling sensation when I first used the product but it was just that and I never experienced any more sensations afterwards.
Oh, if there's one thing I don't like about this product, it is the smell, which is too strong IMO and reminds me of a Lux soap.
Price and availability
Heaven's extensive range of products vary from cleansers and toners, to moisturizers and firming creams. Based in UK, the brand has presence in several countries including USA, Australia, Spain, South Africa, Dubai, Hong Kong and now, Singapore and Malaysia (check out website here that offers international shipping too).
The 15ml Heaven Bee Venom Mask you see here retails for S$89. Based on my once-a-night application as a moisurizer, I forsee the 15ml pot can last me around two or maybe even three months. Like I said, I'm eyeing Heaven Bee Venom Eyes, which retails for S$195 for a 15ml pot. But I'm not in a hurry because the bee venom mask can also be used around the eyes.
Anyway, I'll also shop around and see if I can find a cheaper alternative that is well reviewed. If you've tried any of Heaven's products or another bee venom product, do share more details in the comments section.
Product highlighted is a media sample and this review is in line with my disclosure policy.
Pros
Overnight instant results
Visibly younger looking skin
Double up as mask and moisturizer
Cons
Expensive
Dislike the smell
Comments