DIY Beauty: Using Evening Primrose Oil For Your Acne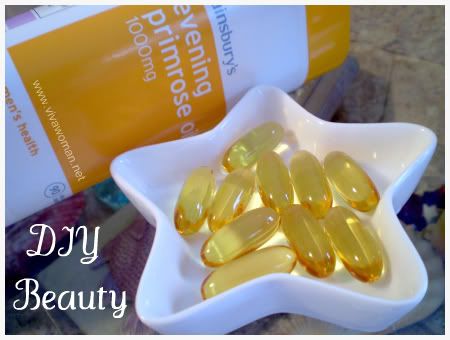 evening primrose oil for my PMS but surprisingly, I have better success applying them topically on my skin. In fact, I was so pleased with the effects that I have been using this oil almost every other night now.
Reduces inflammation and redness
Actually I had a very vague idea of what evening primrose oil could do for my skin when applied externally. I started using it because I was fed up over a couple of huge red inflammed acne on one side of my cheeks. Nothing I did or used could tame them. So I punctured a hole into one of the Sainsbury's Evening Primrose Oil capsules which I have been consuming orally, squeezed out the oil and started applying to the inflammed acne. I also applied the rest of the oil on the dry scaly patches of my body.
I went to bed after that, actually worrying that the oil would aggravate the acne. But to my pleasant surprise, the acne subsided a lot the next morning! It didn't get rid of the acne nor the scarring but it certainly kept them from flaring up again. In addition, the dry scaly patches on my body were also looking a lot better. They were not as red, and definitely not as dry and scaly.
Contains concentrated sources of Gamma Linoleic Acid
In my last entry, I wrote that evening primrose oil is extracted from the seeds of the evening primrose flower and the purified oil is then made available in capsules as well as liquid form. The oil is one of the most concentrated sources of Gamma Linoleic Acid (GLA), which is an essential fatty acid of the omega 6 family with anti-inflammatory properties and plays an important role to maintain healthy skin.
Provides countless skin care benefits
Evening primrose oil is good in calming acne flare ups because of its ability to dilute sebum production. The oil has also been proven to treat dry, scaly, or itchy skin conditions, such as rosacea and atopic dermatitis. It also reportedly, has some modest benefits for eczema. Other benefits when it comes to skin care include:
– rejuvenating the skin,
– reducing skin blemishes and visible skin redness,
– smoothening rough skin and hydrating dry skin,
– reducing the wrinkles and fine lines on the skin gradually, and
– lightening the dark circles around the eyes.
Feels oily and goes rancid quickly
Because evening primrose oil goes rancid pretty quickly, so it's best to use the capsules instead. I have been using evening primrose oil on alternate nights and applying the oil liberally on my body and my face, and even lightly around my eyes. One capsule can pretty much cover the areas I need. Evening primrose oil feels extremely greasy on contact and remains so for my hands but less so for my face. Somehow, the oil absorbs quite quickly into my face and what surprised me most is that my face looked a lot more nourished the morning after, giving me quite a healthy glow.
Smells peculiar
My only gripe is that the oil has a peculiar smell. Not unpleasant but nothing sweet either. So it needs getting used it. But inspite of that, I say evening primrose oil is something I would want to use from time to time in my skin care regime. It's definitely a lovely oil for the skin!
Comments