Funky and fashionable flip flop sandals
Grendha Is Ivete Sangalo flip flop sandal
I picked up this pair of Grendha Is Morena Ad flip flops under the Grendha Ivete Sangalo range from Novo Shoes at Suntec yesterday. The floral prints on the sole are very pretty. And most of all, I love the wedge! Not too high for me to get tired from walking in it and good enough to add some height. They're very comfortable!
Grendha flip flops with wedge
Plus I know that at S$24.99, this pair can last me quite a while because of my experience with the flip flips that are made by Grendene before. In fact, my first pair from the Melissa range is still around in pretty good condition!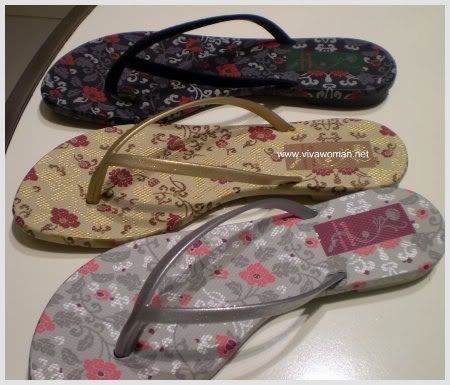 New Grendha flip flop collection at Novo
I have also bought a couple of Ipanema flip flops before; the last being the Ipanema Gisele Bundchen sandal. Except for one pair which snapped, the others are very much fine.
New Ipanema flip flip collection at Novo
The great thing about these flip flips is that they're fashionable with their gorgeous colours and the funky yet classic styles. Plus, they're comfortable for walking!
Comments