Lash extending mascaras & contact lenses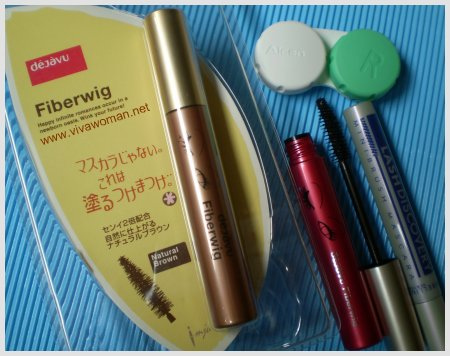 I never knew the real reason why my eyes were feeling so irritated and turning red whenever I tried to wear the Dejavu Fiberwig. I only found out now that it's because the lash-extending mascara have fibres that are not suitable for contact lens users like myself. In fact, I recalled that my friend Ashes had the same exact problem using this particular mascara too.
Bypass lash-extending mascaras if you wear contact lenses. Manufacturers often brag that the microfibers in those products give your lashes an extra boost. But those little particles can also become trapped beneath your lens and scratch the cornea, increasing the risk of infection. (source)
If you wear contact lenses, you want to avoid mascaras that promise to build up the thickness and length of your lashes with silicone and fibers. Because if one of these lash-building particles falls into your eyes, you risk having your eyes infected. And the best is to select hypoallergenic, nonwaterproof mascaras that are less likely to irritate your eyes.
As for me, I've long avoided using such mascaras. That's why the Natural Brown Dejavu Fiberwig I got from Hong Kong eons ago is still unopened till now.
Comments