Natural skin care with carrier oils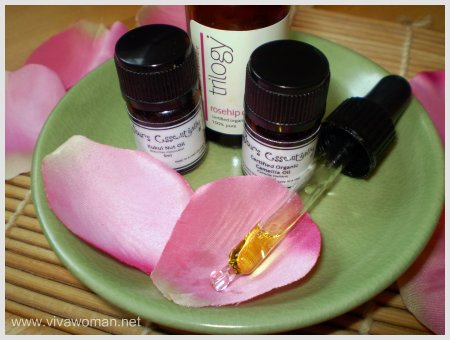 I have mixed feelings about using carrier oil for skincare. While I loved my Rosehip Seed Oil while it lasted, it is not something I want to use that often. I'm not sure why my initial excitement wore off. Perhaps it is due to the ambivalence after I found out that it caused the growth of a milia seed on my eye or because I couldn't mix it with my other skin care products since it's a fairly rich oil. So while I am still open to experimenting with carrier oils, I think I need to change my usage and expectations of them.
Cold pressed carrier oils are the best
Carrier oils are used as a carrier for aromatherapy essential oil applications, as a base in homemade cosmetics, as well as as stand alone skin care applications. They are pressed from the fatty portions of seeds, nuts, kernels and do not evaporate or impart their aroma as strongly as essential oils. However, compared to the latter, carrier oils have a greasy texture and can go rancid over time, depending on how they have been processed. The ones that have been extracted through expeller or cold pressed methods are the best.
High antioxidants with healing properties
The good thing about carrier oils are that they contain antioxidants and essential fatty acids beneficial to our skin. Some of them even possess healing properties and this is why you find a lot of people like to use them to treat their specific skin conditions. Personally, I find carrier oils are great in lightening new scars for me.
Camellia Oil & Kukui Nut Oil
The latest carrier oils I have been testing out are the Camellia Oil and Kukui Nut Oil from Yours Essentially. I actually wanted to try Camellia Oil because I've read about how it is able to diminish fine lines and pitted acne scarring, lighten freckles and reduce the appearance of pores. However, over the past month or so that I've tried, I've only used on my eye area. Although the texture is light and not as greasy, I was hesistant about applying it around my entire eye for fear of having more milia seeds. So the oil was only applied on the outer corner of my eyes in the hope of erasing some of the fine lines there.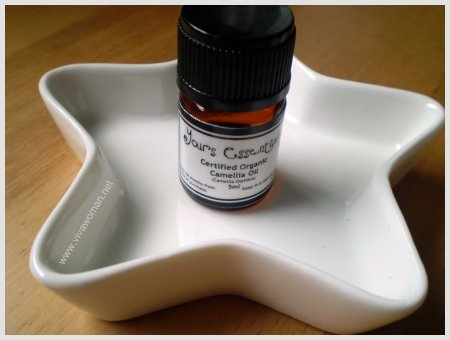 My verdict of Camellia Oil to help fine lines
It did diminish some fine lines, but not to the extent that I was expecting. I suppose if I persist in using it, the results might be more significant but heck, I'm impatient! I later found out that while some girls raved about how the Camellia Oil has helped diminished their pitted scars, it took them as long as a year! And I know I won't want to wait that long to see results.
Kukui Nut Oil a customer favorite
As for Kukui Nut Oil, I haven't really experimented except for days when I'm too lazy and use it on my face in place of sunscreen when I'm at home. I understand from Jess of Yours Essentially that this is a popular carrier oil with her customers and I can see why. The texture is even lighter than Camellia Oil, is non-greasy and penetrates into the skin almost instantly hence making it wonderful as a moisturizer.
Oil Cleansing Method with carrier oils
I recently learnt from Leon of Beauty Secrets Revealed that her face has been radiant from using the OCM method with Extra Virgin Oil, Evening Primose Oil and Castor Oil and I'm keen to try. While I've tried cleansing my face with oil before, it doesn't count as OCM since I actually double cleansed with a foam cleanser. Perhaps this is a better way for me to use carrier oils such as Jojoba Oil to my advantage since I'm impatient with the application method.
Sea Buckthorn Oil to get rid of wrinkles
Having said that however, I am not discontinuing with the application of carrier oils. In fact, I'm currently using Sea Buckthorn Oil which Leon had recommended in her Glowing Diva Forum. According to her experience, this oil can make our wrinkles less visible in a month! I've just started using it last week and will report back in a month's time. But this oil doesn't smell very wonderful to me though.
Where to purchase affordable carrier oils
If you're interested to try carrier oils and to find out if they can benefit your skin condition, there's no need to purchase those from the high-end brands. Instead, try buying samples from online stores such as Yours Essentially and Whoopeekiddies as they're 100% organic and much cheaper (check out the Glowing Diva Forum for a list of reliable DIY ingredient suppliers too). In addition, you can even have them to provide you a custom blend to suit your skin condition. Just ask!
Comments