The Body Shop: Nature's Minerals Make-Up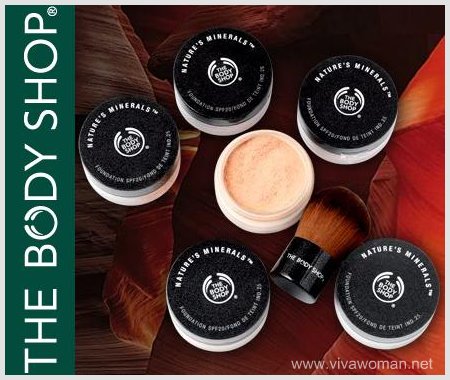 Have you checked out the new Nature's Minerals Make-Up from The Body Shop? I took a look at the range over the weekend and was fairly impressed with its look and feel. The ingredients also seem quite safe for me but I stopped short of getting it when I was told by the SA that the foundation powder would oxidize and I should choose one shade lighter. In addition, I thought that 5g of foundation powder at S$42.90 was quite expensive.
Practical and unique packaging
But what I like about the range though is the packaging. Unlike the usual mineral makeup sift container, Nature's Minerals Foundation comes in a pot with a mesh which creates less mess. The SPF25 foundation comes in five natural-looking shades and contains the following ingredients:
| | |
| --- | --- |
| Kaolin clay | A clay mineral that helps to bind the make-up to the skin for long lasting coverage. |
| Mediterranean clay | An absorbent mineral that helps to bind the make-up to the skin for long-lasting coverage. |
| Titanium dioxide & iron oxide | Provides a natural-looking colour palette and protects the skin from the sun. |
| Mica | A transparent mineral mined from the earth in thin sheets to give powder sparkle and shine. |
| Illite | A clay with potassium ions and a high level of calcium carbonate to purify and detoxify. |
High density Nature's Minerals Foundation Brush
If there is one thing I recommend buying from the range, then it has to be the synthetic foundation brush. It feels almost the same as my Lumiere Kabuki Synthetic Brush, only more expensive at S$33.90. But if you're a Love Your Body Member, you'll get 50% off while others can also enjoy a 30% discount with any purchase of the Nature's Minerals Make-Up range. Available is also the Nature's Minerals Blusher Brush at S$29.90 and the Nature's Minerals Eyeshadow Brush at S$22.90.
Nature's Minerals Cheek Color & Eye Color
In addition to the mineral foundation, Nature's Minerals also include three fabulous cheek colours and five sensational pearlescent eye shades. The cheek colors are S$26.90 for 2g while the eye colors are S$22.90 for 1g. I didn't really check out the eye colors closely so I am unable to comment about the shades.
My thoughts on the Nature's Minerals Make-Up line
Even though the packaging looks great and the product feels fine, but being someone who has ordered cheaper mineral makeup online before, I just can't bring myself to pay the price of the new Nature's Minerals Makeup Range. The selection is also limited compared to what we're used to from the other more established mineral makeup range. So my guess is that this might appeal to those with spare cash, and want to try mineral makeup for the first time but prefer instant gratification.
Comments