Everyday Minerals Itahake Brush for excesses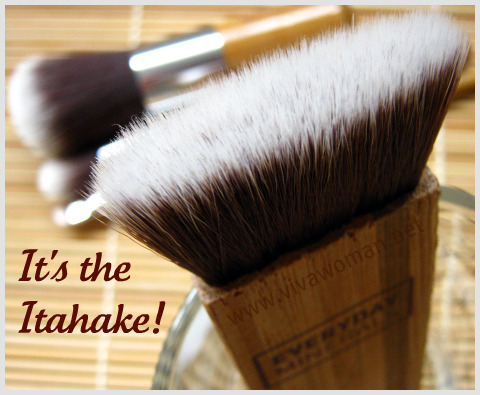 As a noob in makeup, why in the world do I need an Itahake brush? Well, I don't need it but that's not stopping me from wanting this. Why? Because it's so special looking! Just look at the bamboo handle with the natural finish! Okay, for those who don't know, this is the new classic Japanese makeup brush from Everyday Minerals. It is described as 100% cruelty free, made with super soft synthetic fibers, and is the perfect brush for all face, base, contouring, and décolleté applications.
Useful for applying base and finishing powder
I had no idea what I'll use this for when I ordered it but thought I can play around and see what turns up. But after experimenting, I find that this isn't a suitable brush to apply foundation powder as the application will turn up quite sheer. However, I find it rather useful for applying base and finishing powder as the application is light and not heavy. And because it is flat with rounded edges, it's suitable for contouring and also is able to reach those groove around the nose and eye area effectively. I read that this brush might be suitable for cheek makeup and liquid foundation. I can't comment much on that as I haven't tried using the brush with those products and have no plans to.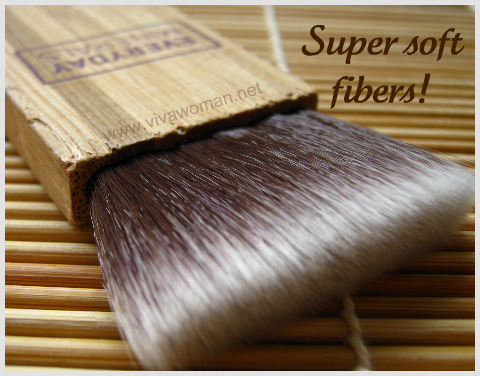 Used by Geishas
But I'm quite curious as to how well it works with wet or creamy foundation because I understand that the Itahake brush is supposed to be used by geishas as a bento beauty tool to apply their trademark white makeup. However, my question is, won't it cause some amount of streaking as the brush, while flat, is rather broad. Maybe it works like a wall painting brush huh? Well, if someone has tried using the brush with liquid foundation, perhaps you can share your experience.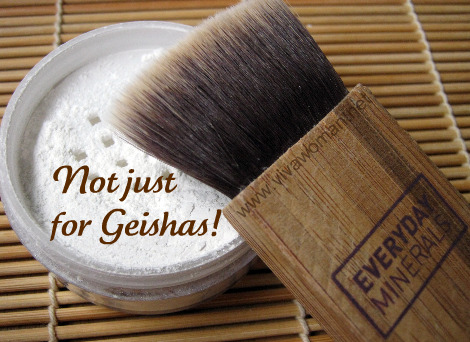 Replacing my Kabuki brush
And oh yeah, it's a coincidence that I'm currently using a white base – very Geisha-like! Well, I ran out of my Purple Sponge from LA Minerals and I'm using this only because it's in my stash. I like my face looking a little fairer and it works well with my foundation powder as the latter seems to darken my skin tone slightly when used alone. I was using my Momo Minerals Kabuki brush to apply the base and that worked well. But since I now have the Itahake Brush from Everyday Minerals, I've been using this in place, trying to imagine myself as a Geisha wannabe each time I brush my face with it.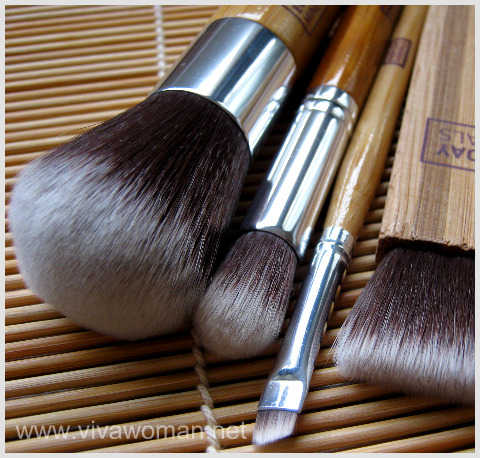 Price and promotion
The usual price of the Everyday Minerals Itahake Brush is US$15 but there's a promotion at US$12 currently. I'm slowly but surely building up a collection of the Everyday Minerals' brushes and also ordered three other brushes along with this; the Long Handled Kabuki, the Eye Kabuki Brush and the Angled Brow & Liner Brush to add to my EM Flat Top Brush. The Long Handled Kabuki is very similar to the Momo Minerals one that I currently own and I'm liking it as much. The Eye Kabuki Brush is very good for blending eye shadows or application of concealers so it's brilliant too. But the Angled Brow & Liner Brush is very meh though; too thin and doesn't apply my brow color too evenly.
Do I really need it?
The natural finish is interesting looking for the Itahake Brush but I'm a bit uncomfortable when I wash the brush as I'm so used to those with a metal protector between the fibers and the handle. And okay, it is not necessary to purchase the Itahake Brush just to apply my base and finishing powder if you ask me. But well, a girl can have her excesses! Like I said, I don't need it but I want it and now, I'm having fun with it.
Comments