Benefits of the oil cleansing method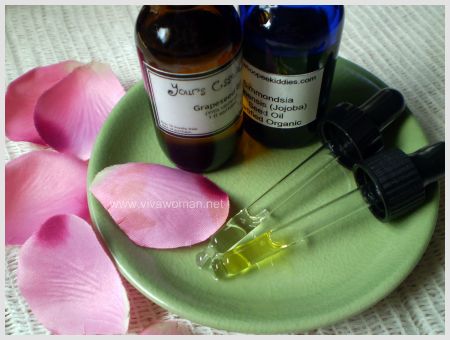 I've mentioned in my entry on the benefits of Jojoba Seed Oil that I've been experimenting with the oil cleansing method (OCM). It's been some weeks now and one of the most evident benefit for me has been the almost complete eradication of the blackheads on my nose. I have stopped using baking soda or tomatoes so I'm sure that the blackheads were removed due to my new cleansing routine. And it's not just me because two of my readers, Florence and Ms Blacklace also shared their good experiences of using oil to cleanse their face and I thought I'll share their comments here.
Florence's comments dated 13 Oct:
"I have been using the OCM for abt 1 mth+; very good, my blackheads are gone & skin is radiant. I brought the cleansing oil from aubrey nicole…"

Ms Blacklace's comments dated 13 Nov:
Have been using jojoba oil and grapeseed oil for almost a week, and I can say that my blackheads have reduced. After the oil cleansing, I squeezed my nose lightly and the blackheads just shot out! After a follow up cleansing with a mild cleanser, and using the oils as moisturiser, I went to work the following day and my friends thought that I had put on makeup because my nose was smooth. Haha!
How to cleanse your face with oil?
The oil cleansing method is not difficult to follow. All you need are a natural carrier oil to suit your skin type, a wash cloth and running steamy bath water.
1) Apply about 8 to 10 drops of oil (3/4 of a teaspoon) in one of your palms and rub both palms together to warm the oil before smoothing all over your face.
2) Massage the oil well into your skin to remove all traces of impurities like your makeup and sebum plus any of your problem areas. This should take about 2 minutes but it can be longer if you like.
3) Next, dip your wash cloth into clean steamy water and then drape your face with the wet and steamy hot washcloth. Leave it on to cool down and pat off the excess oil off your face gently.
4) Repeat another 4 to 5 times until you feel your skin is clear of the oil and impurities.
5) Tone and moisturize as per normal afterwards.
Why oil can cleanse your skin?
The concept of OCM is that the oil used to massage your skin will dissolve the oil that has hardened with impurities and stuck in your pores while the steam will open your pores, allowing the oil to be easily removed. I will tell you that based on personal experience that this works. In fact, I find oil make a better makeup remover. Although I've not used this method long enough to vouch that it will definitely give you clearer skin but besides fewer blackheads, softer radiant skin and less acne were some of the other benefits being reported by others.
What are my reservations towards the oil cleansing method?
However, I have some reservations about using oil cleansing too frequently. In fact, I only use it a few times a week, once a day at most. Other than that, I revert to using my normal cleanser. First, I dislike the usage of washcloth. Although I try to wash the cloth regularly with hot boiling water and air it dry, I'm still not entirely comfortable with using it. Second, I dislike heat on my face. In fact, some of you may recall that I've written why you should not steam your face too often as heat can dry up our skin. I'm not sure if the oil massaged into the skin will compensate for the lost in moisture but I'm just paranoid about the heat. Finally, oil cleansing method is time consuming and waste too much water!
Can you use commercial oil cleansers for OCM?
Having said that, I have to admit that the oil cleansing method has done some good for my skin. But while it is said to be suitable for all skin types, I am not entirely sure especially when it comes to those with sensitive skin. But if you're keen to try, you need to start by finding a suitable oil and for me now, Jojoba and Grapeseed Oil works great because they're light and they keep my skin sufficiently supple. One way to do this is to research on the right oil for your skin type and if you're getting your supplies from the DIY ingredients suppliers, you can also find out from them. But if you find getting natural oil troublesome, then you might want to try the oil cleansing method with commercially available oil cleansers because I have also come across many raves from ladies who have used those products. They just cost more and contain more ingredients than the natural oil!
So what are your thoughts about the oil cleansing method and will you attempt it?
Comments