Five different ways to cleanse your face properly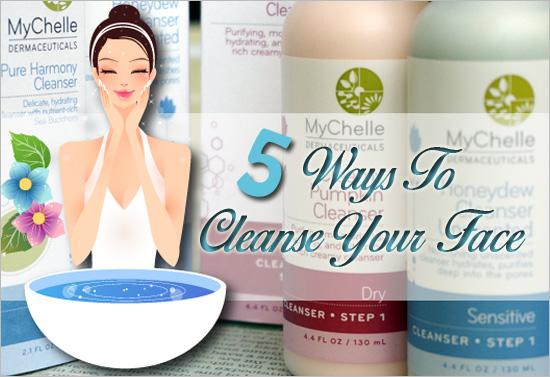 In the early years of Viva Woman, a reader once asked me to write a post about how to wash our face properly. I was a bit stumped at that time, thinking, "WHAT? You gotta be kidding me right? How am I supposed to fill up a post about how to wash your face without resorting to fluff?" Okay, I admit I was ignorant as I'd thought of facial cleansing as simply, wetting of skin and lathering of soap that takes up no more than five minutes. I mean, what else can there be? But eight years later, I realized that I was SO wrong. There is definitely more to facial cleansing and so today, we're going to look at not one, but five different ways to cleanse your face.
Before I begin, I just want to stress that proper facial cleansing is the most important step in your skin care regime. You may have the best products but if your face is not clean enough, it's not going to be able to absorb the active ingredients from your skin care products. And if you're not careful, you may even get your pores clogged and congested, resulting in blackheads and acne. Why do you think so much time is spent taking off your makeup and cleansing your face when you're at the facial salon? Yet, proper facial cleansing is not just about washing off makeup, debris and dirt from your face. It is also about maintaining a proper pH balance so that you won't cause unnecessary irritations to your skin.
Okay, now that I've got your attention on why it's important to cleanse your face properly, we are ready to look at the five different ways to cleanse your face.

1. Double cleansing method
This is my favorite method of facial cleansing and I believe, something that is widely practiced by many. You may want to check up my posts on six different ways to double cleanse for some ideas but basically, it just means cleansing your face twice although the type of cleansers used may differ depending on preferences. Some people choose to repeat the usage of their cleansers, whether it is an oil cleanser, a cream cleanser or a foaming cleanser. Personally, I prefer using a cream cleanser to first remove makeup and facial dirt and then followed on with a foaming gel cleanser. I also make sure that the foaming gel cleanser I use is without sodium lauryl sulphate (SLS), sodium laureth sulphate (SLES) and alcohol denat as these ingredients are extremely drying on the skin in the long run.
2. Oil cleansing method
Many ladies swear by this cleansing method, insisting that it causes their skin to glow with radiance. Personally, I find this method too harsh for the skin and may contribute to dry skin later. But my opinion aside, the oil cleansing method involves a natural carrier oil to suit your skin type, a wash cloth and running steamy bath water. These are the five steps to follow:
1) Apply about 8 to 10 drops of oil (3/4 of a teaspoon) in one of your palms and rub both palms together to warm the oil before smoothing all over your face.
2) Massage the oil well into your skin to remove all traces of impurities like your makeup and sebum plus any of your problem areas. This should take about 2 minutes but it can be longer if you like.
3) Next, dip your wash cloth into clean steamy water and then drape your face with the wet and steamy hot washcloth. Leave it on to cool down and pat off the excess oil off your face gently.
4) Repeat another 4 to 5 times until you feel your skin is clear of the oil and impurities.
5) Tone and moisturize as per normal afterwards.
3. 4-2-4 cleansing method
Have you heard about the 4-2-4 facial cleansing method made famous by Korean celebrity, Bae Suzy, who said it has kept her skin pimple free? Don't be fooled by the numbers thinking this is a complicated cleansing process. The numbers just represents a three-step facial cleansing method that takes up ten minutes of your time. The first step involves using a cleansing oil or cream to massage your face for at least four minutes. Step two involves washing your face with a cleansing foam for two minutes. Final step is to rinse your face with lukewarm water first and then finish off with cold water, taking four minutes altogether. This helps to increase blood circulation as well as effectively remove the dirt that was picked up by the cleansing foam. Actually this 4-2-4 facial cleansing method is but a more methodological double cleansing method. I like the idea of finishing off the cleansing with cold water but I'm not sure if it's realistic to keep to set timings for the routine in the long run. I mean, I would get tired of checking the time!
4. Exfoliating wash cleansing method
The whole idea of an exfoliating wash is to exfoliate while you wash your face. You can achieve via an exfoliating cleanser, which usually contains some sort of scrub beads, AHA or BHA. If exfoliation is not available in the cleanser, then use a cleansing aid like a facial towel, a muslin cloth, a facial sponge or an electronic facial brush. While I can see the benefits of exfoliating during your facial wash, I think this method of facial cleansing should not be used daily though because you can end up over exfoliating and stripping your skin of its natural lipids.
5. Toning wash cleansing method
I've yet to try this method but I've often read about it. Basically, it involves using an all-in-one, triple performance formula that not only works as a facial cleanser, but doubles up as an eye makeup remover and triples up as a toner. So instead of using three different products, you just need one product that effectively removes makeup, dirt and impurities from face and eyes. No water is used as this cleanser also supposedly helps to tighten pores, leaving skin feeling clean, toned and soft.
So there–five different methods to cleanse your face and each method focus on the importance of keeping your skin clean and healthy. Remember that while a well cleansed face builds the foundation for good skin but do not over cleansed your face such that you disrupt the pH balance. I'll say cleansing twice a day is more than sufficient–a light cleanse in the morning and then a thorough cleanse using one of these methods at the end of the day.
Are you currently using any of the methods listed here? Or do you have a new facial washing method to share? Tell us more in the comments!
Comments