DIY Beauty: two anti-aging beauty fix with eggs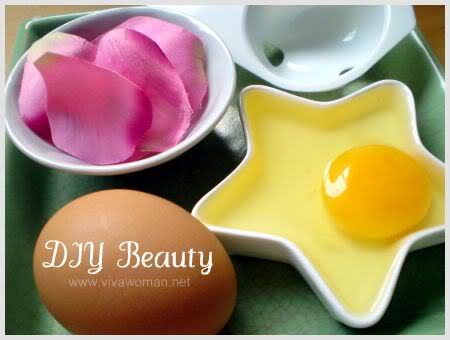 Eggs are really useful. Small as they are, they are nutritious when consumed and are great beauty aids. Come to think of it, eggs must be the first natural ingredient I've ever used on my face too because they are always available and are so easy to use. All you need is to break an egg, remove the egg yolk and apply the egg white as a mask for an instant face lift! That's because the proteins in the eggs act to tone and firm the skin; helping to reduce the appearance of pores on the skin and giving us smoother looking skin, temporarily. Hence, eggs are a great beauty fix!
Eggs for cleansing and purifying
Besides temporary face lift, eggs are great for cleansing purposes. When using my favorite anti-blemish cucumber egg mask for example, I noticed that quite a lot of impurities were drawn out from my face resulting in a number of zits later. Hence, while I enjoy using this mask, I'm cautious not to leave it on for too long.
I've also tried using the Song Hye Kyo egg white and honey skin care recipe. The smell is really awful but my skin definitely felt soft and smooth afterwards.
Eggs are used as beauty aids by royalties
In a beauty book I read, eggs were described as the poor men's beauty aid and that's quite laughable because I assure you it's not the case because even the royalties use it. Well, here's a facial mask recipe using eggs that was purportedly favored by the Chinese Empress Dowager Cixi, as a daily routine to keep herself young and fair until the time she died at the age of 73. It's call the wine egg mask which was said to have powerful anti-aging skin care benefits and it was apparently revealed in 1995 by a 57-year-old Chinese lady Gong Xuehua who looked as if she's barely entering her thirty's. According to the source I've read, Gong revealed that her secrets were passed down from her great great grandfather, who served as the royal doctor in the Chinese palace for 20 years.
Wine egg recipe for lightening, toning & preventing wrinkles

Ingredients: 3 eggs, red wine and honey

1. Crack the 3 eggs into a bowl or container.
2. Pour the red wine into the bowl until the eggs are all soaked.
3. Seal the bowl/container and store in the fridge for 4-5 days.
4. Add in 2 teaspoons of honey and mix them well.
5. Apply to your face for 15-20 minutes and wash off with warm water.

Note: Do not use this formula if your skin is allergic to alcohol.
The wine here must be Chinese red wine and I guess the recipe got modified along the way because I don't think Empress Dowager Cixi has a fridge back then did she? Anyway, I found an almost similar recipe from Channel News Asia.
Face mask to remove freckles

Ingredients: Egg yoke, Chinese wine

1. Soak the egg yoke in Chinese wine for a week.
2. Blend
3. Spread a thin layer on the face every morning or night.
4. Leave the mask on for an hour.
5. Wash your face clean with lukewarm water.
They all sound very interesting to me but I doubt I'll want to try this. In addition, it does not indicate if this homemade recipe is suitable for all skin types. I also can imagine how my face would smell with this stuff! But maybe some of my readers out there are game enough to try these for all the anti-aging benefits it purportedly provides. If so, tell me!

Comments