Do you do a skin patch test?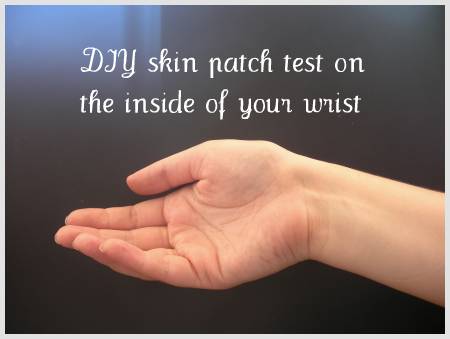 How many of you perform a patch test on your skin whenever you're using new skin care products or cosmetics? I have never but I've been increasingly worried about my readers getting allergies due to my recommendations. I don't do patch tests because I am lazy but I know skin allergies are possible even with natural products or ingredients. Well, I've developed rashes from using mineral powder which is supposed to be all natural!
So how do you conduct a skin patch test? Is it possible to do it at home, in DIY style? The answer is yes, although you need to be aware that this may not be as reliable as the actual patch testing done by a dermatologist. But it should suffice unless you have a weak immunity system or your skin is overly sensitive.
DIY skin patch test
First, choose an area you want to conduct the patch test and ensure it's clean and free of lotion. Usually, the recommended spots to conduct a patch test is the inside of your wrist or inside of your elbow. Next, simply apply small doses of the product to the inside of your wrist or elbow, leave the product on for at least 24 hours. Do not wet the area or wash it off. Finally, check regularly to see if any irritation occurs such as itchy rashes, swelling, soreness, redness or burning sensation on the skin. If so, wash the area thoroughly with running water. Do not scrub! If by the end of the test period, there are no visible signs of allergic reactions, then the product is most probably safe to use on your skin.
Patch test is important for those with sensitive skin
I think skin patch test is important for those with sensitive skin, or are proned to skin allergies. Although I have not done a real patch test, but increasingly, I'm more careful about applying new stuff on my face by dabbing on small doses to a define area first. I know this is not the best course of action especially since I'm risking having allergic reactions on part of my face, but it sure beats having the whole face itchy or red.
Patch test is necessary for hair dyes
When it comes to hair dye however, it's important to perform a patch test 48 hours prior to use. The same testing process applies and if there are no burning, itching or stinging sensations, then the dye should be safe to use.
Come to think of it, nobody does a patch test for me when I color my hair at the hair salon. In fact, they don't even ask me if I'm allergic to anything and I've always trusted my hair with them. But if they do, it'll mean I need at least two days to have my hair colored!
Comments