4 Less Toxic Hair Coloring Solutions To Cover Your Grays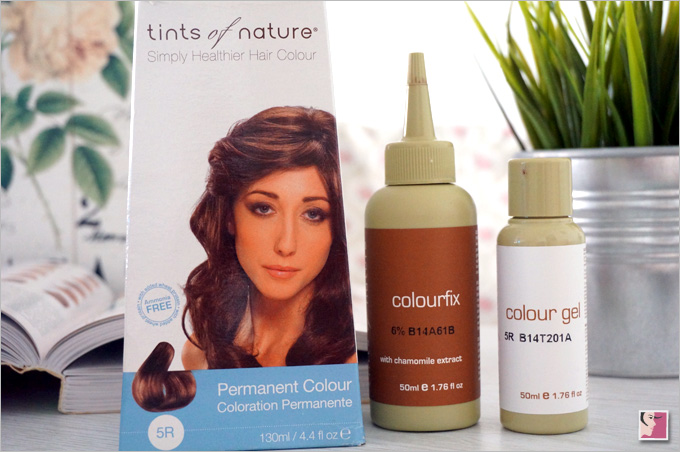 What options do you have if you need to cover your gray hair regularly without using noxious, chemical-loaded hair dye that makes your head smells like horse pee? Well, you have a couple of choices—from store-bought henna powder to salon-based hair coloring treatments that promise lasting, vibrant colors while completely covering gray.
With the exception of henna powder, all of the other options aren't 100 percent non-toxic. Typically, they are all ammonia-free and some are even formulated without a couple of other toxic chemicals like peroxide, PPD (para-phenylenediamines), coal tar, lead, toluene and resorcinol that are suspected to be possible carcinogen or a human immune system toxicant.
1. Henna Powder
Henna is a non-toxic natural plant-based permanent hair dye and comes mostly in power form. To use it, you're supposed to mix it into a paste with water. I've never tried using it because there are no other color ranges for henna except for red-orange. If you have come across henna of other colors, they aren't 100 percent henna but are made with other chemicals.
Other than the limited color, I understand that henna is drying. I've a colleague who used it for a period of time and the dryness was telling. That plus the fact that it didn't cover her whites and the color faded off after just some washes. If I'm not wrong, henna needs a couple of hours to color well. Based on what I've read, many users actually leave the mixture overnight to achieve their desired color. Even then, the color would still fade off after some shampooing.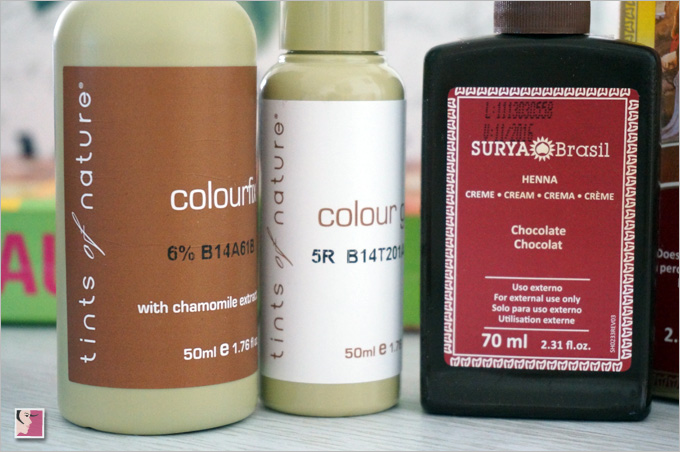 2. Henna Cream
While I haven't tried henna powder, I've tried using henna cream. Surya Henna Cream is a product I was using for two years or so every month. The cream hails from Brazil and is a semi-permanent hair color said to not contain peroxide, ammonia, resorcinol, PPD, heavy metals or parabens. Instead the product uses both plant dyes and gentle hair dyes, including 15 high quality herbs and fruits to add conditioners to the hair.
Obviously, this is not 100 percent natural and so is available in a range of colors. However, it is a gentler alternative for those looking for a more natural alternative. Take a look at the full ingredient list:
Water, Dipropylene Glycol Methyl Esther, Cetearyl Alcohol, Cetrimonium Chloride, Orbignya Oleifera (Babaçu) Seed Oil, Glycerin, Hydroxyethylcellulose, Essential Oils (Rose Flower, Cananga Odorata, Jasminum Officinale and Santalum Album), Achillea Millefolium (Aquiléia) Extract,Aloe Barbadensis(Aloe Vera) Leaf Extract, Arnica Montana Extract, Bertholletia Excelsa (Brazil Nut) Extract, Chamomila Recutita (Camomila) Extract, Corylus Rostrata (Avelã) Seed Extract, Daucus Carota Sativa (Carriot) Root Extract, Euterpe Oleracea (Açaí) Fruit Extract, Lawsonia Inermis (Henna) Leaf Extract, Malphigia Punicifolia (Acerola) Fruit Extract, Malva Sylvetris (Malva) Extract, Paullinia Cupana (Guaraná) Fruit Extract, Phyllanthus Emblica (Amla) Fruit Extract, Ziziphus Joaseiro (Juá) Extract, Genipa Americana Extract, Aminomethyl Propanol, Sodium Citrate, Benzyl Alcohol Dehydroacetic Acid, Disperse Black 9, HC Red 3 HC Yellow 4, HC Blue n.º 2.
Because this is a semi permanent color, I needed to use it every month. The color lasted longer when I left it for a couple of hours on my hair. However, I haven't been too happy using it of late. The color no longer last and I find myself needing to color every two weeks to cover my whites. Either my hair cannot absorb the cream as well anymore or the formulation has changed.
But this product doesn't dry out my hair. In fact, it kept my hair soft and manageable even though I was using it every month. In addition, a bottle last me through a few applications so the cost was affordable.
3. Home-Based Hair Coloring Kit
Since I wasn't too happy with Surya Henna Cream, I started scouting for other alternatives. There are a couple of hair coloring kits in the market that boast of being free of toxic chemicals. They work the same way as the chemical-loaded hair dye as you will need to mix the solution prior to application.
I picked one from Tints of Nature earlier in the year. It is made with up to 60 percent certified organic ingredients and is free from ammonia, resorcinol and parabens, and with the lowest possible level of PPDs. The product also promises 100 percent coverage for gray hair.
Well, that promise is true. I used this once and the coverage was excellent. The color turned out very rich and seemed to fare better than Surya. But it didn't last and I noticed the color started fading in week three. So it's not really better than Surya Henna Cream. In fact, I found my hair rather dry after using this just once.
Also, application isn't as easy as Surya Henna Cream. This one works more like the conventional hair dye where the color gel needed to be mixed with the colorfix prior to usage. Plus it's more expensive considering I'm paying the price for a one-time usage as whatever the solution but it can't be kept.
In terms of ingredients, this product consist a lower content of PPD. Here's the ingredient list: Color Gel: PEG-2 soyamine, aqua, PEG-4 rapeseedamide, *alcohol denatured, **propanediol, oleic acid, ethanolamine, parfum, **hydrolyzed wheat protein, p-phenylenediamine, 4-chlororesorcinol, sodium sulphite, ascorbic acid, sodium hydrosulphite, tetrasodium EDTA, PEG-7 glyceryl cocoate, *aloe barbadensis (aloe) leaf juice, *symphytum officinale (comfrey) leaf extract, *citrus aurantium dulcis (orange) peel extract, *citrus grandis (grapefruit) fruit extract, 2-amino-4-hydroxyethylaminoanisole sulphate, n-phenyl-p-phenylenediamine sulphate, m-aminophenol, 4-amino-2-hydroxytoluene, tocopherol.
Colorfix: Aqua, hydrogen peroxide, *anthemis nobilis (chamomile) flower extract, phenoxyethanol, benzyl alcohol, potassium sorbate, tocopherol, etidronic acid, polyquaternium-10.
I noticed that Watsons has brought in a series of natural hair dyes that are free of some toxic ingredients. You may want to check those out. If you purchase at iHerb like me, then try reading reviews to determine which hair color kit might work for you.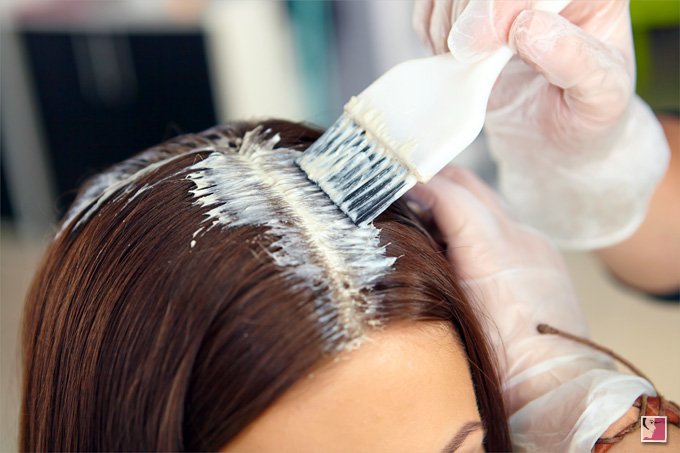 4. Salon-Based Natural Hair Coloring
More and more, salons are offering ammonia-free hair coloring treatments and even "organic" hair coloring options. Truly, there are no such thing as an organic hair color; it just means the product contains some organic ingredients.
Anyway, my discussion here will be limited to what is available in Singapore since I'm based here and I can't possibly discuss treatments offered outside of my country.
Simply Organic Oil Emulsion Hair Color
One of my most natural hair coloring in-salon experience was at Ecorganics (click to read my review) which uses a safer permanent hair color with Simply Organic Oil Emulsion Haircolor. Simply Organic Oil Emulsion Haircolor is a hair color that is much gentler to the hair, scalp, the stylist and the general environment of the salon.
Instead of ammonia, Simply Organic Oil Emulsion Haircolor is formulated with less toxic ingredients and offer rich, vibrant colors including reds and coppers that do not fade. As a result, customers can color their hair more often because their hair would not become dry and damaged over time.
Although this product is free of ammonia, it contains PPD and resorcinol. Here's the full ingredient list: dihydroxyethyl soyamine dioleate, aqua, isopropyl alcohol, ethanolamine, propylene glycol, oleic acid, peg-3 cocamide, sodium sulfite, olea europaea (olive) fruit oil, p-phenylenediamine, phenyl methyl pyrazolone, m-aminophenol, p-aminophenol, 2-methylresorcinol, sodium erythorbate, resorcinol, tetrasodium edta
If I remember correctly, the hair color turned out well. The price is quite good but the product is only available at Ecorganics.
L'oreal iNOA Ammonia-Free Permanent Haircolor
The latest I've tried is L'oreal iNOA Ammonia-Free hair dye at a Korean hair salon. iNOA is short from Innovation No Ammonia and uses an oil-based delivery system that maximizes the effectiveness of the permanent hair color process.
I had popped by the hair salon and opted for this treatment because it seemed better than the conventional hair coloring. At least, there is no ammonia. But I realized that that's where the line stops because the other ingredients are also found in most other hair colors:
Mineral Oil, Water, Glycerin, C20-22 Alcohols, Ethanolamine, Oleth-20, Cetyl Palmitate, Deceth 5, Oleth 10, Toluene-2,5-Diamine, Rescorcinol, Sodium Metabisulfate, EDTA, m-Aminophenol, Ascorbic Acid, Carbomer, Hydroxybenzomorpholine, 2,4 Diaminophenoxyethanol HCl, Ceteareth 60 Myristyl Glycol, Thioglycerin
This product is nothing natural. It is just ammonia-free. But so far, I am pleased with the results. The only thing is this treatment is more expensive and I experienced some itch while my hair was being processed with the color. In addition, I find my hair texture feels a tad rough whenever I shampoo.
Aveda Hair Color
I've come across a couple of hair salons carrying Aveda Hair Color, which is made of 93 percent botanicals and non-petroleum base minerals that promises long lasting colour results and intensity for Asian hair petrochemical counterparts. I don't have the full ingredient list to know if this product contains any of the usual toxic ingredients. If the result is rich, vibrant colors than last longer than those home-based kits, then I suspect it would include a trace of less-than-clean chemical ingredients.
Nature's Organic Sense
You might have come across a chain of salon offering "organic hair coloring" treatments. The price seems reasonable. I found out that they use hair coloring products from Nature's Organic Sense and are ammonia-free and paraben-free. The product also contains certified organic and natural ingredients such as organic extra virgin olive oil, organic argan oil, organic aloe extract, organic jojoba oil and hydrolysed wheat protein. Again, I can't see the full ingredient list to know what it actually includes. My suspicion is that it might contain PPD as there are no mention of that being excluded.

What I've just shown is just a sampling of what is available in the market. My point is, there are less toxic options but they are not completely free of all nasty chemicals. Otherwise, the products would not yield you the desired color or even cover your grays. Please know that there are no such thing as natural or organic hair coloring. Yes, there are some natural remedies to help with hair coloring but those don't really work where white hair is concerned.
But these less toxic treatments are suitable for those allergic to ammonia or PPD, as well as pregnant and nursing moms although I'm more incline to advise the latter group to refrain from coloring your hair if possible. If you have to, just read the ingredients very carefully before proceeding. Don't just go to a salon that promises you organic hair coloring and think it's 100 percent safe. It is not a given!
Well if you are using a cleaner hair coloring kit or treatment, do share with us your thoughts or recommendations. Nothing beats learning from real life testimonies!
Comments