Oh moo…milk can give you a flatter belly for real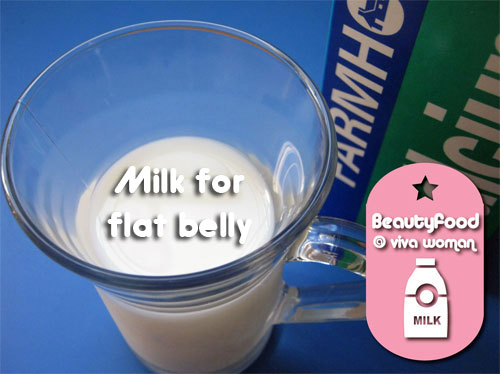 Even though I don't drink milk, but I've got some exciting beauty benefits to share about it. It's not exactly new as I blogged about how milk can help one stay trim and slim back in 2008 but the difference this time is, I've witnessed pretty amazing results myself in my husband, who has been drinking milk diligently for about one month now. Oh why, his fat tummy is noticeably trimmer now!
He started drinking milk daily because he wanted to see if it can help him sleep better. Well, not only did he sleep better, he found that his back and knee don't ache quite as much now. And then just the other day, he crept up to me and asked me to take a look at his tummy. Okay, he does this quite often and so I've grown quite nonchalant to his questioning and only took an obligatory glance. But something made me look again and I realized that his tummy looks trimmer now. Not a lot more but noticeably so. And when I told him that, he shared his suspicions of how it could be due to drinking milk although he finds it a bit unthinkable since milk is always thought to promote growth, and thus fats.
Researches that support milk helps one slim down
That was when I pulled out a BBC article dated 1999 that stated how researchers at Purdue University in Indiana found that young, normal weight women who had 1,000mg of calcium every day – the amount of calcium found in about 1½ pints of semi-skimmed milk – lost about 6lb over two years.
Dr Dorothy Teegarden, Assistant Professor of foods and nutrition at the university said: "Our study is the first to show that, when overall calorie consumption is accounted for, calcium not only helps keep weight in check, but can be associated specifically with decreases in body fat."
Additionally, I also showed him an Australian research from the School of Medicine and Pharmacology at the University of Western Australia that suggested that drinking milk can help to suppress our appetite which then contribute to the slimming effects.
He was over the moon and has since been buying cartons of low-fat milk!
(And it gives me an excuse to steal his milk for my DIY recipes. Heh.)
No guarantee for all but worth a try
Okay, I can't say milk will definitely help everyone stay trim and slim but it seems to help some people do that. If you have some trouble with slimming or you want to get a flatter belly, perhaps you want to give it a try. But do note that milk does not suit everyone for it can cause some people (like me) to break out in pimples and acne.
Comments