Is layering more products on your skin good?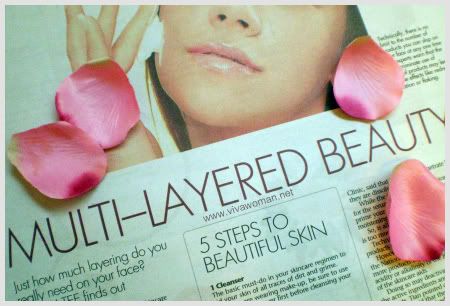 I found this article "Multi-Layered Beauty" in last week's copy of the Urban from The Straits Times rather interesting and useful. Those from Singapore are likely to have read the article but I thought I'll highlight a section of it here for the benefit of those who did not read it, as well as for my readers from the other parts of the world.
The question raised in the article was "just how much layering do you really need on your face?" because the new La Mer Hydrating Infusion apparently calls for a five-step skincare routine which adds two more steps to the basic three-step skincare routine we are all familiar with.
And the five-step skincare routine include a cleanser, a toner, an infusion, a serum and a moisturizer. Actually I thought it's funny they did not mention sunscreen at all, because that would add one more step, making it a six-step skincare routine. I guess we can assume that the moisturizer has built-in SPF then.
Over applying products isn't all that good
According to the article, there is no limit to the number of products we can slap on our face but the skincare professionals warned that using two or more products together "may affect the pH level and this may also deactivate or reduce the stability of the active ingredients and affect the absorption of the products" especially if we're talking about prescription-based products which have higher concentrations of active ingredients. In addition, the indiscriminate use of several products may also lead to side effects like redness, irritation and flaking.
So effectively, this means we're better off not slapping too many products on our face at any one time.
Another important information I picked out from the article is "ingredients penetrate better when they are dissolved in water" which confirms what I have been writing all along that serums and moisturizers work best with moist skin. The skincare experts also indicated that we should "wait one to five minutes between layers" as this will allow our skin to fully absorb a product before moving on to the next.
Well, these advices definitely sound good to me because I don't like applying too much products at any one time. As it is, I use a four-step skincare approach which include a cleanser, a toner, a serum and a sunscreen that doubles up as a moisturizer. On top of that, I wear my makeup. So you can imagine the "burden" on my skin. But unfortunately, as much as I like to keep my beauty regime simple, I've come to the age where I can no longer revert to just the three-step skincare routine!
Comments