Phytocedrat Sebo-Regulating Shampoo
I recently switched to Phytocedrat Sebo-Regulating Shampoo and for awhile now, I haven't had to resort to using dry shampoo to keep my hair looking less greasy. I have seen this product around for some time already but haven't been inspired to test it out because I never had good experience with shampoos containing botanical ingredients. Well, shampoos that do not foam usually doesn't work for my extremely greasy scalp because mine is the sort that produce sebum almost IMMEDIATELY after washing. So you can imagine my trauma all these years; not to mention the amount of dry shampoo which I have been inhaling!
Restores natural balance to sebaceous glands on the scalp
Anyway, I decided to try out Phytocedrat Sebo-Regulating Shampoo because it is specially formulated for my type of hair condition – greasy roots, dry ends and frequent washing required. It is supposed to help reduce oiliness in the scalp by restoring the natural balance of the sebaceous function and it also contains a mild washing base (Saponaria and Panama Bark decoction) that prevents excess stimulation of the sebaceous glands.
Delicious natural botanical scent
The thing that impressed me most is the smell! It's DELICIOUS! And this is the result of the natural botanical active ingredients such as Tormentil, Geranium, Essential oil of Lemon, Nettle, Rosemary and Sage; all containing astringent properties to help eliminate excess sebum.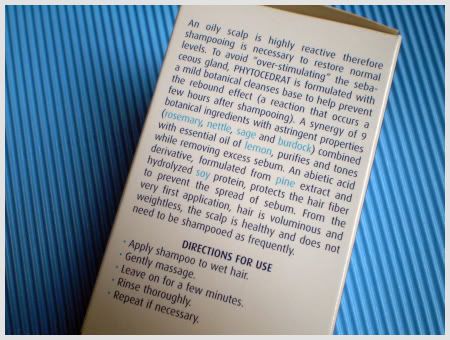 Contains SLS to allow shampoo to foam well
Although said to be of botanical origin, this shampoo contains Sodium Laureth Sulfate and that is why it foams really well! My hair felt squeaky clean while I was washing it and I didn't have to lather a second time at all. The great thing was that my hair felt really light after blow drying. I understand that the addition of Abietic acid coats hair and prevent the migration of sebum onto the hair shaft thus giving volume to the hair.
Grease free for half a day
My hair did indeed look bearable and not greasy for a good half a day but I still can't keep my scalp completely grease free for a full day. I'm not sure if it'll get better with longer term use because I read that the longer one uses Phytocedrat, the healthier the scalp and hence, the longer period of time one can maintain an oil-free scalp. I guess I have to wait and see.
Some of my gripes on Phytocedrat
So far however, I love using this shampoo. It's the best of the shampoos I've tried and it helps my hair condition to a large extent. My main gripe is the ends on my hair do look a tad dry now especially since I don't use conditioner. In addition, while the aluminium packaging is great but I wish they change the cap so that I won't have to worry about spillage of the contents while pouring. And because it is liquid in texture, I must always remember to shake the content so that the ingredients do not settle at the bottom.
Does not contain 100% botanical ingredients
Anyway, Phytocedrat Sebo-Regulating Shampoo is not a 100% botanical shampoo. It has a really long ingredient list and while glancing at it, I spotted Tetrasodium EDTA besides SLS. But I'm fine with these for shampoos because without SLS, I'm not sure if I can maintain a clean scalp at all.
Phytocedrat Sebo-Regulating Shampoo is available at Guardian for S$28 but for S$30 at Watsons.
Comments