DIY Beauty: natural acne treatments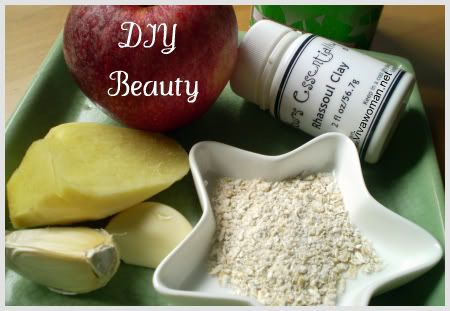 Not everyone with acne likes the idea of using over the counter acne medications or prescription drugs as these may cause side effects for some people. In this case, natural treatments maybe a better alternative to the harsh chemical treatments as they present a more holistic approach to combat mild acne. So what are the natural remedies available?
Here are some suggestions on natural acne treatments based on what I've read from Acne Treatment Guru as well as what I already know.
1. Use of botanical ingredients
Many extracts found in plants have useful properties and medicinal purposes for acne treatments.
Tea Tree Oil
Tea Tree oil is commonly recommended for topical treatment of acne because it can kill the skin-dwelling bacteria that is involved in causing acne. You can dab tea tree oil directly on the affected area and let it sit overnight.
Aloe Vera Gel
Besides Tea Tree oil, Aloe Vera gel can also be applied to eliminate acne as it acts as an anti-inflammatory agent and as an immune booster which helps in eliminating acne to some extent. In fact, you can get straight tea tree oil and dilute it in pure aloe vera gel before applying to your acne.
Lavender Essential Oil
Lavender essential oil has a similar calming effect on the skin and this makes it very useful in treating acne. However, it is too strong to be applied directly to the skin and should be diluted with another oil such as grapeseed or almond oil before application.
2. Use of homemade ingredients
If you conduct an online search, you should be able to find a number of homemade acne treatments involving ingredients found in the kitchen.   
Vinegar
Vinegar which is a weak acid can be used as natural acne treatment as it helps to reduce the redness and inflammation that usually accompany an acne breakout.  If you can't tolerate the smell of white vinegar, use apple cider vinegar instead.  What you can do is to mix equal parts of purified water to the vinegar and apply the mixture with a cotton ball and leave on for no longer than 5 – 10 minutes before rinsing off thoroughly. 
Garlic
Garlic juice is an excellent cleanser with antibacterial and antiseptic properties and said to be a great natural medicine for acne.  Simply squash a garlic clove, mix it in a cup of warm water, and apply the mixture on the affected part with a clean piece of cotton cloth.   Leave on for 5 – 10 minutes before rinsing off thoroughly.
Oatmeal
If you have very oily skin, you can use an oatmeal mask to get good results. Oatmeal when grinded into powder and mixed with purified water not only acts as a great scrub but also effectively soaks away the excess oil from your face. Leave on for 20 minutes and rinse off with cold water to help contract the pores. Alternatively boil the oatmeal in water for a few minutes, and then let it cool down to room temperature before applying to your face. Leave on for 10 – 15 minutes and wash off with warm water.
Honey & Apple
Other homemade acne treatments involve mixing honey with grated apples into a paste and left on the face for about 15- 20 minutes to dry before rinsing off with warm water.  This treatment can be used twice or thrice a week depending on your skin type.
3. Use of natural clays
Natural clay masks, when used 2 – 3 times a week are very useful for those with oily and acne skin types and what they do is to help the skin cleanse and detoxify. The most common types of natural clay used in acne skin care are Kaolin clay, Bentonite clay, Sea clay, and Rhassoul clay which I've reviewed recently. However, some people may experience a little breakout when using these clays the first time as they're supposed to draw out the impurities.
Always perform a patch test
As with any other skin treatments, not all the ingredients are suitable for everyone. Even if they are natural, some people may still be allergic to them. Hence, always perform a patch test on the inside of your elbow before applying the product to your face. In addition, these natural remedies may work for mild acne. If you have cystic acne or other severe form of acne vulgaris, then these may not work and the best course is to seek treatment from a qualified dermatologist.
Comments