Preview: UV Natural Sunscreen SPF30+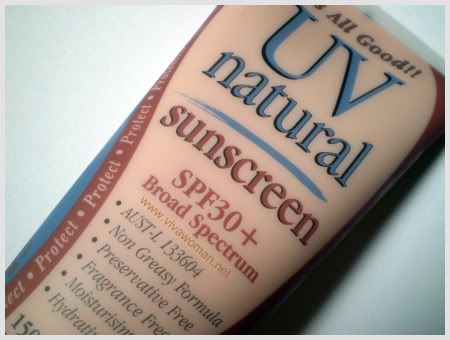 Oooh…I'm feeling really excited about the UV Natural Sunscreen SPF30+ I've just received because I think this is the perfect sunscreen for myself! It took me a couple of weeks to search for this and I happened to stumble upon it thanks to a reader who had asked me about an organic toothpaste! I'm going to provide a detail review of this sunscreen about a month down the road but here's a preview first, especially why I consider it my perfect sunscreen.
Mineral sunscreen with high zinc oxide content
First and foremost, this is a mineral sunscreen containing 24.8% zinc oxide! Isn't that something? Based on my research, zinc oxide is the best sunscreen ingredient to provide both UVA and UVB protection and at this concentration, it is fantastic! However, you may want to take note that the zinc oxide used is micronized according to information from Cosmetic Safety Database. I know some people have issues with this but having been using sunscreens containing nano particles already, I can live with this. Moreover, the micronized zinc oxide used is coated and is said to be non-photoreactive and do not have the ability to penetrate into the bloodstream. Plus, this sunscreen is rated one of the best sunscreens at no. 12 with a low hazard of 1 according to Cosmetic Safety Database.
All-natural formulation with no preservatives used
Second, it is a natural formulation. Not organic but it's good enough for me.  And here's what it contains:
Active Ingredients: Zinc Oxide 24.8%
Inactive: Vitis vinifera (grape seed) oil, Caprylic/capric triglycerides, Silicia, Zinc Stearate, Macadamia Ternifolia Seed Oil, Camellia oleifera leaf extract (green tea), Vitis Vinifera (Grape Seed) Extract, Tocopherol, Iron Oxides.
This formulation is said to be suitable for all skin types including acne-proned skin and it also has desensitizing qualities for hypersensitive skin types. It is a silky non-perfumed sunscreen, and so far I've tried, it's not very greasy for my combination skin. However, I have to test how it goes the entire day, especially after layering makeup over it.
Water resistant formula
Third, it is water resistant for up to two hours. Definitely sounds good for all forms of outdoor activities. I love the fact that I can use this for swimming!
Reasonable retail price and shipping cost
And finally, it is made in Australia and it cost a lot lesser to be shipped to Singapore. I ordered the 150g from Organic Beauty and it cost US$24.83 including shipping cost. A lot more affordable than the 100ml Keys Solar RX Sunscreen that I have now. If you're residing in US, you can get this sunscreen starting from US$16.29 at Valley Naturals.
Okay, look out for my review on this product next month!
Comments