Review: UV Natural Sunscreen SPF30+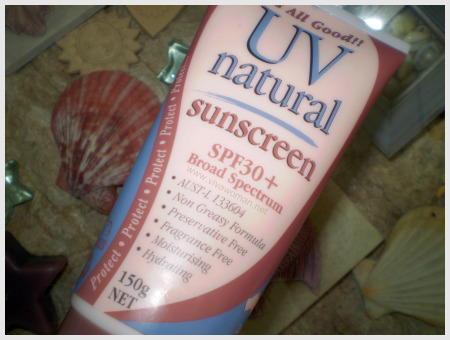 I know some of you are waiting for me to review the UV Natural Sunscreen SPF30+ so here goes, after having tested it for a month.
Ideal formulation for complete sun protection
The first thing I will say is that the formulation of this sunscreen give me peace of mind because of the the high zinc oxide content at 24.8%. From all the resources I've come across including the following rating compiled by Environmental Protection Agency, zinc oxide is the best ingredient to provide both UVA and UVB protection.

In addition, most of the other ingredients in this sunscreen are natural and it is does not contain parabens, silicones or fragrance.
Active Ingredients: Zinc Oxide 24.8%
Inactive: Vitis vinifera (grape seed) oil, Caprylic/capric triglycerides, Silicia, Zinc Stearate, Macadamia Ternifolia Seed Oil, Camellia oleifera leaf extract (green tea), Vitis Vinifera (Grape Seed) Extract, Tocopherol, Iron Oxides.
Micronized zinc oxide used
However, zinc oxide at a concentration of 24.8% presents two problems. One is that the zinc oxide used is micronized. Well, I supposed it can't be helped because at such a high concentration, I would have to do a Geisha makeup if it's non-micronized! This is because the difference between non-micronized zinc oxide and micronized zinc oxide is that the former leaves a white residue on the skin while the latter creates the same barrier in a form that appears far more transparent and less whitening when rubbed in. As a result, even the UV Natural Sunscreen SPF30+ is beige because of the Iron Oxide, it goes on without any tint or whitecast on my face.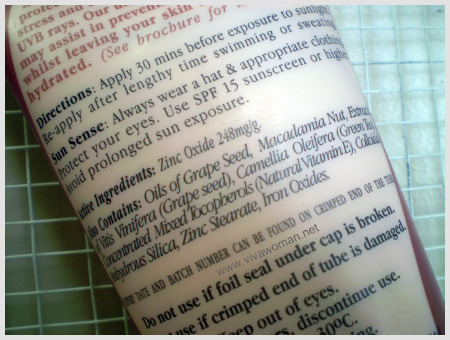 Safety concerns over micronized zinc oxide
There are controversies on micronized zinc oxide and I don't want to discuss them here. If you're interested, just do a search on the topic and you can find out more. But on the whole, my understanding is that it isn't hazardous and you may also like to know that many companies out there are actually using the micronized version of zinc oxide to make their sunscreens transparent when applied. The difference is some state it upfront to the consumers, some don't.
Formulation is drying
The second problem with the high zinc oxide content is that this active ingredient is actually a drying agent. On first contact, the UV Natural Sunscreen looks like a lotion that feels really thick and rich when applied to the skin. However, the strangest thing is that it's easily absorbed and after awhile, the skin actually feels matt and even dry! Because I'm used to applying sunscreen straight after using only a serum, I was quite surprised how quickly my skin dried up and the area around my nose even felt rather tight in the middle of the day. So after a week and a half of using the sunscreen, I decided to apply a thin layer of grapeseed oil before slapping on this sunscreen. It worked perfectly! My t-zone while still oily, wasn't excessively so.
May not be suitable for all skin types
However, you need to be careful with your choice of moisturizing lotion or oil underneath this sunscreen. Don't attempt to use anything too heavy. I tried using jojoba oil underneath this sunscreen and my face was oozing with greasiness by midday. The same applies to using my BB cream on top of this sunscreen. In addition, while this sunscreen is said to be suitable for all skin types, it might not work as well for those with dry skin or those with extremely oily skin.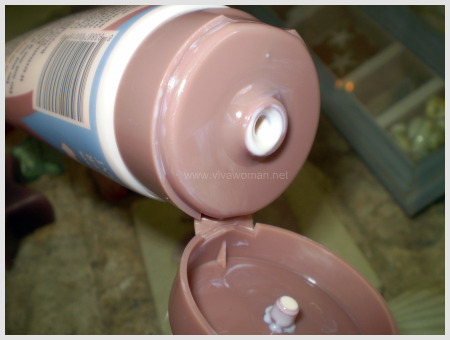 Works well as a makeup primer
What I like very much about the UV Natural Sunscreen SPF30+ is that it is perfect as a makeup primer and works very well with my powdered foundation. But to ensure a flawless application, I need to wait about 10 minutes before applying the powder or my foundation would appear streaky.
Proper cleansing required
This sunscreen is said to be water resistant. I haven't tested it under water but based on the texture, I believe it is so. But the problem with that is that it is not easy to wash off with just water. I made the mistake of using just my rhassoul clay to wash my face for the initial period and after awhile, I realized I had some small bumps growing on my cheeks. Luckily I found out the mistake early enough to prevent any major breakouts! So now, I make sure I double cleanse thoroughly or use the oil cleansing method when using this sunscreen.
Fairly affordable and cost effective
The 150g sunscreen costs US$24.83 including shipping from Organic Beauty in Australia. If you're residing in US, you can get this sunscreen starting from US$14.50 for the smaller size version at Valley Naturals. It is fairly affordable but the only problem is that because of the natural ingredients, the sunscreen is good for up to a year after opening; a rather short timeframe and so I use it pretty generously on my neck and arms as well.
Overview of my thoughts on the sunscreen
I am torn in my feelings about this sunscreen. On the whole, I like the formulation for sunscreen protection but I also realized that the formulation poses problems as I've mentioned. It would have been ideal if its texture is as light as that of Keys Solar Rx sunscreen I was using, but I must say that it is lighter than Badger SPF30 Sunblock and Lavera Neutral SPF40 Sunscreen. I wish I can say it's the perfect sunscreen for me but although it isn't, it delivers excellent sunscreen protection and I'll continue to use it until I am able to find a better mineral sunscreen containing zinc oxide as the active ingredient.
So yeah, my quest for THE perfect sunscreen continues…
Comments