Extrashade SPF30 sunscreen for rich complexions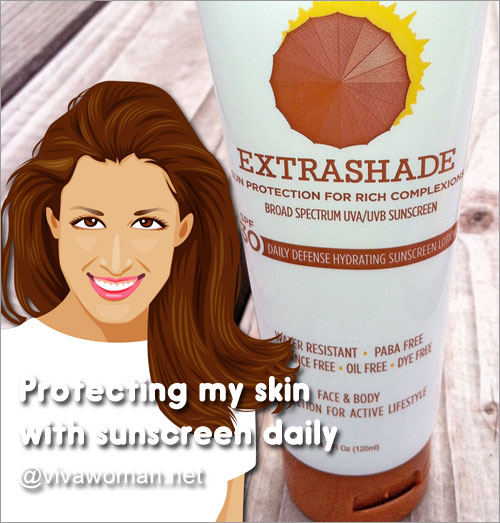 Fans of the Viva Woman Facebook Page might remember an article I posted up last month titled "The Importance of Sunscreen for Women of Color". Until then, I was naively under the impression that those with darker skin tone don't need additional sun protection since the extra melanin makes it harder for their skin to burn. In fact, I've read that people of color have a natural SPF of 13, meaning they have a "built-in" sunscreen that makes them less susceptible to sunburn compared to those with fairer skin tones! However, while it is true that the melanin present in darker skin makes it harder for the skin to burn, the harsh ultraviolet rays can still cause premature aging, sun spots, and wrinkles. And of a greater and growing concern is the threat of skin cancer for this community because of the general lack of awareness and interest in sun protection.
Greater skin cancer prevention aimed at communities of color
In 2010, the American Medical Association (AMA) released research showing that African Amercian women had the highest mortality rate from skin cancer over other ethnicities. This alarming research was published in the Archives of Dermatology and provoked the AMA to pass a resolution in 2010 that called for "greater skin cancer prevention efforts aimed at communities of color."
"All patients regardless of race or ethnicity should use the same sun protection measures including sunscreen of at least SPF 15, avoid the sun during peak hours and regular exams," said AMA Board Member Peter W. Carmel, M.D. "However, African Americans and Hispanics are much less likely to practice these behaviors, and the AMA supports efforts to increase awareness."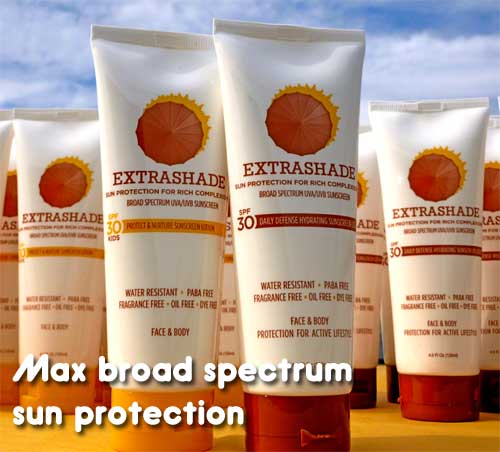 The most protective sunscreen for rich complexions
Sunscreens are therefore also necessary to protect the skin for people of color but the truth is very few of such products are suitable for this multi-cultural community. Many of them are too thick and often leave an undesirable whitecast that is very unflattering, especially those containing zinc oxide and/or titanium dioxide. So against this backdrop, Extrashade has launched an innovative sunscreen for rich complexions offering uniquely photostabilized sunscreen ingredients combined with hydrating naturals and anti-aging botanicals suitable for daily use. The term "rich complexions" by the way, was coined by Extrashade to refer to those who have extra melanin from olive, brown to dark brown and other exotic shades in between.
Skin friendly formulation with no chalky or greasy residues
Extrashade Sun Protection for Rich Complexions SPF 30 is photostabilized to withstand longer hours of UVA and UVB exposure and increase water resistance without the chalky or greasy residues. This is definitely a chemical-based sunscreen but interestingly, it is formulated without fragrance, lanolin, dye, alcohol, propylene glycol or any irritants known to stimulate the production of excessive melanin.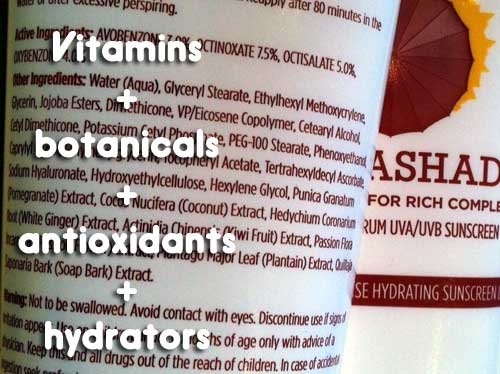 Ingredient list
Active ingredients: Avobenzone 3.0%, Octinoxate 7.5%, Octisalate 5.0%, Oxybenzone 4.0%
Inactive ingredients: Water (Aqua), Glyceryl Stearate, Ethylhexyl Methoxycrylene, Glycerin, Jojoba Esters, Dimethicone, VP/Eicosene Copolymer, Cetearyl Alcohol, Cetyl Dimethicone, Potassium Cetyl Phosphate, PEG-100 Stearate, Phenoxyethanol, Caprylyl Glycol, Ethylhexylglycerin, Tocopheryl Acetate, Tertrahexyldecyl Ascorbate, Sodium Hyaluronate, Hydroxyethylcellulose, Hexylene Glycol, Punica Granatum Quillaja (Pomegranate) Extract, Cocos Nucifera (Coconut) Extract, Hedychium Coronarium Root (White Ginger) Extract, Actinidia Chinensis (Kiwi Fruit) Extract, Hibiscus Rosa Sinensis Extract, Passion Flora Incarnata (Passion Flower) Extract, Plantago Major Leaf (Plantain) Extract, Saponaria Bark (Soap Bark) Extract
Combination of beneficial skin ingredients
Extrashade introduces maximum broad spectrum sun protection combined with vitamins, botanical extracts, essential antioxidants and hydrators to dramatically nourish, strengthen and restore the skin. These include hyaluronic acid that provides intense hydration; white ginger and passion flower that soothe inflammations and soften the skin; vitamins C and E that help strengthen and add radiance; soap bark, coconut and plantain extract that help heal wounds, hydrate the skin and fight free radicals; pomegranate and kiwi fruit extract that act as antioxidants, calming inflammations and fighting visible signs of aging. So all in all, Extrashade offers the unique combination of full-spectrum protection from UV radiation, antioxidant nourishments, and hours-long hydration.
Price and availability
Extrashade Sun Protection for Rich Complexions is now available online. You can choose the Daily Defense Hydrating Sunscreen SPF 30 or Protect & Nurture Sunscreen SPF 30, which is perfect for kids' delicate skin.  Both comes in a 120ml tube size and retails at US$33. For more information, check out www.extrashade.com.

Comments