Benefits of 100% unrefined Shea Butter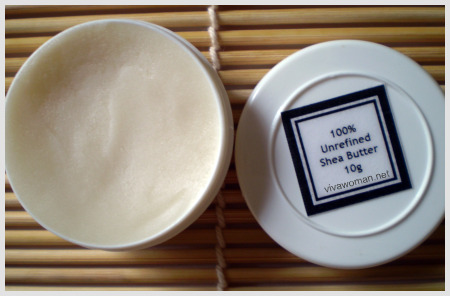 I ordered the 10g Shea Butter sample from Yours Essentially recently because my son had some rashes around his mouth due to an outbreak from a food allergy. Because it is 100% unrefined, I didn't have to worry about artificial fragrances or additional preservatives and was free to apply it to his face liberally. In fact, I learnt that Shea Butter is edible although I don't think my son wants to eat it.
Pure Shea Butter has a characteristic smell
In one of my earlier entries, I've actually written about the goodness of Shea Butter and introduced its origin.   I've also indicated that pure, unrefined Shea Butter has a characteristic smell (read: unappealing) but is truely able to help promote regeneration of damaged skin cells and is good for healing problematic skin conditions such as eczema, rashes, very dry skin, chapped lips, stretchmarks, wrinkles plus even scars and burns.
White and odorless Shea Butter has been refined
If you get Shea Butter that is white and odorless, then it has been refined and the majority of the effective agents are removed and its healing values are significantly reduced.   Which means that is not good quality Shea Butter and is cosmetic graded Shea Butter.
Smell dissipates quickly once butter is absorbed
The good thing about the smell is that it disappears quickly once the Shea Butter is absorbed.  In addition, it absorbs quickly without leaving greasy residue like petroleum, beeswax or mineral oil based products and that is why I find it great to use on my chapped lips and over my dry cuticles.  I even used it sparingly on my acne marks because Shea Butter does not clog pores.
Good for stretch marks, rashes and even frizzy hair
Pregnant ladies who are afraid of developing stretch marks may like to consider using Shea Butter to rub their belly too.  I personally find Shea Butter soothing and hence is great for skin rashes and itches, even insect bites.  I also use it to control some of the frizzy ends of my hair and it works great!  Moreover, Shea Butter has approximately SPF6 which provides a low level of UV protection but I doubt I want to use this all over my face.
Cheaper than counter brands
So what's the benefit of getting 100% unrefined Shea Butter from a DIY ingredient supplier vs getting it from major counter brands?  It's way cheaper.  The 10g cost me only S$2.50.  If I were to get 1oz, it'll only cost me S$5.50.   Very very cost effective!
Comments