DIY Beauty: homemade foot soak & scrub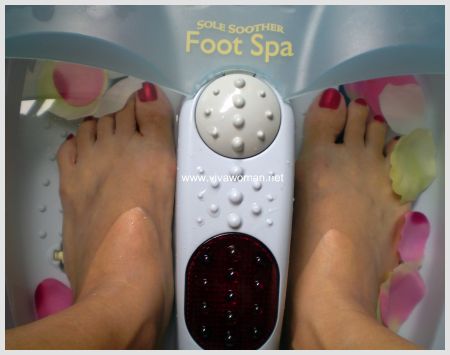 Three weeks ago I wrote about using Epsom salt as a body scrub. The same salt can also be used to soak tired feet and act as a foot scrub too. And it's really easy!
Easy recipe for foot soak
You just need to find yourself a flat tub big enough for your feet, fill it with warm water sufficient to cover your feet or a bit more up to your ankle, scoop about 5 – 6 tablespoons of Epsom Salt into it, add a few drops of your favorite essential oil and soak away for 15 to 20 minutes! If you have a foot spa machine like what I show here, it's even better of course because you can create bubbles to soothe your aching feet.  Add a book and a cup of tea and you'll have pure bliss!
DIY foot spa machine
I've had this foot spa machine from Remington for many years. It's a good investment because I recall paying less than S$40 for it and it served its purpose very well. And really, it's good savings now because I can use it at home anytime I like, and everyday if I wish!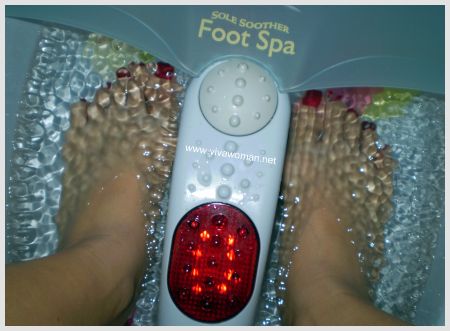 Scrub your feet after soaking
With your feet soft from the soaking, you can proceed to scrub them away with the Epsom salt. Just scoop a handful and scrub away especially at the heels. Be careful though that you do not have any cuts as one reader, Ms Blacklace said the salt is very smarting for wounds.
Mix Epsom salt with petroleum jelly or glycerin
The only thing about using Epsom salt to scrub is that they're loose and tend to fall off easily unless you have a binding ingredient to hold them such as petroleum jelly or glycerin. But don't worry if you don't have those ingredients. You can use it on its own still or mix with a carrier oil of your preference.
Epsom salt good for relaxing sore feet
Other ingredients you can use for your foot soak include adding baking soda, lemon juice and even milk. However, Epsom salt is good because it provides magnesium which has been shown to ease stress, relieve soreness and relax muscles. My feet definitely felt a lot lighter after soaking in the tub of Epsom salt mix.
Epsom salt by the way is available at Guardian Pharmacy for S$4.60.
Comments