DIY Beauty: homemade lip exfoliant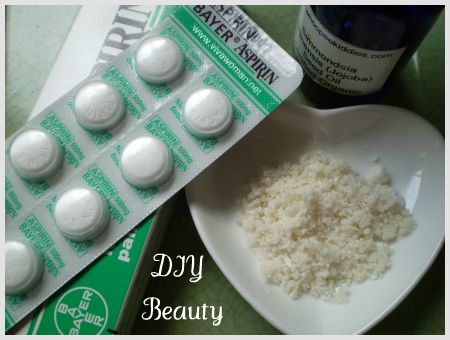 I don't know what's wrong with my lips but it's getting dry and flaky. Although I continue to use the Murad AHA/BHA Exfoliating Cleanser which I wrote about to exoliate my lips but I can't use this too frequently or my lips will get quite sore. So I decided to try the DIY lip scrub instead.
Homemade lip scrub recipe
I modified the recipe from carekate of EDS Skin Care Forum. First, I crushed four Bayer aspirins and then I mixed it with about a teaspoon of raw cane sugar, a few drops of Jojoba oil and about half a teaspoon of glycerin. Because of the glycerin, the powdered aspirin and sugar do not fall off and I was able to use the combination to scrub my lips thoroughly. I didn't like the mixture to be too oily but you can add more Jojoba oil if you like it to be more nourishing.
Combination of salicylic acid and glycolic acid
Aspirins by the way are acetyl derivative of salicylic acid while raw cane sugar are rich in glycolic acid, a natural alpha-hydroxy acid. If you don't have raw cane sugar, white granulated sugar works as well.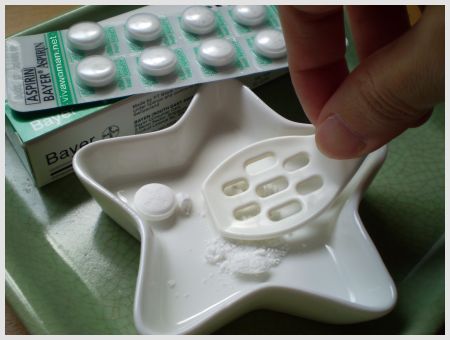 Cut down on the sugar for a finer scrub
It's not that difficult to crush the aspirins with a spoon; just make sure they're crushed finely. One thing to note is that the sugar can make the scrub texture quite rough. So if you don't like it too granulated, then cut down on the amount of sugar. What's good about this homemade lip scrub is that it taste sweet. But while sweet, it's definitely not too tasty!
Exfoliant can be used daily
The portion I've made is good for a number of scrubs. In fact, I've been able to use this exfoliant everyday without having my lips feel sore and my lips don't feel so flaky now. I imagine this would be even nicer if I can mix it with some Jojoba beads.
Actually the scrub is quite good for the face too. I've seen some recipe on using Aspirin as a facial mask. I think I'll explore that a bit since I have aspirins on hand now!
Comments