Triple A's for Giovanni Hot Chocolate Sugar Scrub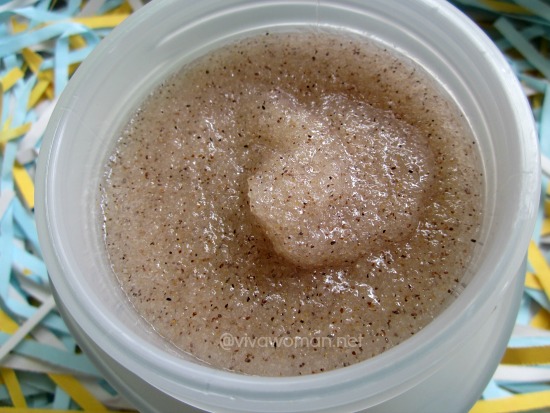 It's been a while since I've used a commercial body scrub. Well, actually, it's been a while since I last scrubbed my body (but I'm still bathing daily alright). Anyway, seeing how much I like their shampoo, I decided to give the Giovanni Hot Chocolate Sugar Scrub a go. I suppose I can always settle for a homemade scrub but at less than US$10 a tub, I think this product is cost effective enough compared to making one of my own. In any case, it won't be possible to get almost similar ingredients for that price too.
Nature and eco chic inspired
I'd thought the brand is Italian given the name but Giovanni is really a US brand founded in the 1970′s and their products are inspired by nature and eco chic.The company now has over 100 products ranging from hair care to body care and most recently, skin care. Although some ingredients used are USDA Certified Organic, the brand is not certified organic. Giovanni range of products are said to be formulated as natural as possible without sacrificing total performance. The brand does not test against animals and the formulas are free of laurel/laureth sulfates, phthalates, parabens, PEGs and most are free from synthetic fragrances. Most formulas are also suitable for vegans and this sugar scrub happens to contain 100% vegetarian ingredients.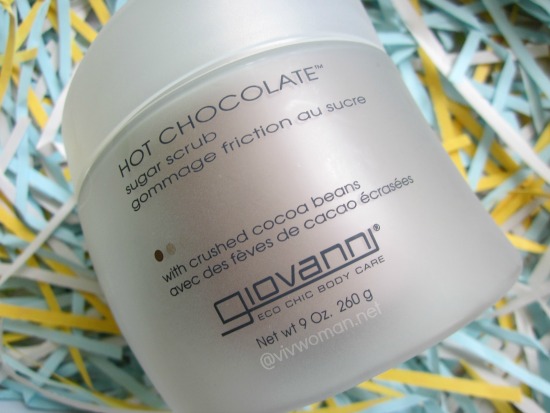 Giovanni Hot Chocolate Sugar Scrub | 260g, US$9.77 at iHerb.com
This scrub is made with sugar, crushed cocoa beans and a couple of other ingredients and works great as a warming, gentle body exfoliator that polishes skin's surface, removing cellular debris. Here's what it contains:
*Sucralose (sugar), carthamus tinctorious (safflower) seed oil, polysorbate 20, silica dimethyl silylate, aleurites moluccana (kukui nut) oil, butyrospermum parkii (shea butter) oil, tocopheryl acetate (vitamin E), juglans regia (walnut) shell powder, *aloe barbadensis (aloe vera) leaf juice, *honey extract, *prunus amygdalus dulcis (sweet almond) fruit extract, *macadamia ternifolia (macadamia) seed extract, *theobroma cacao (cocoa) seed butter, fragrance (includes essential oils). *Certified Organic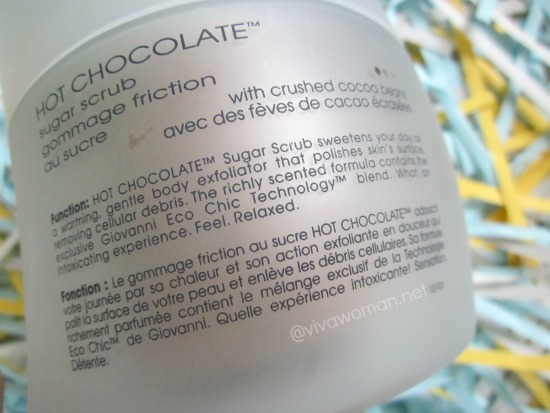 Giovanni Hot Chocolate Sugar Scrub
reviewed and
updated
by
Sesame
on .
Color and scent
What surprised me when I opened the tub was, it didn't look half as chocolatey as I'd expected. I am so used to my full chocolate mask that I'd thought this would be a dark brown scrub. Color aside, this Giovanni Hot Chocolate Sugar Scrub definitely smells pretty delicious. I mean anything chocolate always does. The smell of this scrub isn't chocolate-chocolate but more cocoa butter chocolate. That was why the first time I'd used this scrub, my son wondered why there was a smell of food that lingered in the bathroom.
Texture and performance
Giovanni Hot Chocolate Sugar Scrub uses walnut shell powder and so the texture is not so refine. But this scrub does a good job of polishing my skin. In fact, I would say its performance is superb! I was so surprised with how hot this felt on my skin but I've to confess that the feeling is nice. I think the smell works very well with the heat generated. What's even better is how this scrub made my skin felt so soft, supple and smooth after use. I could use this every day of my life!
The only gripe I have about this product is the packaging. The tub is kinda of an odd shape but using dripping wet fingers in the tub? Bad idea. Having to towel dry my hand before dipping into the tub? Bad idea too. But other than that, it's a scrub I would highly recommend based on these three As: Affordable price. Amazing scent. Awesome results.
Rating: 4.5



Comments