Reflecting on my beauty discoveries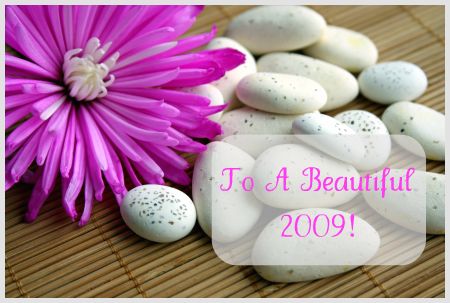 2008 hasn't been a fantastic year for me in a number of aspects but luckily, it has been the most rewarding beauty wise! Because of the direction I took in this blog, I started to take an interest in using ingredients directly to address my skin concerns and I'm so thankful that they've paid off.
I wouldn't say that my skin is looking great now especially with that darn cheek acne I'm still suffering from, but this is the year I started seeing a noticeable difference to my skin because of my choice of skin care products. I only wish I had learnt this earlier instead of wasting all my money on those expensive commercial beauty products.
Address skin concerns with the right ingredients
Although I wouldn't say that all commercial beauty products are useless but if you're into improving your skin condition, you really need to know your skin problems and learn to use products with ingredients that can address those concerns.  To a large extent, this process isn't straightforward and you'll likely need to go through some trials and errors but the good news is, you don't necessarily have to spend a lot of money to look good. But of course this also comes with some *ahem* self-control.
DIY beauty concoctions paid off for me
My most rewarding beauty gains last year have been learning to make some of the beauty products myself. You can check out my homemade/DIY category if you're interested to learn about all of them but here I would share with you my absolute favorites.
My absolute favorite DIY beauty finds
The best item is my homemade vitamin C serum which has even out my skin tone a great deal, reduced my pore size and saved my pocket! The cheapest and most effective DIY ingredient I have found is baking soda which not only helped to erase some of my teeth stains but also help to keep my backheads at bay. I use this about several times a week now with my Moroccan rhassoul clay and together, they work great as a facial cleanser. 
Benefits from using natural carrier oils
I'm also grateful to have found a great beauty blogging buddy – Leon of Beauty Secrets Revealed.  She is very knowledgeable in many of aspects of DIY skincare and because of her, I started to dabble into the use of natural carrier oils in my routine skincare routine and am amazed with the benefits they can deliver.  My favorite oil right now has to be the evening primrose oil which miraculously, always give me a very radiant glow the morning after using it.   I love this so much that I'm now using it about thrice a week.
Thanks to inputs from my readers
Finally, I'm thankful to all my readers who come by ever so frequently to share with me all your beauty concerns and finds.  I'm also glad that my recommendations have worked for some of you because I'm no beauty expert and am always worried that what worked for me may not work for others. 
To end off, let's hope I can continue on this momentum and discover more skin effective  beauty finds in 2009.  So here's to a BEAUTIFUL 2009 everyone!
Comments