Review: Nvey Eco Organic Lipstick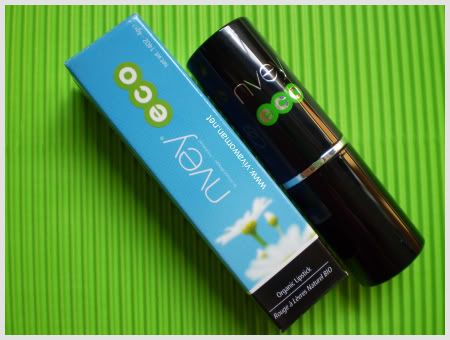 I was quite happy to see that Sephora in Singapore carries some natural and organic beauty brands. I haven't heard or read about the Nvey Eco organic range of makeup but decided to pick up their organic lipstick to try out.
Muted Coral Pink Shine
Although there was a fair selection of colors but I still thought the options were quite limited and it took me awhile to find something suitable. In the end, I picked up 370 which is a muted coral pink shine because I wanted a slightly different color from my usual.
Matt and muted shade but not dry or cakey
The color appeared orangey when I tried it on my hand but good thing it didn't look so bright when I applied it on my lips. And despite the color description, it isn't shiny at all. In fact, it appears slightly matt but it isn't drying or cakey looking; probably why it's called a muted coral.
No lead or micronized mineral pigments
What I like most about this the Nvey Eco Organic Lipstick is that it contains natural ingredients: Caprylic Capric Triglyceride, Safflower Oil, Castor Oil, Jojoba Oil, Cera Carnauba, Natural Beeswax, Sorbitan Olivate, Honeysuckle Extract Candelilla Cera, Natural Vitamin E Acetate, Orange Oil. No lead and I read that the mineral pigments used are not micronized for 100% safety. So I can eat my meals with this lipstick without any fear now!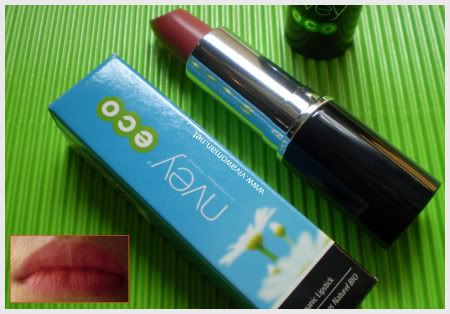 Moisturizing and lasting
The soothing safflower, beeswax, vitamin E and organic castor oil is said to provide antioxidant and nourishing properties for smooth soft lips. I would say the performance of the lipstick is fair. It's pretty moisturizing and unless your lips are extremely dry, you don't necessarily need to apply a lip balm before putting on this lipstick. The lipstick goes on with a smooth, creamy consistency and it does last a tad longer than my usual lipsticks. But as a whole, it's not so much different from my usual lipsticks.
Mostly natural shades available
If you're in the market for an organic or natural lipstick, I would recommend this range. But, the colors are rather limited – 17 listed on their website – and they are hard to gauge just by looking or testing on your hand. In addition, there are no glamorous shades unless you like something like real red shine! But if you're into natural shades, the options should be good enough.
Fair retail price in Singapore
Because it is an organic lipstick, it cost more than the usual. I bought the Nvey Eco Organic Lipstick for S$39.95 at Sephora and it's a good price since it retails at US$28 at Sephora in US. If you're purchasing outside of Singapore, check out the availability online.
Comments