Not A Dull Moment With Alima Pure Velvet Lipsticks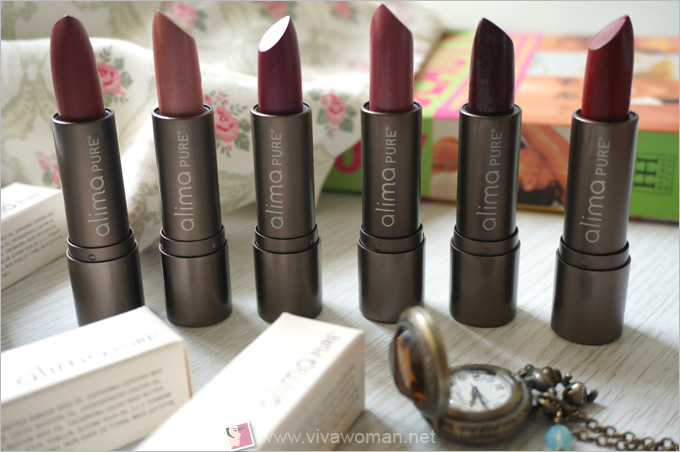 Other than foundation, lipstick is the other makeup item I use regularly. It's my go-to cosmetic product when I want a little color to brighten my face. So naturally, I was thrilled to receive the entire collection of Alima Pure Velvet Lipsticks for a swipe.
Since I've tried Alima Pure Lip Tint and was quite pleased with the richly tinted lip balm filled with emollients, I thought the lipsticks shouldn't be too far off. In addition, the description from the website about the collection of lipsticks sounds promising.
Here's what it says: "You really can have it all. The highly pigmented formula glides on smooth and provides a long lasting velvety finish. Subtly scented with vanilla, it's brimming with pure, ingredients that are hydrating, healing and soothing to the lips."
So did these lipsticks deliver these promises or at least meet my expectations? Come, let's see.
First off, I really like the packaging. Each lipstick is housed in a matte gray aluminum tube case that looks as elegant as conventional, big-branded lipsticks. They also feel solid and weighty. Best of all, the packaging doesn't collect any fingerprints. What's also interesting to note is that these aluminum tubes are refillable and recyclable with refill cartridges that will be sold separately at a later date.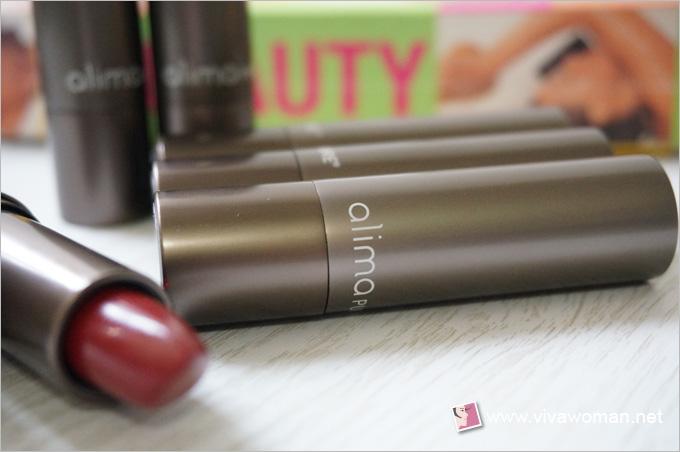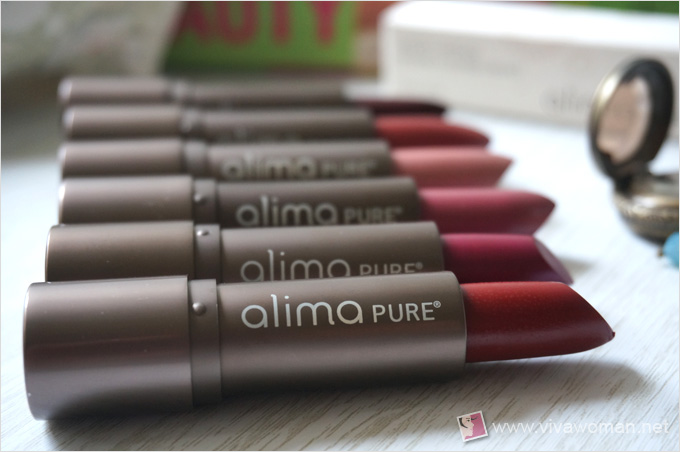 In terms of colors, the Alima Pure Velvet Lipstick collection is limited to just six for now with lovely names like Lucy, Emma, Iris, Stella, Georgia and Beatrice. Their colors range from pearlized rosy nudes, bold garnet, to a deep merlot.
Cleaner ingredients
Before I discuss about their performance and tell you if I like them, let's take a look at their ingredients:
Ricinus Communis Seed Oil (Castor Seed), Helianthus Annuus Seed Oil (Sunflower), Euphorbia Cerifera Wax (Candelilla), Jojoba Esters, Butyrospermum Parkii Butter (Shea Butter), Cocos Nucifera Oil (Coconut), Hydrogenated Castor Oil, Copernicia Cerifera Wax (Carnauba), Beeswax, Sesamum Indicum Seed Oil (Sesame), Theobroma Cacao Seed Butter (Cocoa Butter), Cetyl Alcohol, Tocopherol, Tocopheryl Acetate, Ethyl Vanillin, Glycine Soja Oil (Soy) [+/-] Titanium Dioxide (Ci 77891), Iron Oxide (Ci 77491), Iron Oxide (Ci77492), Iron Oxide (Ci 77499), Mica (Ci77019), Ultramarines (Ci 77007), Tin Oxide (Ci 77861). *contains carmine
Unlike conventional lipsticks, Alima Pure Velvet Lipsticks are made with safer ingredients. Well, at least the lighter colors. Stella, Gerorgia and Beatrice contain carmine, which is a red pigment derived from insects native to South America and Mexico that live as parasites on cactus plants (doesn't sound enticing…I know right).
This ingredient has been associated with severe allergic reaction for some people so if you're one of those sensitive to such ingredients, steer clear of the darker shades. Personally, I've been using scores of lip products containing this ingredient without issues but my lips are well…mine.
Otherwise the entire collection of Alima Pure Velvet Lipsticks is quite clean, being formulated without parabens, artificial preservatives, sulfates, synthetic dyes, phthalates, dimethicone, petroleum, talc, bismuth oxychloride or nanoparticles.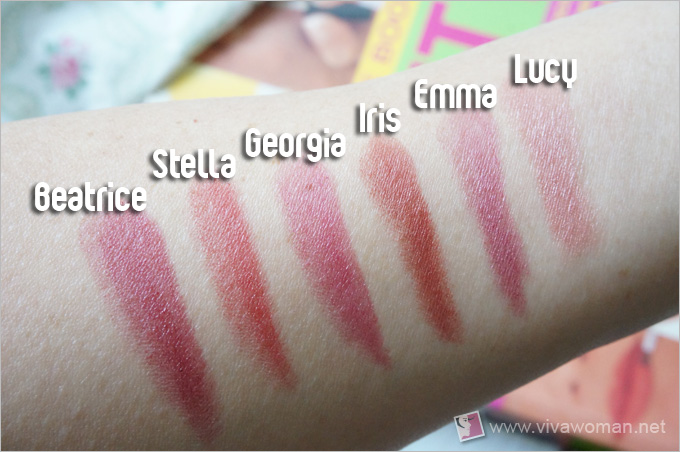 Matte but not dull
Although I like most of the colors in this collection, I want to state that if you have been using conventional lipsticks that look much more sleek and glamorous, you need to make a mental shift when changing to lipsticks in this Alima Pure Velvet collection. And what do I mean by that?
Most conventional lipsticks in the non-natural category are highly pigmented and the colors are quite intense with just one swipe.
However, it's not quite the case for these Alima Pure Velvet Lipsticks. While I like the colors and how they look on my lips, I don't quite agree with reviews that state that they are highly pigmented. To me, they are just well pigmented. Perhaps the benchmark is with lipsticks of other brands in the natural category but I found myself having to take a few swipes to achieve a more intense shade.
But I do agree that they apply well and some colors like Emma, Iris and Georgia somehow glides smoother than others. The finishing is supposedly matte but going by the pictures below, you'll see they are not dull. They don't even make my lips look dry! In fact, I was surprised that I can even use these without a prior application of lipbalm on my lips. Nice touch there! They do feel quite moisturizing actually and last quite well too.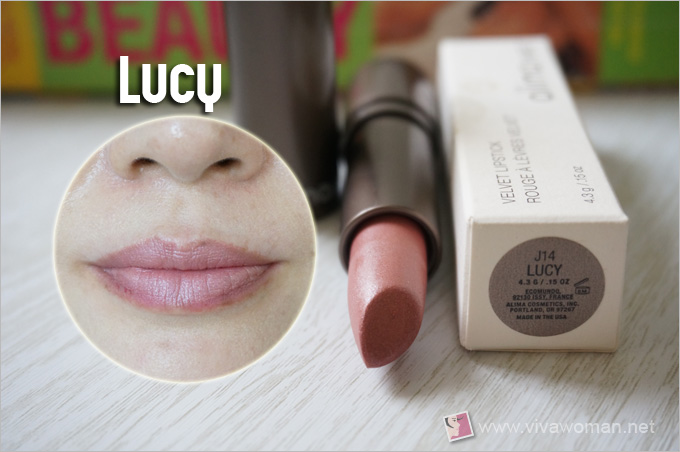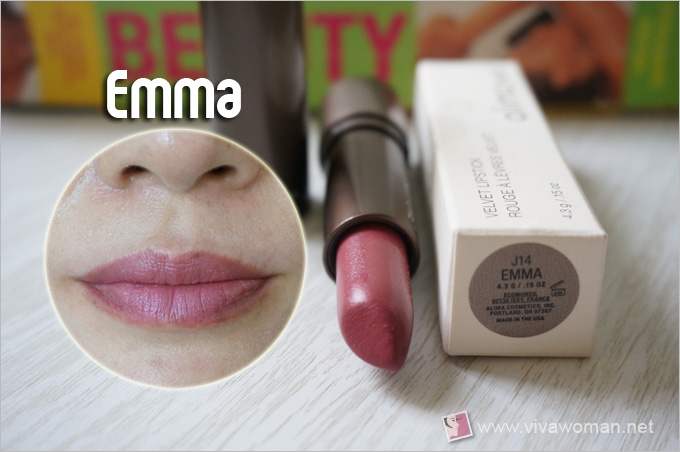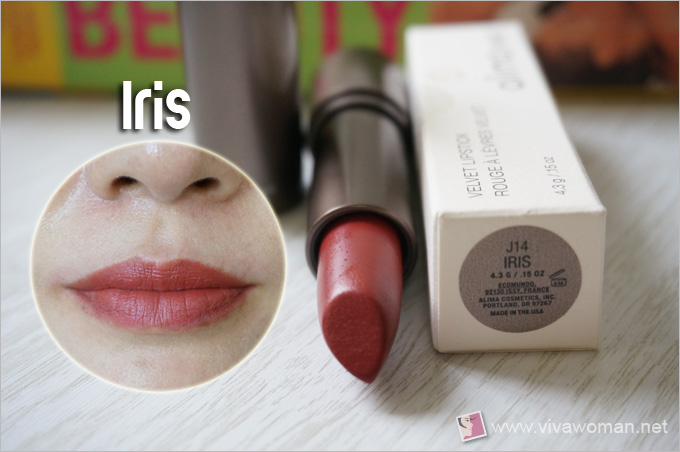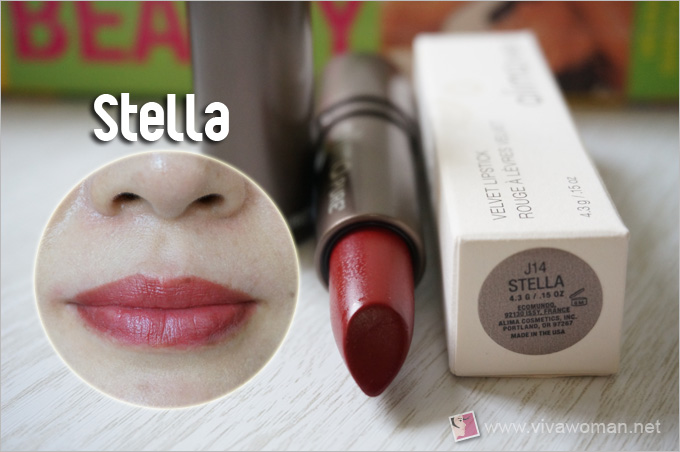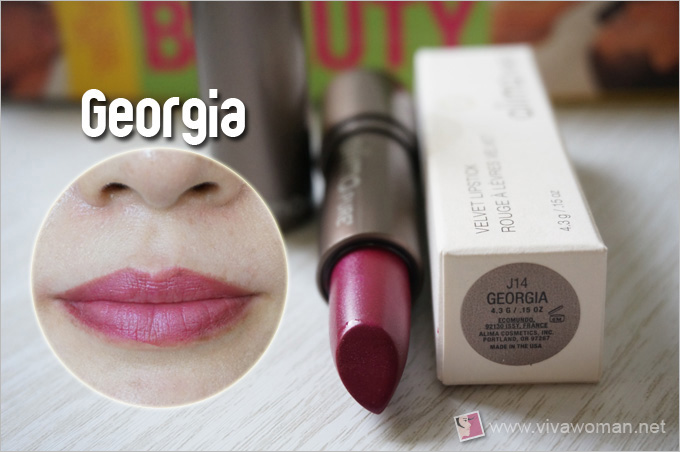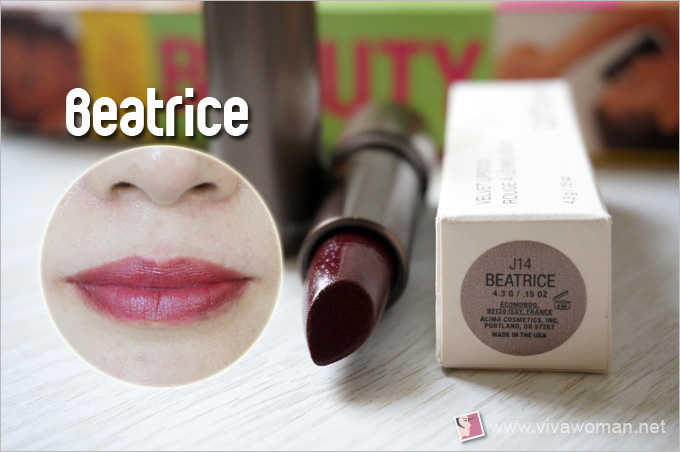 The Stepford Wives vs Desperate Housewives
Here are the various shades of the Alima Pure Velvet Listick collection. You can tell Beatrice, the darkest shade doesn't come across that dark on my lips. So you tell me, is it that highly pigmented? Personally, I like the lighter shades as they are quite true to their shades when applied. I must say Stella looks very pretty. But if you ask me for a favorite, I'll pick Emma. This is the kind of shade I'll wear daily without having to think if it matches my outfit or makeup.
Anyway, while testing these lipsticks, I had in mind that some of the women in The Stepford Wives might like them too. I think they'll go very well with all the retro fashion. But I also wondered if they'll sit well with the Desperate Housewives. Perhaps they'll like Stella and Beatrice you think?
But why do you think they'll want to replace their lipsticks with these? For starters, I'll tell them that these Alima Pure Velvet Lipsticks are made with better ingredients. They won't feel like their lips have been coated with petroleum and very importantly, these lipsticks smell really nice and won't give them that waxy aftertaste. So it's time for them to make a switch to cleaner cosmetics. Well, I think they'll seriously consider once they discover their men will find them more kissable because of the subtle vanilla scent.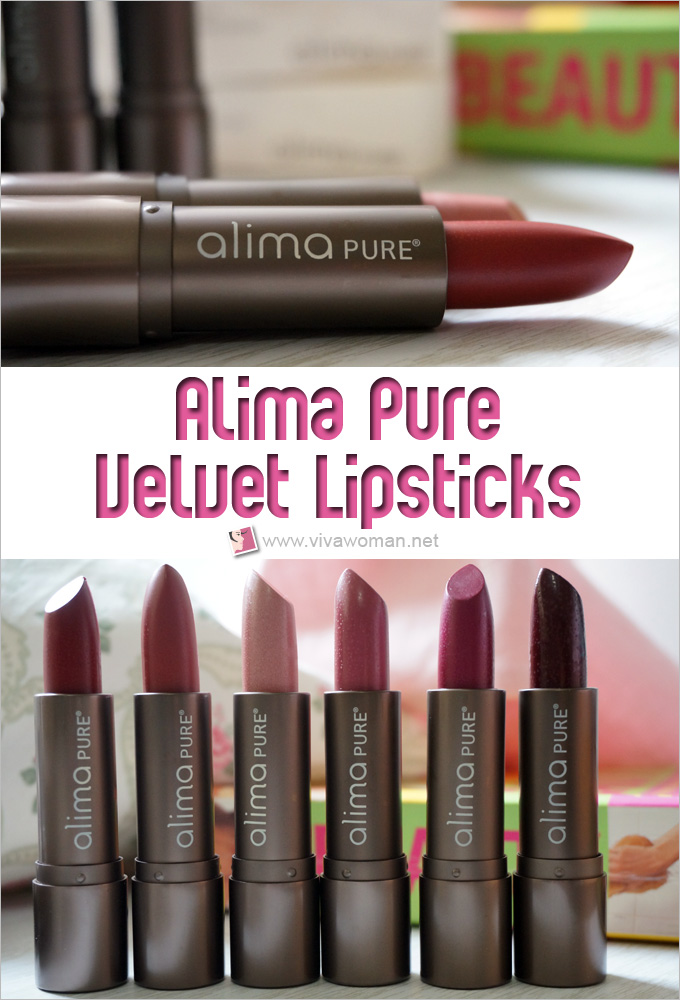 Price and availability
Alima Pure Velvet Lipsticks are available at natureLOVA for S$39 each. If you're based in Singapore, you can test the lipsticks through their new Alima Pure Testing Station at Raffles City:
My Type Store
252 North Bridge Road
#B2-15 Raffles City Shopping Centre
Singapore 179103
Tel: 6338 5570
Ops Hrs: Mon to Fri (1030am to 9pm)
Sat & Eve of PH (930am to 930pm)
Sun & PH (1030am to 900pm)
My experience with Alima Pure
As I'd mentioned in a recent entry, I first tried Alima in 2007 but it was only last year when I finally got down to using some products from the range. As I mentioned in my review, I used to wonder what was the fuss over Alima Pure but I can see why now. I'm completely sold on the brand and would highly recommend it if you're keen on mineral makeup. For one, there are so many products with sparkly, satiny and vivid colors to play with. Yet, they are made with no toxic ingredients. And at the heart of it, the mineral foundation gives a very natural finish, does not oxidize much at the end of the day and I don't need a heavy hand just to get sufficient coverage.
If you're in Singapore interested to find out more about Alima Pure, look them up at natureLova. You can get 15% off by using coupon code "ALIMA15″ when you check out. If you're based in Asia and can't find Alima Pure where you are, you may like to order from natureLova as they do ship internationally. For the rest of you living in US or nearer to US, I suggest you check out Alima Pure's website directly.
Products highlighted are media samples and this review is in line with my disclosure policy.
Comments