Nvey Eco Organic Eyeshadow And Cake Eyeliner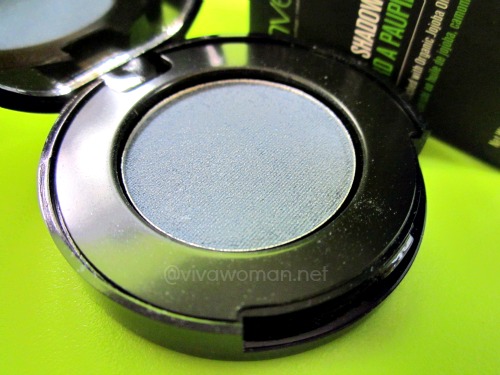 So I did manage to live up to some of my 2012 resolutions after all – I've been dabbling with more natural/organic makeup! Actually some of the brands I'm currently trying was available locally but funny I'm trying them only now, when they're no longer being carried in our local stores. Somehow, the idea of buying items online appeal more to me, never mind it can be such a challenge to figure out what shades can work well for my skin tone especially when it comes to foundations. But with eyeshadows like the ones I got from Nvey Eco, the choice is definitely easier to make.
The only item I've tried from Nvey Eco is their lipstick. The brand is Australian, for those who don't know and they make cosmetics that are free of parabens, petrochemicals or synthetic fragrances. The brand is also not tested on animals.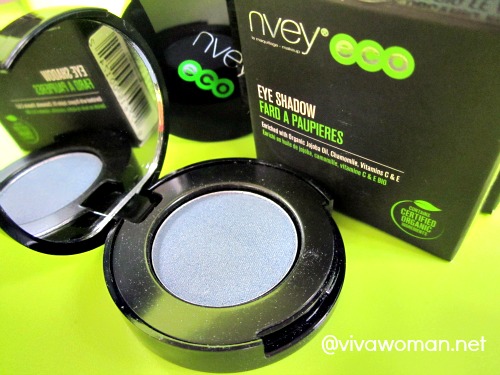 Nvey Eco Organic Eye Shadow(166) £14.50
Ingredients: Corn Starch Modified (Zea Mays), CI 77019 (Mica), Caprylic Capric Triglyceride (Coconut Oil), Magnesium Stearate, Zinc Oxide, Tocopheryl Acetate (Vitamin E Acetate), Ascorbyl Palmitate (Vitamin C), Simmondsia Chinensis (Jojoba Oil), Anthemis Nobilis (Chamomile) Extract, Daucus Carota (Carrot Oil), Palm Kernel Glycerides (Palm Kernel Oil), Stearic Acid (Palm Derived). May contain: CI 77007, CI 77163, CI 77491, CI 77492, CI 77499, CI 77891.
This formula is talc-free and made with intense pigments which are easy to blend. I love the blue in this Indigo Gunmetal Shimmer as it compliments my skin tone very well. In addition, I like that this eye shadow last many good hours on my very oily eyelids although it'll need to be layered over a primer to prevent fading. Despite the name, I don't see that much shimmer though.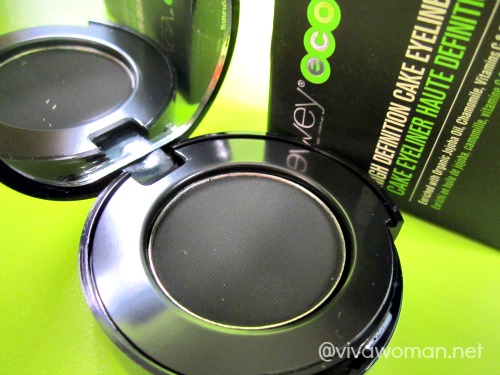 Nvey Eco High Definition Cake Eyeliner(Black) £14.50
Ingredients: Zinc Stearate, Zea Mays (Corn) Starch, Zinc Oxide, Ethyl Macadamiate, Simmondsia Chinensis (Jojoba) Oil, Daucus Carota Savita (Carrot) Oil, Chamomilla Recutita (Chamomile) Extract, Tocopherol (Vitamin E), Ascorbyl Palmitate (Vitamin C), Matic Acid, Aqua (Water), Stearic Acid, Glyceryl Caprylate, p-Anisic Acid. May contain: CI 77499, CI 77491, CI 77492, CI 77891.
I decided to try this one because I thought it might be easier to wear compared to a pencil or pen eyeliner. Well, the ease of application is definitely better with a brush but I'll need to fine tune my application technique for a better finishing. The black isn't very intense though but the color stays on pretty well for a few good hours if I prime up my eyelid well. Otherwise, without primer, this one definitely smudges. If you like your eyeliner to look really define, I'll say to avoid this one.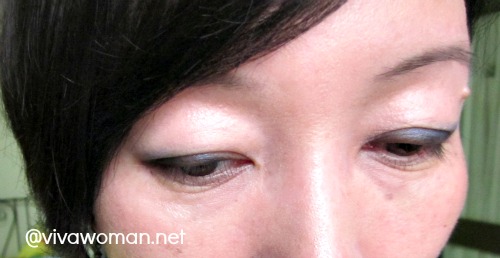 28 colors available
Here is a quick showcase of how the colors turned up on my eyelids. I did this in a rush before heading off to work so it's not well done but I just wanted to show you how pretty the Indigo Gunmetal is. I'm definitely going back to Naturisimo to get a few more of the single eye shadows. Only thing is, the online store carries just eight of the colors even though Nvey Eco offers 28 singles in different colors. But they do offer free international shipping and that's why I like buying from them.
Comments