Can shampoos help prevent hair thinning?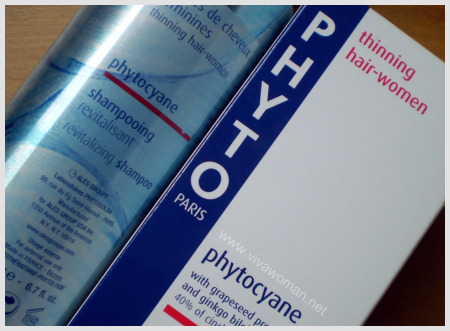 I bought the Phytocyane Revitalizing Shampoo for thinning hair on a whim because there was a sale at Watsons and I only had to pay S$20 for it. I have a slight problem with thinning hair due to my oily scalp but it isn't very serious. Or at least the condition hasn't gotten worst over the years and my hair has remained constantly…thin.
Have realistic expectations when using such shampoos
First thing first before I discuss about Phytocyane is that I think one should not expect a shampoo for thinning hair to help you grow more hair. At least when used standalone, they're just good for maintaining a healthy scalp and possibly prevent more hair loss.
Such shampoos are good for keeping your scalp clean and healthy
I've tried Biolyn's shampoo in the past and though I would say it helped to stablilize my greasy scalp and keep it healthy, but I didn't grow noticeably more hair from using it. Afterall, if you think about it, how much can shampoos really do to promote hair growth if you're just going to leave it on for a couple of minutes and then have it rinsed off? At the end of the day, you still need to apply hair serum or tonic which can stimulate hair growth. But whether your hair grows also depends on a number of other variables.
Use of plant-based active ingredients
Phytocyane Revitalizing Shampoo is said to be effective for treating temporary hair loss and is ideal when used with Phytocyane Revitalizing Hair Treatment. What I like is that it uses a combination of plant-based active ingredients to restore the vitality of the hair.
Grapeseed Procyanidins capture free radicals and protect the hair bulb. Ginkgo Biloba activates cell metabolism and strengthens the hair. A decoction of Cinchona bark, chosen for its stimulating properties, in combination with a mild cleansing base derived from Coconut oil makes Phytocyane shampoo effective, gentle and pleasant to use.
No need to use this shampoo daily
It is said to be good for those who experience temporary hair loss due to season changes, pregnancy, menopause, medication, etc and you don't have to use it everyday; just twice a week. So actually, it's not fair for me to review this product because I'm not suffering from a temporary hair loss.
Fresh minty smell
But what I would say is that I quite like the minty and refreshing citrus smell of the Phytocyane Revitalizing Shampoo and it keeps my scalp fairly clean without leaving it overly dry. However, I won't buy this again because it makes my hair rather limp and hence, doesn't work well for me long term. What I really need us a shampoo that can give me volume, keep my scalp oil free and at the same time does not dry up the ends. And sad to say, I still haven't found the right shampoo.
Important to identify the root cause of your hair loss
If you are suffering from temporary hair loss, you may wish to try this shampoo to strengthen your hair. However, be sure to appy hair tonic or serum as well for more effective results and be realistic not to expect quick fixes or miracles. More important, be sure to identify the cause of your hair loss and address the problem directly with suitable treatments rather than just relying on hair thinning shampoos or products.
Comments