DIY Beauty: Aloe Vera for deep cleansing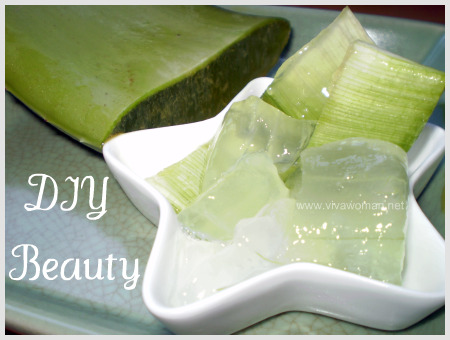 My mum used to have numerous pots of Aloe Vera in her garden when I was younger. She would cut up the leaves of the bigger plants and make juice out of them to drink. I never drank them because I found the juice yucky. In fact, I consider the gel of Aloe Vera yucky too because of the slimy feel. However, I do know the goodness of Aloe Vera for both its health and beauty benefits and used the gel quite a bit as a teenager to apply on my wounds and burns although I've never resorted to using it for my pimples before.
Great for rejuvenating cellular development
The reason why Aloe Vera is great for healing is because the extracts contain many active components including vitamins, minerals, essential amino acids and enzymes. The gel does not only heal, but provides soothing, antibacterial and some moisturizing properties as well and hence, is widely used in cosmetics and skin preparations.
Dries up skin rashes and promotes faster healing
Anyway, I bought a large Aloe Vera leaf from the supermarket recently because I thought I could use the juice to apply on my son's rashes. Although his rashes didn't heal immediately, the fresh juice applied on his skin helped to relieve the itching and scabs formed quite quickly afterwards. Since it was a large leaf, I thought I could try it on my skin as well though I dislike the smell.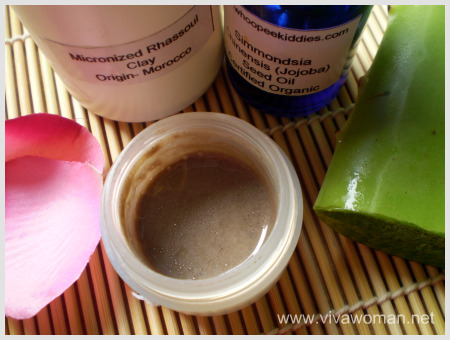 Drying when applied directly on the skin
The first thing I did was to apply the cut Aloe Vera flesh directly on my skin as a sort of mask after washing my face clean. I left it on for about 10 minutes before rinising off. My skin felt rather tight as the juice dried on my face; a feeling I don't really like very much though it left my skin soft and supple afterwards.
Aloe Vera Rhassoul Clay Mask
Subsequently, I experimented by squeezing out the juice of the Aloe Vera flesh using a sieve cloth and using that as a base for my Rhassoul clay in place of distill water. I used about 1.5 teaspoon of the juice, added one teaspoon of Rhassoul clay along with 2 drops of Jojoba oil to blend into a paste which I then applied to my face and left for 10 minutes before rinising off with warm water. The result was great! My skin was not only soft, I didn't feel any tightness at all!
Great as a base for DIY clay masks
So now I find that Aloe Vera juice or gel is great as a base for DIY clay masks because of its soothing, cleansing and balancing properties. If I am not wrong, it also has the added ability of closing pores, though I'm uncertain if there are long term permanent effects. Instead of Rhassoul clay, you can also use it with other forms of clays like Kaolin or French Green clay if you like. Basically, just use it in place of water. However, a word of caution is that Aloe Vera juice or gel when used generously isn't very moisturizing and can be drying. Hence, always apply some drops of carrier oil to neutralize the drying effects.
Use only the clear inside fresh of Aloe Vera
Oh, before I forget – do be careful if you're using fresh Aloe Vera juice by removing all the skin and any yellow substance around it to avoid any irritations to your skin. Use only the clear inside flesh.
Comments