Herbal Healing Clay Masque with Kaolin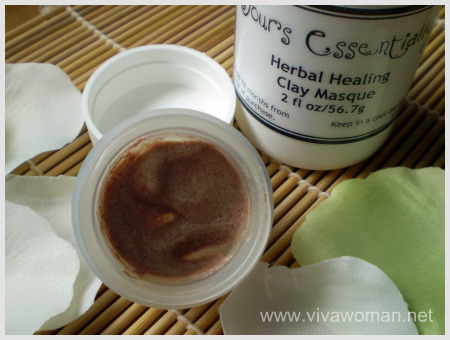 Have you ever been addicted to a beauty product that you want to use it all the time? Well, recently I found myself badly addicted to the Herbal Healing Clay Masque from Yours Essentially.
Dry mask mix for inflamed skin and surface blemishes
Besides Rhassoul Clay, I wasn't that keen to try out the others from the shop until I was sent a sample pack of this masque. This is a dry mask mix made from white kaolin clay, bentonite clay and natural herbs, and is beneficial for inflamed skin and surface blemishes. Because I was still suffering from aftermath of my acne breakout, I thought I'll give it a try and I was so in love with it that I used it everyday for a week until I ran out of the clay from the sample pack!
Strong herbal smell with soothing properties
The clay masque smells like something straight out of the herbal medicinal hall but I like it very much!  I think it did something to soothe my face from developing further rashes and breakouts and although it didn't get rid of the acne marks, but they subsided quite a bit with my daily masque-regeneration routine. What I did find was that this Herbal Healing Clay Masque definitely helped my right arm from developing further little pimples!
White kaolin is good for exfoliating and cleansing
This is a house blend from Yours Essentially and I realized that they use white kaolin which is good for its exfoliating and cleansing properties. Known as the mildest of all clays and suitable for sensitive skin, kaolin clay is high in calcium, silica, zinc and magnesium, which are beneficial for oily, blemished skin by helping to heal blemishes and inflammations, as well as preventing new ones from forming. At the same time, it also rejuvenates the skin.  The second ingredient on the list is Bentonite Clay which helps to adsorb toxins and impurities and has the ability to attract and soak up poisons on its exterior wall.
The entire ingredient list
White Kaolin Clay, Bentonite Clay, Certified Organic Beet Root Powder, Certified Organic Comfrey Root Powder, Certified Organic Burdock Root Powder, Certified Organic Calendula Flower Powder, Certified Organic Marshmallow Root Powder, Certified Organic Slippery Elm Bark Powder, Certified Organic Chickweed powder Certified Organic Chamomile Powder, Certified Organic Lavender flower Powder.
Great for combination to oily skin with skin blemishes
If you are looking for a masque to help clear your blemishes and you have oily or combintation skin, this blend may work for you.  However, please note that Yours Essentially only ships within Singapore currently although they've indicated on their website that "overseas customers could drop us an email and we could make special arrangements for your order."
But, keep a lookout for it in my next giveaway! ?
Comments