DIY Beauty: Bentonite clay face mask *meow*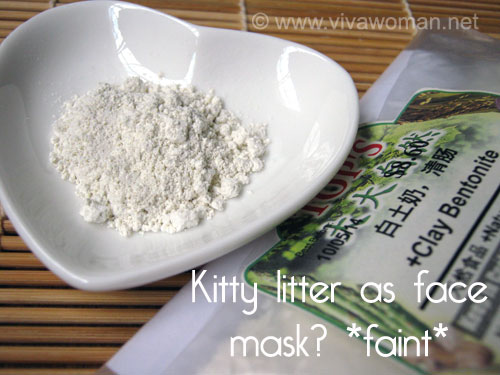 So that was exactly what I tweeted a few weeks ago, after reading the article about using kitty litter as a face mask in Urban. I had thought the kitty litter meant the kitty poo too. I later realized that it meant bentonite clay and coincidentally, I was just going to get hold of it as a clay mask that day. But seriously, does this stuff look like kitty litter?
Bentonite clay used in kitty litter
After some reading, I found out that bentonite clay is used in kitty litter. The first type of kitty litter was actually made from granulated Fuller's earth and bentonite clay was only introduced later. The reason for using such clay was because it clumped up in the presence of moisture, allowing waste to be isolated and scooped out, leaving behind clean litter (source). However, before you go all excited and dash out to the pet shop to get that big bag of kitty litter, note that most of those are not just bentonite clay. So yeah, you've guessed it. I didn't get this from a pet shop! Rather, I got this from an organic food store.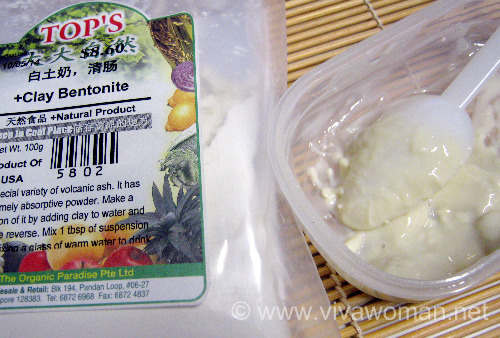 Good for internal and external cleansing
Bentonite clay is really edible volcanic ash. I had initially wanted to use the bentonite clay as a drink for detox too because it is supposed to be able to draw the toxins in the colon like a magnet. However, it should not be taken alone but with psyllium husks for a proper cleansing. I couldn't bring myself to drink the stuff after making it and in the end, decided to only use the clay as a face mask. Because of its absorptive power, it's good as a face mask to cleanse out the impurities from our skin.
Clumps with water
I have actually used bentonite clay but it was always in a mixture with other types of clay such as kaolin. So this is the first time I'm using it alone. This isn't the most user friendly clay to use. It clumps with water and so takes quite awhile to mix into a paste. Even then, you'll still find lumps in the paste. But it's not a big problem as you can still apply the lumps and blend it onto the skin quite well. The good thing about this clay is that it has almost no smell when mixed with water.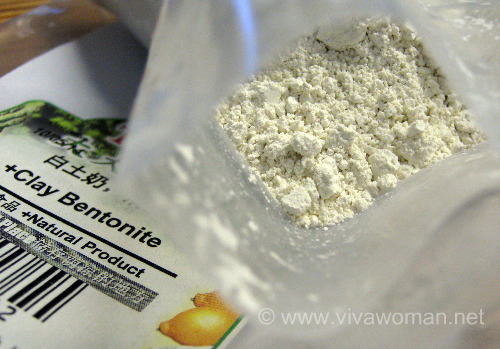 Mix everything slowly to avoid clumping
I used about one tablespoon of bentonite clay and mixed with about two tablespoons of distill water or rose water. You can pour the clay into the water or pour water onto the clay to mix. Either way, the trick is to keep it slow and steady so the the mixture will blend quite well and not clump up. After that, I applied the mixture straight on to my cleansed and dry face, leave it on for about 20 minutes before washing off with warm water. Again, it was not easy to wash this stuff off as it feels a tad "slimy" and I had to use a washcloth to remove the excess paste.
Draws out some blackheads
All in all, this isn't the most friendly type of clay I've used on my face. But it is quite effective in drawing out the impurities. I had a small blackhead by the side of my face and I noticed it was gone after using this clay. However, those on my nose still remained. I started out using this clay about twice a week but am now keeping to just once a week because it is rather drying. Hence, it's best to use a hydrating mask immediately after.
Price and availability
I purchased this packet of bentonite clay for S$8.60 from Four Seasons Organic Market at City Square Mall. You should be able to find it in other organic food stores and even stores that sell DIY skin care ingredients.
So do I feel like a clean kitten now? I'll say PURR…
Comments