KOSE Mask White to remove facial hair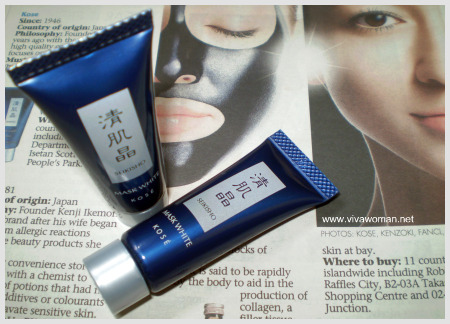 Earlier this week, I was invited to participate in the KOSÉ Mask White Blogging Contest.  I'm no longer using this product now but I've tried a tube before and even had a review I did back in April 2007 which I'm reposting here.  All in all, I'll say this is a fun mask to play with and I derived some joy from freaking the hell out of my husband who thought I was Darth Vader then.   I quite like using this product back then but I won't use it anymore because I've found other less painful ways to cleanse my face and pores thoroughly.  However, if you're looking to remove your excessive facial hair, I think this may work! 
Repost of my review written in April 2007
You can believe the claims on the packaging of Kose Seikisho Mask White that this mask unclogs pores, remove dirt and impurities to thoroughly clean skin and help reduce black pores. I've used it and it indeed removed the blackheads around my nose and the pores on my face also looked a lot cleaner. In fact, I actually thought my skin looked clearer and more radiant after using this peel off mask. (It could be imaginery though, so I can't swear on that.)
Painful to remove
But this stuff is quite painful to remove. Because of how it works, I have to apply quite a thick layer on my face each time and it adheres so tightly, it's rather painful to remove. Not only does it help reduces my blackheads, I'm pretty sure it also reduces some of my fine facial hair in the process of removing it off. *Ouch* And I always get this warm tingling sensation on my face for quite sometime afterwards.
Once-a-week facial cleansing
I find this is a great mask for once-a-week sort of thorough cleansing. According to Kose, this black mask is an effective way to enhance skin whiteness as it incorporates a whitening formula of uniquely effective ingredients consisting of five Japanese and Chinese herbal extracts in concentrated form, including wormwood. But I'm definitely not pinning hopes that it will lighten up my already darkened pigmentations.
Takes about 25 mins to dry up
At S$34 for the 75ml, it doesn't seem expensive. But I tell you, it is. Because this mask won't last me too long as I have to like apply lots of it on my face for each application. And while it's easy to use no doubt, but I have to leave it on for at least 25 mins to make sure it completely dries out before I peel it out. And during that 25 mins, I can't exactly talk too much, laugh or eat unless I want the mask to crack.
Fun to use
Still, it's kind of fun to use because it's been many years since I've used a peel off mask. Plus, it freaked the hell out of my husband who thought he saw Darth Vader emerging from the bathroom. Hee…I like that!
Comments