What comes 1st: shampoo or facial cleanser?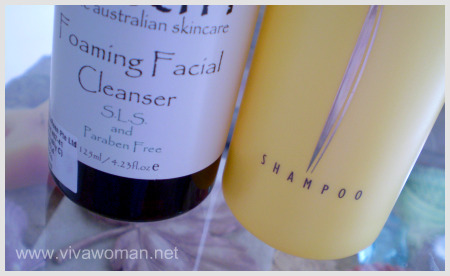 I could be too presumptuous here but I'm guessing most people shampoo their hair and wash their face during a shower. Well, at least a couple of people I know do. So which should come first? Should we shampoo our hair first or should we wash our face first? And is there a difference?
The reason why I pose this question is because I've been thinking about this process lately during my shower.
I've always been washing my face first, before shampooing my hair. However, since I'm more concerned about what I use on my face like trying to avoid skin care products containing SLS, chemical preservatives and artificial fragrance as far as possible, I thought about my shampoo too. I haven't found an SLS-free shampoo that can work for me or rather I haven't looked hard enough. So my shampoo is just the normal commercial type that contains most of the ingredients that I try to avoid on my face.
Washing hair with head tilted down
It isn't much of a concern to me except that during a shower, my shampoo will somehow get into my face especially since I've always wash my hair with my head tilted down and not backwards. So one way or another, my face will come in contact with the shampoo residue.
Shampoos and conditioners can cause breakouts
It hasn't affected my skin but I've heard and read stories of how some women have breakouts on their foreheads due to their choice of shampoos. One of my readers Tracy had a breakout with her shampoo and ParisB of My Women Stuff also had a similar experience.   Now most shampoos contain Sodium Laureth Sulfate and Sodium Lauryl Sulfate although the percentage may vary for different shampoos but the latter is highly comedogenic and known to cause acne for some people. Silicones like Dimethicone is another potential culprit for some people with ultra sensitive skin.
Better to leave facial cleansing to the last
I'm not going to discuss the other types of ingredients here but the point is that if you're washing your hair in the shower and not  tilting your head backwards like me, it might be better to wash your face afterwards.  Which means, it maybe better to shampoo our hair first then wash our face to avoid any shampoo or conditioner residue on our skin.
Well, these are just my thoughts and it could all be entirely baseless and I'm just being paranoid.  So feel free to disagree.
Comments