5 things to know about skin care labels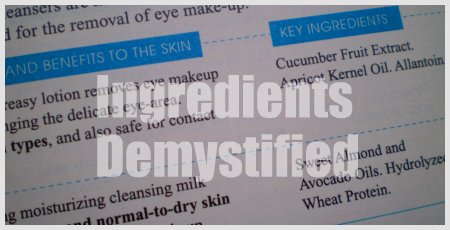 I didn't know or care about the ingredient list found on skin care products until I started this blog. I'll be the first to admit to you that I found them mind boggling and I still do. In fact, I still don't know a lot and am still learning but there are some basics I picked up along the way in my beauty education journey. Here I share 5 of them with you.
1. Ingredient listed first has the highest concentration
Skin care manufacturers are required to list their ingredients in descending order or from the highest to the lowest concentration. Which means, the ingredient present in the largest concentration is always listed first followed by the second and so forth. So say if you bought a cleanser that claims to be natural or organic but Sodium Lauryl Sulfate (SLS) is listed first on the list, then you should know that this is a pretty harsh cleanser. The exception is when the ingredients is classified as a drug such as Retin A, then it is listed prior to all other ingredients regardless of its concentration.
2. Some toxic ingredients within the product maybe insignificant
In the same vein, the ingredients listed last are normally referred to as "trace elements". Having whipped up my own BB cream before, I know that this is a fact so Paula Begoun maybe right that certain chemical ingredients like parabens are so insignificant in products to cause much harm. This is true if the parabens which are usually listed as methylparaben, ethylparaben, propylparaben and butylparaben are last on the labels. However, I still think there could be some cumulative effect if you use many products containing such ingredients.
3. Only the top 33% of the ingredients matters
Something more specific about reading skin care labels is what I found on Life123. According to the article, the rule of thumb is that about 90% of the skin care product is made from the top 33% of the ingredients which means those listed after the 33% are probably trace elements. So in the example given, if a product label lists 25 ingredients, then the product is made up of the first eight ingredients. The remaining 17 ingredients probably have little impact on how the product works. Another way to read according to Natural Health Library is to divide the ingredient list into thirds: the top third usually contains 90-95% of the product, the middle third usually contains 5-8% and the bottom third, 1-3%.
4. Active ingredients should have an effective concentration
One of the important aspects of reading skin care labels is understanding what sort of ingredients the product has and in what concentration if it is to do something for your skin. For example if you're buying a mineral sunscreen, then you should expect to see zinc oxide and/or titanium dioxide listed separately as active ingredients or at least right on top of the list and they should have a concentration of at least 7% each. If you're using a product marketed as a vitamin C serum, then it should have a concentration of at least 10% of L-Ascorbic Acid to be effective. And if you're paying top dollars for a product that promises skin regeneration with the ability to reverse your aging process, then it should jolly well contain active ingredients with antioxidant properties and that ingredient or ingredients should be listed separately or right in front. The exception is patented or otherwise "secret" formulas do not need to disclose the combination of active ingredients but the company must submit an application to the FDA (if manufacturered in US) in order to list the alias instead of disclosing the ingredients on the label.
5. Some ingredients are spelled almost similarly but aren't the same
Sodium Lauryl Sulfoacetate also SLS for short, isn't the same as Sodium Lauryl Sulfate. The former is a plant derived cleansing agent and is much more skin friendly. Maybe it's just me but I had a problem differentiating them initially and it is only through research and reading that I discovered the difference. Hence, it's always best to find out. And also some ingredients can have several related but distinct chemical forms for example silicones such as Cyclomethicone and Dimethicones used by many manufacturers of cosmetics and skincare products as an occulsive emollient.
Like I've indicated, these are some of the basics, and there are a lot more to learn about skin care ingredients if you're interested. You can read SmartSkinCare.com for more details of what I've covered. It's not an easy process but understanding skin care ingredients will definitely help you to make better choices when buying skin care products, not to mention save some money.
Finally, if any of you have something that you know about reading skin care labels or ingredients that I did not cover here, please feel free to share!
Comments