Anti-Pigmentation: La Roche-Posay Uvidea XL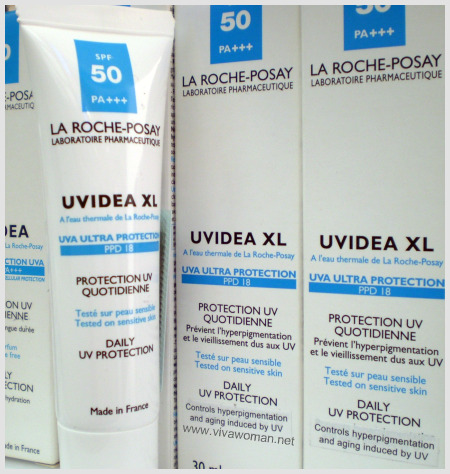 This is a guest post from Pei Fang who also goes by the nick pf1123 in the comments section. She is in her late 20s with combination skin type and suffers from occasional bouts of hormonal acne. Here Pei Fang reviews the La Roche-Posay Uvidea XL Daily UV Protection SPF 50.
First Encounter with Sun Spots
About 2 or 3 years ago, I suddenly realized that there were some black dots on my nose. They were very tiny and my friend thought that they were blackheads. However, I never had a single blackhead in my life (well, up to that point in time anyway). To my horror, I discovered that that was the result of not applying sunscreen on my face for 20 odd years of my life.
First Sunscreen Product for Face – Vichy UVActive SPF 50
I rushed to Guardian to find something that can help me with my sun spots. An SA introduced me to Vichy UVActive. It is a sunscreen which helps to prevent pigmentation. At a whooping SPF 50 (at that time was not too common to my knowledge), I thought it would give me maximum protection. The texture was not too heavy so I was rather ok with it. I used 2 or 3 tubes of this and I was disappointed that it didn't help me get rid of my pigmentation. The spots were still there! So, I didn't continue with this. I tried another Vichy's anti-pigmentation product but I was too lazy to do anything beyond cleansing, toning and moisturizing. Instead, my interest in makeup grew. So, I was using foundation, powder pact or BB creams with various amounts of SPF. My face became fairer from these SPF products though the pigmentations were still there.
Product Test
Then the real test came. My skin went haywire from my hormones. I visited a dermatologist and was prescribed Nimegen – a generic brand of accutane. For those loyal readers of Viva Woman, you should have read that accutane would cause increase in sun sensitivity. Although my face was covered with products with SPF all the time, my pigmentation increased! There were more spots and the older spots grew bigger.
I did some research and realized that there is an alternative to Vichy UVActive. On Makeupalley, there is a member who did a wonderful comparison between Vichy UVActive and La Roche Posay Uvidea in her review. She said that both have the same ingredients and serves the same function. Its just that UVActive is oilier compared to Uvidea.
La Roche Posay Uvidea XL Daily UV Protection SPF 50 PA+++
Currently, I have used LRP Uvidea for more than 2 months. I love it a lot! It is only available in Asia and targeted for Asian women as we're prone to pigmentation issue. It is a chemical sunscreen. The texture is non greasy, light weight, thicker than lotion-like but not too creamy texture. It spreads very well on my face and does not leave a white cast. It is somewhat less oily than UVActive although both products claimed to be oil free.
I use it after my moisturizer as the instructions says to use after skincare regime*. I think it can be used without a moisturizer. But as my day moisturizer is very light as well and has oil control function, so I layered them. It serves as a wonderful makeup base and can be cleansed with a normal facial cleanser. There is no significant increase in pigmentation. If I wear this alone, there is a glow on my skin. There are no adverse reactions such as clogged pores, breakouts or rashes. However, I believe I need to give it a bit more time to assess the effectiveness to be fair as I have used Vichy's UVActive for much longer.
I think this should be suitable for all skin types even sensitive skin as it is formulated with LRP thermal spring water.
*This is different from Vichy UVActive which claimed to be able to substitute a moisturizer.
Ingredients List
La Roche-Posay Uvidea XL Daily UV Protection SPF 50 contains the following ingredients:
Aqua/Water, Ethylhexyl Methoxycinnamate (also known as Octyl Methoxycinnamate), Glycerin, Cyclopentasiloxane, Propylene Glycol, Terephthalylidene Dicamphor Sulfonic Acid (also called Ecamsule), Titanium Dioxide, Dromethrizole Trisiloxane, Triethanolamine, Benzophenone-3, Stearic Acid, C12-15 Alkyl Benzoate, Potassium Cetyl Phosphate, PEG-100 Stearate, Carbomer, Glyceryl Stearate, Dimethicone, Sodium Cocoyl Sarcosinate, Tromethanmine, Aluminium Hydroxide, Disodium EDTA, Xanthum Gum, Cetyl Alcohol, Myristic Acid, Palmitic Acid, BHT, Tocopherol, Phenoxyethanol, Methyl Paraben, Ethylparaben, Propylparaben, Butylparaben, Isobutylparaben.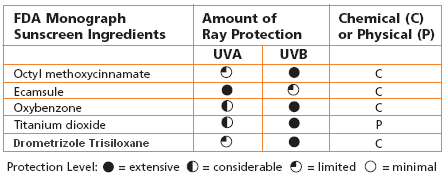 Above monograph is obtained from Environment Protection Agency with the exception of Dromethrizole Trisiloxane which is obtained from Cosmetic Database.
Notes:
Octyl Methoxycinnamate = Ethylhexyl Methoxycinnamate
Ecamsule = Terephthalylidene Dicamphor Sulfonic Acid
Oxybenzone = Benzophenone-3
Non-tinted vs. Tinted version of Uvidea


The LRP Uvidea comes in 2 versions. One is a normal white colour cream and the other is a tinted version. Both works equally well and only difference is the colour.
The tinted version offers no coverage at all. It isn't meant to do so. It serves to even out complexion. The tint is very light and to some girls, there might not be any difference between the 2 versions.
It can be used as a makeup base as well. I use this on weekends with some concealer and loose powder when I want a more casual look and also to give my skin a rest…but I can't go completely without makeup because I still have some acne hyper-pigmentation and uneven skin tone which I want to hide. Hopefully when my skin gets better, I can just use the tinted Uvidea everyday with no makeup. Ahh…how I wish…
Costs and Availability
This is available in Guardian Pharmacy. It retails for S$49.90 per 30ml tube for both tinted and non-tinted. However, this product is often on 20% discount during sale time.
So, the moral of the story is:
Do not just use products with SPF, use a sunscreen.
Do not just use a sunscreen; use a broad spectrum anti-pigmentation sunscreen.
The LRP Uvidea works for me. I hope it works for you too should you decide to try it.
Comments