Can you live without your hairstylist?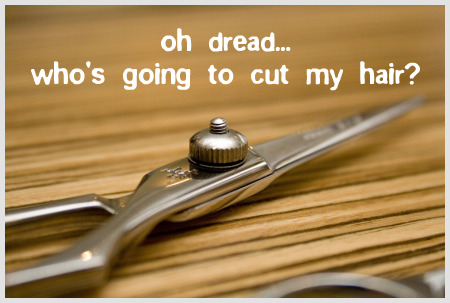 I just had a new hairdo about two weeks ago. My hairstylist gave me something different from my usual; something edgy he said. It was rather short but it's growing to look a lot nicer now so I'm happy. He thinks the haircut will last me well into another two to three months before I see him again.
On average, I see my hairstylist about six to seven times a year, depending on how my hair has grown or any new requirements I may need. And while I may go to someone else to color my hair, but I would never go to another hairstylist for my haircut because even though I am no celebrity who goes to David Gan, I am VERY particular about who touches my head and cuts my hair.
I have known my hairstylist Hensley since I was a teen working as a temp in Peter & Guys hairstyling training school. But it wasn't until some years later that I went to him for my first haircut and have since been faithfully following him to the various salons he has worked in.
A friend who dispenses the right advice
Being friends means Hensley knows me well enough not to give me some offbeat haircut. He always gives me a trendy cut that flatters my face shape, and something manageable which I can style effortlessly. He is able to work more volume into my limp hair and is ever ready to dispense the right advice when it comes to my hair needs. I will always remember the time he threw a tantrum because I had asked him for a perm. "Look, I'm your friend. So I'm telling you a perm is not suitable for you. If you insist on it, be prepared for the consequences." He was really upset then. Anyway, I did do the perm against his wishes and subsequently lived to regret it.
Maybe that's why a lot of celebrities are buddies with their hairstylists. For example, when Jennifer Aniston split from her husband, Brad Pitt, she reportedly ran straight to Chris McMillan, her hairstylist, to cry on his shoulder.
Well I wouldn't exactly go to Hensley if I was emotionally upset but I will definitely go to him if I want to feel positive about myself via a nice haircut or a highlight. Come to think about it, Hensley is almost someone I cannot live without. He may not be my confidante or best friend but he definitely has the power to make me look and feel good.
A friend who is older and have other ambitions as well
So recently I started wondering; who would cut my hair if Hensley retires? I mean the guy is older than me and he has told me that he doesn't want to be cutting hair forever. He maybe thinking about starting a business I'm not sure. But he's bound to stop doing this one day even when I still need him and what do I do then?
We spoke at length about this and he told me that there shouldn't be a problem since there are some many hairstylists in the market. Sure, there are but how many can I count to make me look and feel good? Before Hensley, I was seeing Jeric See from Reds for sometime but I never had a comfortable relationship with that guy where my hair was concerned. In fact, it got hairy at the end and that's why I switched and I've been hopping from salons to salons until I met Hensley.
Am I alone feeling this way ladies? Do you have a regular hairstylist that you visit and do you ever worry if he or she moves or goes away one day? Tell me!
Comments