DIY Beauty: how to customize your own lipstick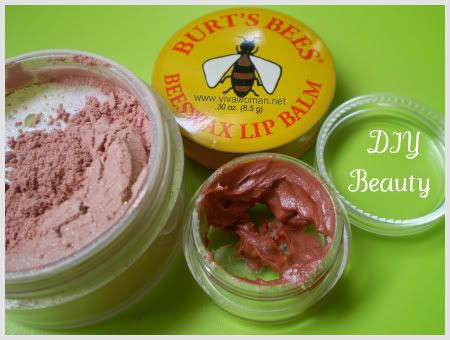 I came across this very interesting DIY beauty tip while reading the January issue of InStyle magazine during my hair cut.  Making our own customized lipstick out of lip balm!  And it's so easy!  All you need is a tube or tin of lip balm, a blush powder and an empty container.
How to make
I used Burt's Bees Lip Balm which was also featured in the magazine. Nars Blush was used in the article but I used a mineral blush by the shade of Petal that I rather like but hardly use. I then use a plastic stirrer to scoop out some of the lip balm and put it into an empty container. Next, I pour out a bit of the blush powder. I didn't know how much to pour but I later realized that you don't need a lot to get your desired shade. About half (or even lesser) the amount of the lip balm you use is sufficient.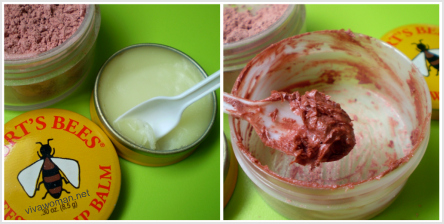 Blending is messy
Then you proceed to blend both together until you get a colored creamy consistency. I'll warn you that it's a little messy to blend the mixture so you need to have tissue paper on standby. But the end result is rather exciting!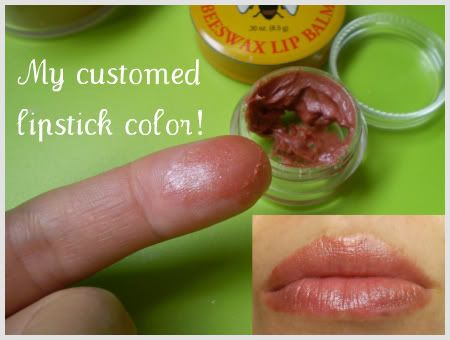 Use of lip brush or finger for application
TA-DA! My customized lipstick shade! It's a tad brownish and rather pretty. Something that I will definitely wear! But of course unlike a lipstick, you have to use a lip brush to apply this on. You can do so with your finger too. Just make sure it's clean!
Endless possibilities of customizing
Actually the possibilities for customizing are endless. All you need is a lip balm and you can mix it with any shades of blush powder you like. You can even mix with a few blush powder. Just make sure they're free of carmine, which is an ingredient known to cause possible allergies for some people.
So time to put those old lip balms and blush powder to use! Come to think of it, you can even mix it with your favorite eye shadow! So green lip color anyone?

Comments