Join a spree and shop with breeze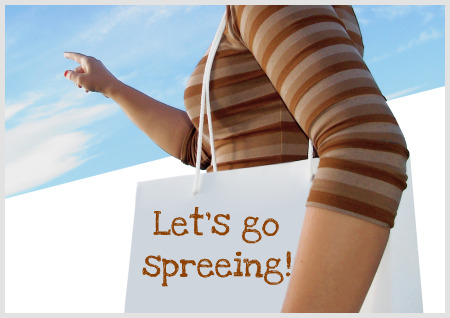 You might have joined one of these before. Or perhaps you're already doing it on a daily basis. Or maybe you're an organizer yourself. What am I talking about? Sprees which are online shopping organized as a community to enjoy the bulk discount rate or lower shipping costs between countries.
What are the benefits of participating in a spree?
You get to purchase goods that are not available in local shops. Even if they're available, you're paying a much lower price because there are no markups involved. Most of the time, the extra cost you need to pay is mainly for shipping but that is sometimes offset or reduced by the bulk purchase.
Take Benefit Cosmetics for example. Even though the brand is available in Singapore, you gals know some of the items cost almost twice the price quoted online. Hence, participating in a spree is good when it comes to buying Benefit Cosmetics as you pay a lower price, and by buying as a group, you don't have to pay the shipping costs as Benefit ships free internationally when your purchase is at least US$115.
How much are the savings?
Besides no mark up, another good thing about sprees is that you can enjoy savings from the collective bargaining power for some items as spree organizers use that advantage to negotiate for a lower rate with the supplier. However, this applies when the item is purchased directly from a supplier and not an online shopping mall.
Well, to give you an idea, I recently purchased the Egyptian Magic Cream by participating in a spree and paid in all S$38.41 including shipping. That is half the price I would have paid if I had bought the item at S$79.90 from True Colors locally or US$61 from the Egyptian website including international shipping charges. In addition, the spree organizer even negotiated for a free sample for each tub purchased.
How long is the wait?
Because the sprees are really buying foreign goods, you'll need to understand that you can't get instant gratification unlike buying your stuff in a retail outlet. However because it is a spree, how fast the items get dispatched to you also depends on the efficiency of the spree organizer. It can take anything from one week to a month but a professional spree organizer always let you know in advance the timeframe to expect your item. So buy only when you're comfortable.
It took about 3 weeks to receive my Egyptian Magic Cream and I thought that was a pretty reasonable period. However, there were instances that goods were delayed for certain reasons and it is the responsibility of the spree organizer to keep you updated.
What are the items being organized in a spree?
Sprees can range from babies' clothings, books, stationery, shoes, apparels, accessories to cosmetics. I've only joined sprees on cosmetics and beauty items so I can't comment about the rest. But in all cases, you're given the website or at least pictures to view and order. One thing to note is that sprees have a closing date and also a maximum capacity either in terms of value or items. In the case of popular items, the spree can close earlier than stipulated because the cap is reached quickly.
I have missed the spree for Everyday Minerals at least twice so far now because I've been slow in confirming my order. However, since it is popular, it doesn't matter because another spree will be organized again real soon.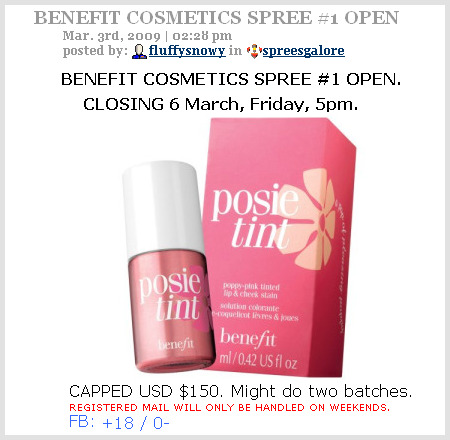 Example of a spree on Benefit Cosmetics taken from Spreesgalore.
What do you really pay for?
Like I mentioned, there are no markups from the spree organizer.  You pay according to what is charged by the online shop or supplier using the exchange rate stipulated upfront.  So what you pay is the item cost plus shipping cost.  Usually the shipping cost is collected together with the cost of the item but it is usually cap at S$3.  In cases where the actual shipping cost is lower, the spree organizer will make a refund.  However, do note that in some sprees where the shipping cost is unknown until the order is placed, you may likely need to make another payment for the final shipping rates when the spree organizer is billed.  Again, always read before and understand what are the costs before placing your order.  A good spree organizer offers transparency and will tell you upfront what sort of shipping arrangements or services are involved.
How do you pay for you sprees?
Just like online shopping, you need to pay upon order. In this case, you don't use your credit card which works great for those without one. Instead, you pay directly to the spree organizer's bank account. If you're really into purchasing via sprees, then you should have a POSB/DBS bank account and are able to transfer funds electronically. This will save you a lot of time, hassle and ensure that you get your order placed in time. Like all spree organizers indicate, no payment no order!
How do you receive your items?
In most instances, distribution is via postage although some spree organizers will indicate a central meet up place as an alternative. If you opt for postage, you can choose between receiving the item via normal or registered post. The difference is in the rate which you need to pay for but in both cases, you'll be billed a handling fee which is no more than S$0.50.
How do I go about joining a spree?
If you run a search via the search engines using the word "sprees" or "Singapore sprees", you'll get a lot of results and you can explore from there. I am subscribed to Spreesgalore which is a Livejournal channel for online shopping using sprees which can feature as many as 50 sprees on some days.  What I like about them is that they are established with regulations in placed and well organized with moderators around to help sort out tricky issues with spree organizers.  In addition, you receive regular updates on the exchange rates and this will ensure you're not short-changed. Another channel is Sgspree, also hosted at Livejournal but I've not shopped there before.
What are the terms and conditions for joining a spree?
Like I mentioned, if you join sprees organized at Spreesgalore, there are already some established rules.  However, for each spree, the spree organizer will state her own terms and conditions and so do read those carefully and join only when you're comfortable with them.  Personally, I dislike joining sprees with too many terms and conditions because I find some of them too restrictive.   But I guess they are necessary to protect the interest of all parties involved.
How can I trust the spree organizer?
First of all, I believe most spree organizers are in it for the fun.  I spoke to one of my Gen Y contacts who organizes sprees on apparel frequently and that's what she told me.  Because they want to reap the benefits of buying and saving as a group and that's why they're organizing the sprees.  However, there are a few black sheep who organize to "profit" from the sprees although it's quite hard to get away with such acts for too long as they would be exposed over time. 
The best way is to look out for feedback on the spree organizer.  Spreesgalore has a feedback channel and the spree organizers always post their feedback in this format: spreesgalorefb [+100/0/-1] which means the organizer has received 100 positive feedback, zero neutral feedback and one negative feedback. You can click on the link directly to read the feedback too.
How can one get started to join a spree?
I haven't participated in too many sprees but those that I've participated have been pleasant experiences. My suggestion is that if you're new to sprees, start small. Purchase items of smaller values and if you like the experience, you can start to purchase more.  You can also request for sprees if you have some items you wish to buy but none have been organized before.
In fact the fun part about spreeing is that you can shop almost everyday. I know some shopaholics swear by this method to feed their shopping addiction and really, you don't have to spend a lot each time.
So do you participate or organize sprees? What are your experience and is there anything else a newbie should know about participating in a spree?  And for those outside of Singapore, are sprees something familiar to you?
Comments