Product review: Egyptian Magic Cream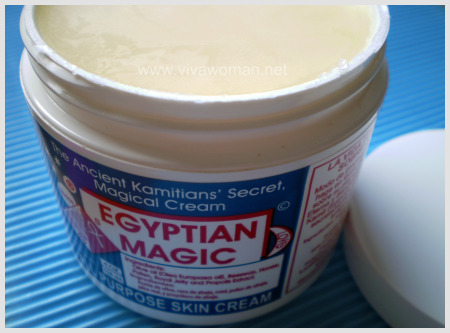 This probably sound really corny but this product always get me singing the song Walk Like An Egyptian by The Bangles complete with silly dance moves. This is why both my husband and my son are very well acquainted with this product and they know it's called the Egyptian Magic Cream.
And although I usually test skin care products for a month before I review them, I am making an exception for this product. Well, it's called the Egyptian Magic Cream for a reason and if it's to work magic, then it's fair that I should expect it to perform some sort of miracles in a shorter span of time then most skin care products isn't it?
Received kudos from press and celebrities
With so much hype and kudos received from celebrities such as Madonna, Oprah Winfrey, Kate Hudson plus the raves from the ladies at Makeupalley.com, the million bucks question is – is this really a magical all-purpose skin cream?
I think the problem with products that receive too much praise is that your expectations are instinctively raised above the bar. In another words, expectations can fall short a lot more and in the end, you may end up being disappointed not because the product didn't deliver, but because you were over wishful!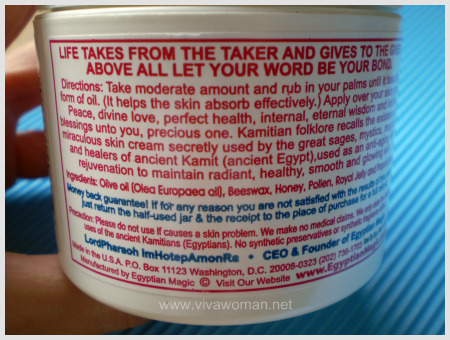 Formulated with natural ingredients
First off, the Egyptian Magic Cream is a very curious product. It is said to be an all-purpose skin cream "made with the blessings and guidance of their ancestors and with pure ingredients of olive oil, bees wax, honey, bee pollen, royal jelly, bee propolis and Divine love." I'm suspecting that some ingredients are not listed but their claims about the product being natural is probably true because of the way it smells and the fact that this cream attracts ants! And the packaging is almost cultish and totally reminds me of Dr Bronner's Magic Soap.
Oily texture and weird smell
In terms of appearance, the Egyptian Magic Cream is a tad similar to unrefined shea butter. But upon contact, this cream is soft, a lot oilier and melts quickly when rubbed. You don't have to use a lot of it each time and a little indeed goes a long way. But, this stuff smells really weird. I can't describe it well but it smells a little like the brown sugar which I use every morning in my tea. It's not unpleasant but it's not likeable. In fact, I'll say I still haven't gotten used to the smell after 3 weeks of usage.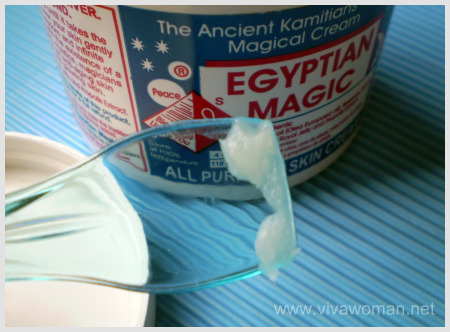 Works like a normal moisturizer on the face
Someone said that the Egyptian Magic cream gives her the same glow as Creme de La Mer. I wish I can say the same but nah. This cream does nothing special for my face. If anything at all, I'll say it's just a normal facial moisturizer. The good thing is that while the cream feels oily, it sank on my skin quite well. A little greasy initially but all of that was quite well absorbed after 20 mins or so. I didn't suffer any abnormal breakouts during the interim I used this cream either. But I have to say I love this cream on my hands because it makes them look real soft and smooth instantly!
No instant relief for my acne nor body spots
I think my disappointment with this cream is that it didn't heal my acne as instantly as I expected it to due to the many positive reviews I read at Makeupalley.com. It dried up my acne to some extent and stopped the spot from erupting again after awhile but it did nothing to heal the scars for me. In addition, I wanted to use this cream to heal some red spots on my body but again, I don't see a lot of improvement over these 3 weeks. One of the spots sort of faded on initial application but after that, nothing more happened.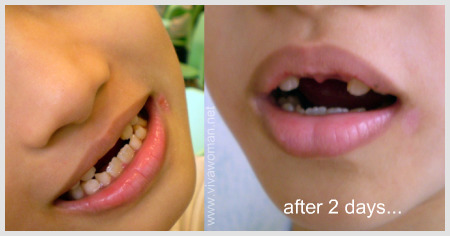 Provide excellent relief for insect bites, rashes and sores
However, it worked well to relieve my skin from itch and rashes from an insect bite. In addition, the Egyptian Magic Cream worked wonders for my son who developed something of a cold sore by the side of his mouth. It was bleeding because he kept scratching it but overnight after I applied the cream on him, the spot dried up like what you see in the first picture and in two days, the spot was smooth again as seen in the second picture. I would say shea butter has the same effect but it certainly doesn't work as fast as the Egyptian Magic Cream in a case like that.
Overall summary
I agree that this Egyptian Magic Cream is quite a useful balm and contains some excellent healing properties. But I don't really find it entirely magical in terms of results. It really depends on the skin condition and the problem plus maybe the weather too. Hence, I wouldn't recommend you to buy this at S$79.90 at True Colors. Instead, if you really want this, then buy it at half the price via sprees. I paid S$38.41 for mine, which is quite a steal.
And ladies who have used this cream, please share your experiences because I know some of you (like Dee) have better luck with it.
Comments