Egyptian Magic All Purpose Skin Cream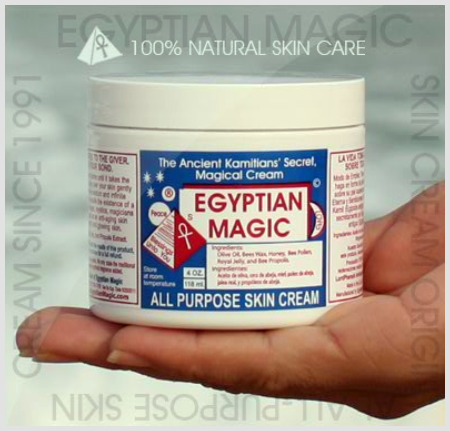 I was so excited last night when I came upon a spree for the Egyptian Magic Cream that is used and raved by many Hollywood celebrities including Madonna and Oprah Winfrey. Gosh, it sounds even better that Creme de la Mer because it is supposedly an all-in-one natural skin healing balm that includes olive oil, bees wax, honey, bee pollen, royal jelly and bee propolis. I read that this all purpose cream is even popular among many plastic surgeons, who recommend it to their patients for accelerating the healing of plastic surgery scars. Woah…doesn't that sound a tad like our popular BB cream too?
Described as an ancient Egyptian secret magic formula for radiant and beautiful skin, this cream can be used as a skin moisturizer, make up remover, massage oil as well as to heal cuts and scrapes, blisters and burns, diaper and skin rash, chicken pox, stretch marks, sunburn, insect bites, cold sores, chapped lips, and even as a shaving cream plus hair conditioner!
I know this sounds like something from a snake-oil salesman but I was pretty impressed when I read the reviews at Makeup Alley where this product was rated 4.1 out of 5 by 33 users.  You can also read a first hand review of the product where a beauty blogger Tao showed how the cream has cleared some of her acne marks.
One piece of good news for us is that the cream is sold at True Colours Makeup Cosmetics located at Ngee Ann City, #B1-13A in Singapore but it's like S$79.90 for the 4oz tub. Online, the product costs US$36 at the Egyptian Cream website but I found another cheaper alternative.
I would love to get this to try but unfortunately I missed the spree because it closed almost as quickly as it opened. Hopefully another spree will open soon on this product because I'm not so keen to spend S$79.90 in case it doesn't work for me.
So any of you gals have tried this product? If so, please share your experience to feed my curious mind and itchy skin!
Comments