Egyptian Magic Cream made from Vaseline? *ahem*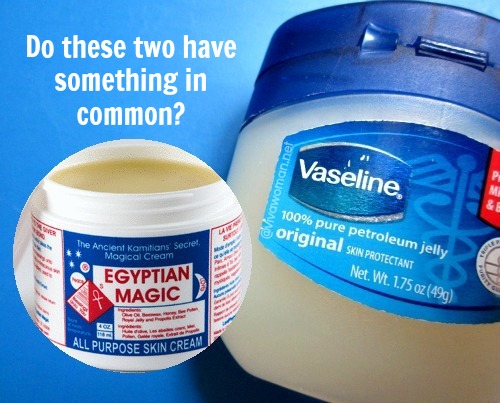 Someone in the beauty industry made this comment to something I'd recommended to an Instagramer: "Egyptian Magical Cream is just a vaseline base moisturizer" and I was like oh wow, really, since when? Anyway, I didn't respond to the comment but thought it makes a fodder for a blogging topic. HAHA. The mind of a blogger—do I get some scores for blogging juice or what?
Different ingredients
Everybody knows Vaseline but perhaps not everybody knows that it is basically 100% pure petroleum jelly. But I certainly don't remember petroleum jelly being one of the ingredients of Egyptian Magic Cream, which I'd reviewed in March 2009. I remember mentioning that it's a very curious product. It is said to be an all-purpose skin cream "made with the blessings and guidance of their ancestors and with pure ingredients of olive oil, bees wax, honey, bee pollen, royal jelly, bee propolis and divine love." I know, it sounds totally out-of-this-world!
Similarities in color
In terms of appearance, I had described that the Egyptian Magic Cream is a tad similar to unrefined shea butter. And yes, it also looks like Vaseline. But upon contact, this cream is soft, a lot oilier and melts quickly when rubbed. You don't have to use a lot of it each time and a little indeed goes a long way. But, this stuff smells really funky. I can't describe it well but it smells a little like the brown sugar which I use every morning in my tea. It's not unpleasant but it's not a scent you'll fall in love at first sniff either.
Occulsive properties vary
I hardly use Vaseline but I know how it feels. It's quite thick and definitely occulsive, and it just sits on top of your skin. Doesn't sink in. Doesn't get absorbed. This is why it is not recommended to be used for fresh burns or fresh wounds as it just traps the heat and possible bacteria in wounds and can make the skin more uncomfortable. Egyptian Magic Cream however, does not sit on top of the skin. It contains beewax, which also has occulsive properties but the combination of olive oil, honey and other ingredients balances it out and while the texture feels kinda oily, it gets absorbed mostly. Well, at least you won't feel like there's a film when you rub your skin. Rather, it feels a more like after you've applied oil to your skin. In addition, I was able to use it on fresh wounds without issues.
Gloried Vaseline?
So saying that Egyptian Magic Cream is just a Vaseline based moisturizer is not accurate. I suppose what the beauty expert was trying to express was that the Egyptian Magic Cream is a glorified version of Vaseline. Well, I suppose some of you might agree although I don't concur. But I don't think it's all that magical either. When I had a tub of it, I found it to be really effective in healing wounds, because I had used it on numerous occasions on my son. Granted, kids do heal more quickly but nonetheless, I found the product to be quite effective. As for Vaseline, I'm not sure how it does in wound healing but I know it definitely has many fans. Are you one of them?
Comments