Cotton swabs to wipe out makeup mistakes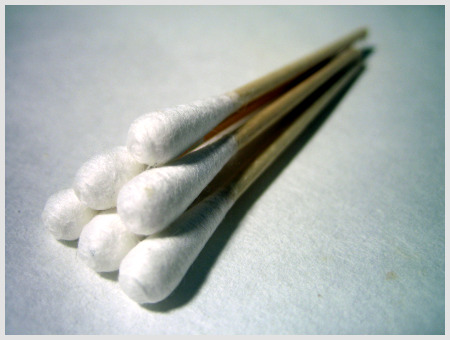 Before I share this tip on using cotton swabs that I picked up from Taiwanese celebrity stylist Kevin, I'll like to thank everyone of you who left me a comment in my last entry. My apologies for not being to answer to everyone individually but I like all of you to know that I appreciate all your kind words, encouraging comments and goodwill . I feel a lot better knowing that all of you share similar thoughts that beauty knows no boundaries and reaffirm what I thought earlier – age is irrelevant and imperfections are acceptable.   I am not a beauty guru or expert but I feel happy sharing all my findings and excitement when it comes to the topic on beauty.  So blog on I shall!
***
Erase smudges from mascara
Anyway, during the makeup demonstration last week by Taiwanese celebrity stylist Kevin, he showed us how to use a cotton swab or cotton bud to erase mistakes made during our makeup.   The model whom he put on the makeup had some smudges coming from her mascara.  What he did was to continue putting on the makeup for her, and then when he was done, he used a cotton swab to gently roll on the area of the smudge.  That rolling action lifted the stain and the smudge was erased completely.  The trick according to him was to wait for the mascara to dry up as it would become powdery, making it easy for the cotton swab to do the job.
I guess some of you who are adept in makeup probably already know this tip.  However, judging from the response from the compere and some members from the floor, it looks like many were hearing this tip for the first time.
Remove excess or blotchy foundation from the face
Although I hardly use mascara, but I found the cotton swab great for wiping out thick and spotty foundation too.  I just have to roll the bud on the area where I dabbed too much foundation and within seconds, the powder will be lifted up and I can touch up properly again.  Before learning about this tip, I kept using a tissue paper to wipe and the patch always got worst. 
So a cotton swab or bud is great for correcting makeup mistakes whether it is from foundation, eye shadow or mascara.   It's definitely a makeup necessity and it might be a good idea to bring a few with you at all times!
Comments