Are organic facial cotton better for our skin?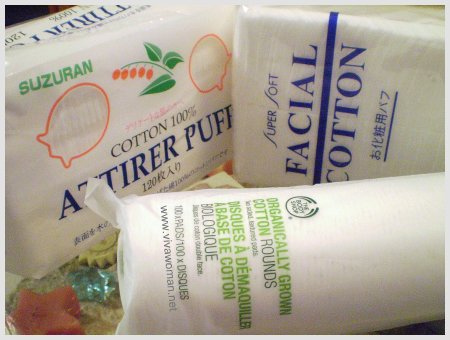 I confess! I knew nothing about organic cotton facial pads until this week. I've come across them but I have not paid any attention to them. Well, who cares about facial pads anyway? Afterall, they're all the same isn't it?
OH NO.
Facial cotton are not created equal
I first learnt that not all facial cotton are created equal from the sales assistant at Sasa about two years ago. Which is why I switched from using the cheap facial cotton pads from Watsons and the supermarkets to the Suzuran Attirer Facial Puffs from Japan after experiencing the difference in quality for myself. The Attirer facial puffs are designed with two textured sides, are absorbent and soft, plus they do not leave strands of fibre on my face. And if you want more proof on why facial cotton pads are not created equal, you should read Beautyholics Anonymous take on why you are better off using premium grade facial cotton.
The Body Shop Organically Grown Facial Cotton Rounds
In fact, it was Tine's post that inspired me to check out the The Body Shop Organically Grown Cotton Rounds. I didn't realize that they're organic! No wonder each cost S$0.035! More expensive than the Japanese brands! But while they're indeed soft and very absorbent, I don't find them a lot more superior that the Suzuran Attirer facial puffs I've been using. However, a search on the web gave me a better idea of why they cost more.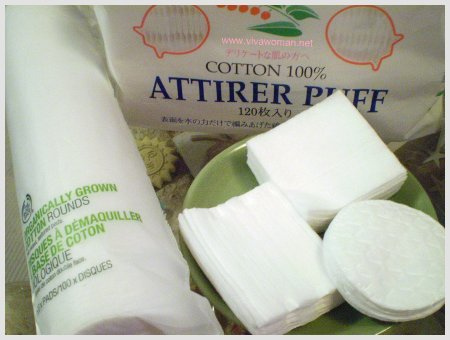 Commercially chlorine bleached and treated facial cotton
Apparently, even some of the premium quality 100% non-organic soft and absorbent facial cotton pads are commercial chlorine bleached and treated. I'm not sure if Suzuran Attirer Puffs are because they're described as 100% natural cotton. However, if they were, then I could actually be absorbing some traces of the bleach residues when I use them overtime. And I don't even want to think about how poorly the low grade ones could be treated. Those are very likely to have been bleached!
Not laden with toxic chemical pesticides and bleach residues
But organic facial cotton pads are different, based on information I have found from the web. Because they are organic, they are not conventionally cultivated cotton products laden with toxic chemical pesticides. They are also not commercial bleached, which means they're pure. In addition, because they're made from higher quality fibre like virgin staple fiber for example, they're more absorbent and noticeably softer. So they're supposed to be better for our skin.
Weave quality and organic certification
I can't be certain if this is definitely so although I like the idea that they are purer for our skin. However, whether they're better also depends on their weave quality, and if they're indeed certified organic. The Body Shop Organically Grown Cotton Rounds are well textured with double sides for effective remover of makeup and application of toner but I don't see anything about them being certified as organic though.
Stay away from low grade cotton facial
So it's probably better if we can afford the organic facial cotton but if we can't then just try to ensure that those that you're using are of a natural source. I understand that some non-organic facial cotton wool are specifically not chlorine-bleached though I haven't paid enough attention to spot them yet. Some even state they do not contain fluorescent material, whatever that means. But one thing for sure though; I'm definitely going to keep my face away from those low grade facial cotton because they're not doing any good for my skin with their lousy weave quality and bleach residues! Like the Super Soft Facial Cotton you see in my picture above. They're just awful on the skin!
Comments