DIY Beauty: homemade tea facial steam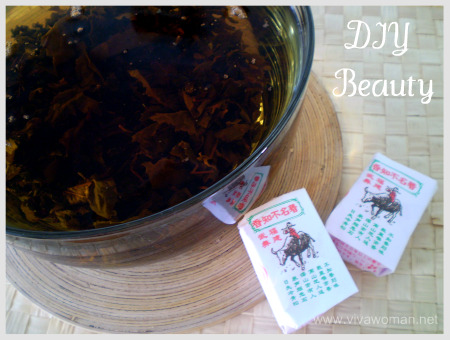 I suddenly had an urge to steam my face this week even though I'm paranoid and not particularly fond of this activity. It must be because of a zit that appeared on my chin that's making me desperate. So I thought perhaps I should steam my face a little before using the Herbal Healing Clay Masque.
Instead of just using hot water to steam my face, I wanted a little fun and so I looked around the kitchen for some ingredients. The best I have which was suitable to be used in my facial steam were tea leaves. Since I have an abundance of Chinese tea leaves, I decided to use them.
Better heat control with homemade facial steam
It was very easy. I emptied a packet of the tea leaves into a big bowl and then poured hot boiling water into it. I let the tea leaves steep in the hot water for a couple of minutes and then proceed to steam my clean face over it for about 10 minutes. This is the first time I'm using a homemade facial steam and I realized that it's much better than having my face steamed at the salon because I have control over how much heat I want with the ability to shift my face nearer or further away from the steam.
Get creative in what you add in your facial steam
I don't think there are any particular skin care benefits in using the tea leaves. It's really just for fun. Surely the tea aroma beats plain hot steam isn't it? If you like, you can use other flavors of tea such as green tea, chamomile or lavender. It's really your choice. Instead of tea, you can also add other herbs or some essential oils.
Use a facial mask after steaming
So after 10 minutes of steaming, I put on my Herbal Healing Clay Masque and indeed, I felt that my skin was better cleansed than usual.  If you're using a homemade facial steam, I would recommend you to prepare a facial mask to be used afterwards.  It works in synergy for better benefits overall.  After that, tone and moisturize your face as per normal.
Steam with moderation
But do be careful when you're using a homemade facial steam especially not to get yourself scalded. In addition, you might be interested in a post I've written sometime back on why you shouldn't steam your face too often especially if you have sensitive or dry skin.  Doing it in moderation is good for thorough cleansing but don't get too addicted to the activity.
P/S:  I didn't drink the bowl of Chinese tea in case you're wondering!
Comments