Review: Once A Week Bio-Deodorant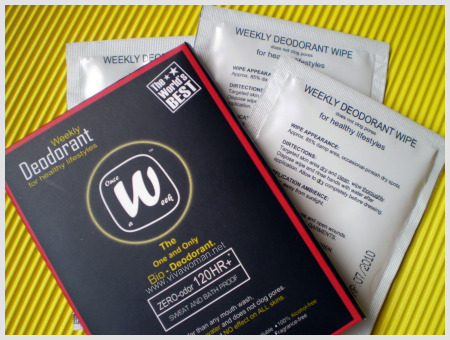 I picked up this Once A Week Bio-Deodorant at Watsons recently. At S$3.90, the packet comes with three wipes that you can use to neutralize body odor. It is water-based, fragrance-free, stain-free, colorless, non-sticky and 100% alcohol-free. I only have to use one wipe per application and it is supposed to provide me with a week long protection. So how effective is this for me?
Honestly, I wasn't expecting much from this weekly deodorant. I have tried PerspireX a few years ago where one application was supposed to leave one odor-free for 3 to 5 days but it didn't cut it for me. But anyhow, I still bought the Once A Week Deodorant because of the novelty and the price point. And boy was I surprised.
Apply on clean and dry area
Okay, it didn't quite last me a week but about 4 to 5 days. Still, it lasted long enough to impress me because I thought that was quite a feat for my level really considering *ahem* my state of odor. Plus I like the fact that there was no mess. I just had to make sure my underarms were clean and dry and all I had to do was to rub the wipe on the areas. When I was using PerspireX, I had to use a hairdryer to air my armpits dry. Yeah, it was funny but that was what I had to do. With this weekly deodorant, I didn't have to do anything more and it dried up very quickly. In fact, I forgot that I was wearing it throughout the first day because I felt so clean and fresh the entire time!
Not entirely sweat proof as claimed
The drawback for me is that this isn't entirely sweat proof as claimed. By the second day, I could smell that this deodorant wasn't making it when I perspired while going about on my household chores. But, after taking a bath, the smell was gone and I could go about my usual without having to wear another deodorant for the day. So my conclusion is that this Once A Weeky Bio-Deodorant is good for everyday use if you do not perspire a lot. I doubt this would cut it for a week if you're wearing it to exercise or spending time under the hot sun.   My guess is that under such circumstances, this deodorant may leave you odor-free two days or so at most.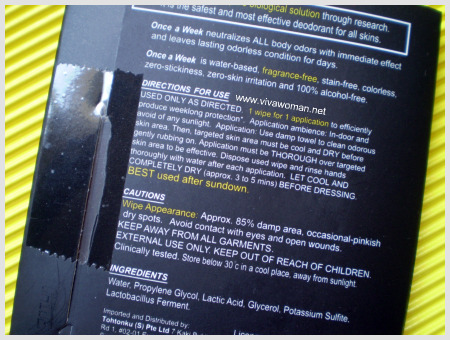 Contains 85% water
The wipes contain more than 85% water as well as propylene glycol. lactic acid, glycerol, potassium sulfite and lactobacillus ferment. Not natural ingredients there and propylene glycol has been said to be a skin irritant so I am not sure if these wipes are safe for all skin types. However, it caused no irritation for me whatsoever and left no stains on my clothes too.
Convenient for short trips or vacations
Well, if you're looking for some novelty, try this for fun. If you're someone who does not perspire a lot but need some cover up, then this may well work up to a week for you. However, I think this is rather expensive when used long term. If it works weekly, you'll have to spend S$62.40 for a year's supply. So unless your current deodorant is costing more and not working well, this Once A Week Bio-Deodorant may well be good only when you go on a short trip or vacation because of the convenience.
The product by the way is produced in US but marketed from Malaysia according to information from this website.
Comments