Schmidt's Natural Deodorants With No Baking Soda Specially Made For Sensitive Skin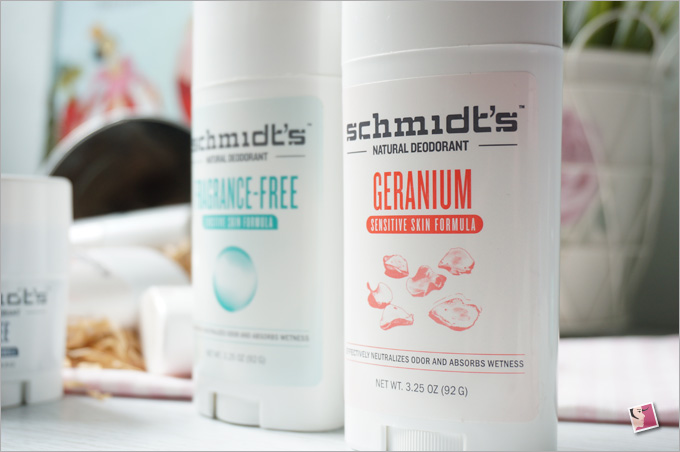 Remember Schmidt's Natural Deodorants that I reviewed in Nov 2014? The one whose finger-applying-deodorant concept I'd called primitive? Well, this is one brand that has been taking their customers' feedback seriously.
Today, you can stick a Schmidt's Natural Deodorant under your arms and just roll on. Yes, no more digging your finger into the jar and spreading the cream onto your armpit.
But you still can if you want to because the jar formulas are still available. I'm just guessing more people like the idea of using sticks for roll on application.
No baking soda
And if your skin can't handle baking soda, you'll like this: Schmidt's has also gone ahead to introduce three no baking soda formulas for sensitive skin! How awesome is that?
I'd like Schmidt's Natural Deodorants when I first tried the range. They smell great and were highly effective…something really precious for natural deodorants.
But I just wasn't too motivated to use them again even when they came in stick formulas. While my skin isn't sensitive, I can't deal with baking soda formulated deodorants on a long term basis.
So I was delighted when I stumbled upon Schmidt's Sensitive Skin Deodorant Sticks at iHerb. Of course I quickly added them to my shopping cart.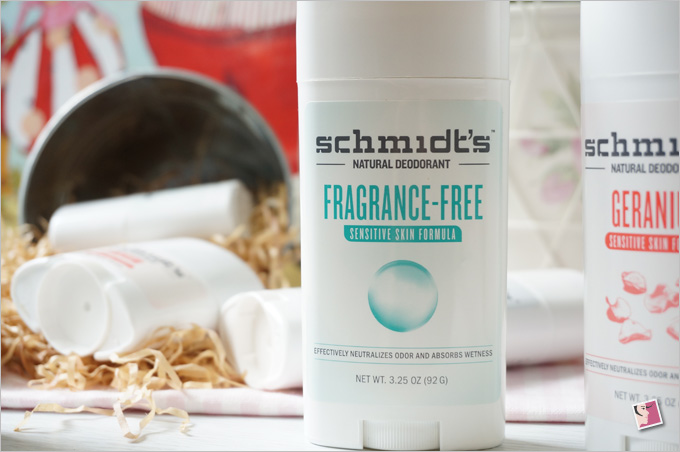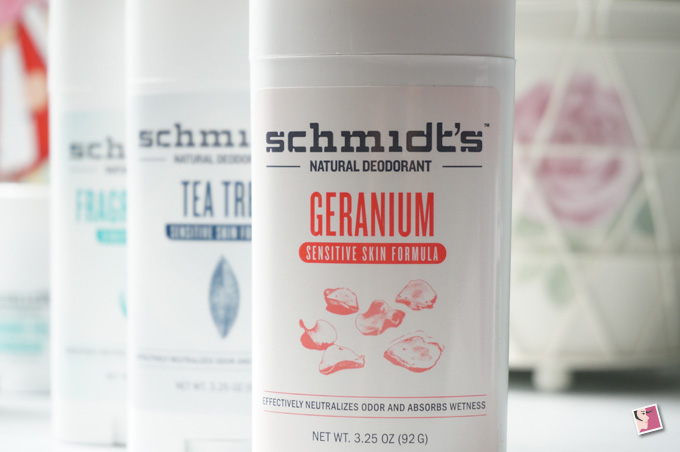 Trio for sensitive skin
The brand has introduced a trio for sensitive skin: one is fragrance-free, one is tea tree oil, and one is geranium. Naturally, I picked the last because that's my favorite scent.
The first thing that struck me about Schmidt's Geranium Sensitive Skin Deodorant is the fabulous geranium scent. It was love at first sniff.
But I was a little leery that the sensitive formula may be too mild for my armpits. Good thing my concerns were allayed and I've used the deodorant for about two months now.
So far, nothing embarrassing has happened but I'll say the Tea Tree formula holds longer than the Geranium one. The Geranium one is good for 10 to 12 hours but that's provided you don't perspire much. If you do, a second application might be needed.
Ingredient list of Schmidt's Geranium Sensitive Skin Deodorant:
Magnesium hydroxide, Cocos Nucifera (coconut) Oil, Maranta arundinacea (arrowroot) powder, Butyrospermum parkii (shea butter), Caprylic/Capric Triglyceride (fractionated coconut oil), Simmondsia Chinensis (Jojoba) Seed Oil, Euphorbia Cerifera (candelilla) Wax, Tocopherol (vitamin E), Essential oil (none in Fragrance-Free)
I've no idea how the Fragrance-Free formula holds up as I've not used it. I'm guessing it'll work like the Geranium formula at best.
Both the Schmidt's Geranium and Tea Tree Sensitive Skin Deodorants are drying upon application. But I found the Geranium formula clumps up at the end of the day. I can feel bits of the deodorant when I wash my armpits while bathing. I suppose that's why the effectiveness starts to wear off at the end of the day.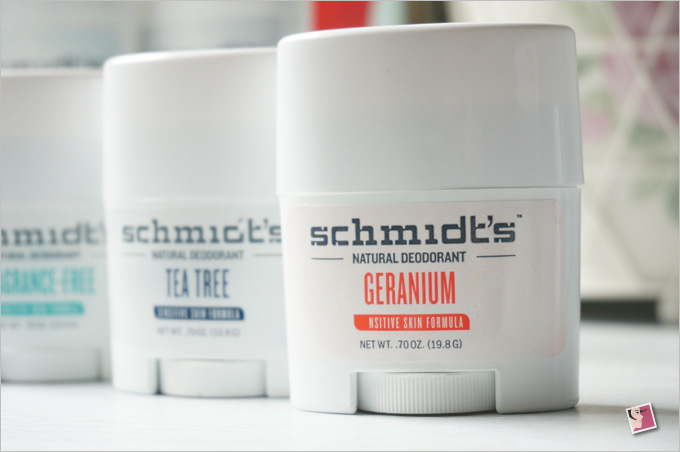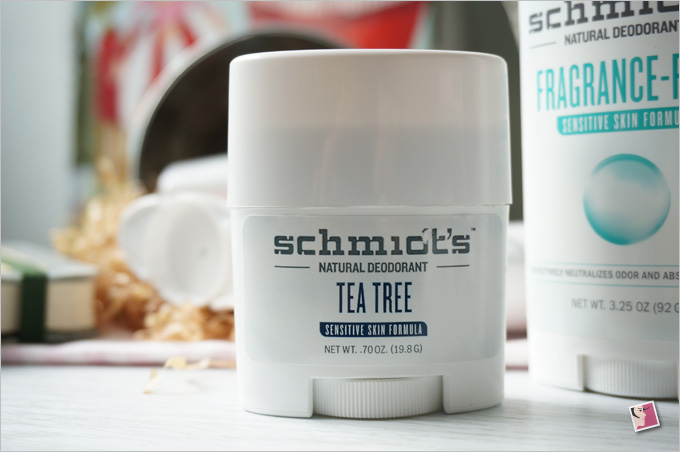 Effectiveness & pricing
If you were to ask me, Schmidt's Sensitive Skin Deodorants are less effective compared to the original formulas with baking soda. But if your skin is sensitive to baking soda, then you'll most definitely need the no baking soda formula. At least it works better than most natural deodorants.
You can also give the travel sized sticks a try. Schmidt's Natural Deodorant, Sensitive Skin Formulas in travel sizes cost S$10.90 at Living Naturally Co. Full sized is S$19.90. You can also find the full sized sticks at iHerb at a lower price of S$15.68 or US$11.
Vegan and non-toxic formula
Here's some background for those who are learning about this brand for the first time:
Schmidt's Deodorants are vegan, cruelty-free and uses ingredients which are completely free of aluminum, propylene glycol, paraben, and phthalates. The formula is supposed to be effective at neutralizing underarm odor and absorbing wetness but because Schmidt's isn't an antiperspirant, it will not prevent you from perspiring but it should still help to keep you dry.
Tried Schmidt's? Any favorite?
Majority of the products featured were given complimentary; this review is in line with my disclosure policy.
Schmidt's Naturals Geranium For Sensitive Skin Deodorant Stick
Pros
Suitable for sensitive skin
Fairly long lasting
Smells great
Cons
Clumps up
Effectiveness wears off with perspiration
Comments